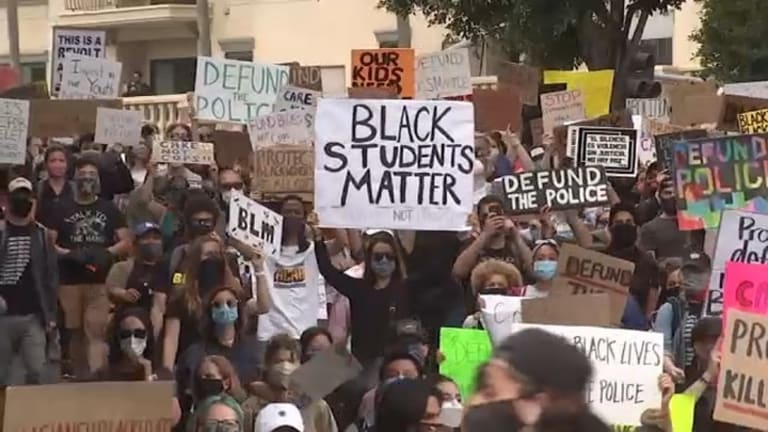 L.A.'s "Defund the Police" Battle: Strategy Center's Role
Eric Mann: We have provided a counter-hegemonic programmatic frame through our Campaign for Urban Reconstruction and it's five demands—Free Public Transportation, No Police on MTA Buses and Trains, Stop MTA Attacks on Black Passengers, No Police in the LAUSD Schools, and No Cars in L.A.
Section 2: The Strategy Center's long-commitment to South Central L.A's Black community
Section 1: Anatomy of the Breakthrough • Section 2: The Strategy Center's Role
Section 3: The Elected Officials' Role • Section 4: Board, LASPD Struggles Continue
Section 5: What This Taught a Veteran Organizer
On May 24, 2020 the Strategy Center was a respected organization in Los Angeles' South Central Los Angeles based in our Strategy and Soul Movement Center. We had been fighting for No Police in the LAUSD Schools for 5 years with little support or movement from the 7 elected board members of the Los Angeles Unified School District. (LAUSD).
One day later, May 25, 2020 George Floyd woke up to live his life as if his Black life mattered. Instead, he became the latest of hundreds and thousands of hundreds of thousands of Black people murdered throughout U.S. history by the white settler state. But his martyrdom, as that of with Emmett Till, Medgar Evers, the Four Birmingham Martyrs, and the rapidly expanding list of Trayvon Martin, Breanna Taylor, Michael Browne, and Eric Garner who also screamed "I can't breathe" sparked a mass Black-led uprising that created the historical possibility of our victory to cut the LASPD police budget by $25 million. In that this article is trying to explain a methodology that can explain historical events, I begin with the premise that often, while new organizations come onto the stage of history, it is the long-distance runners who also have a cutting edge who are essential to the structural victories.
Each organization involved in this breakthrough, Black Lives Matter LA, Students Deserve, United Teachers of Los Angeles, Inner City Struggle, and others can and should tell their own story of how they arrived at that historical moment. Clearly I will tell you about their role on June 30, 2020, the day of The Vote. But let me take you on a journey to explain how, 30 years from our formation, the Strategy Center, having won many other major victories, was so fortunate to be part of making history again along with our dynamic and powerful allies.
The Labor/Community Strategy Center was initiated in 1989 as a "think tank/act tank" to organize in L.A's Black and Latino communities to address "the totality of urban life." It's anti-capitalist, anti-racist politics were initiated in the year of the fall of the German Democratic Republic, the imminent disintegration of the Soviet Union, and the triumphalist declaration of world capitalism—TINA—there is no alternative. 
That vision was rooted in my work with the Congress of Racial Equality in 1964, the Newark Community Union Project, and our close alliances with the Student Non-Violent Coordinating Committee and the Mississippi Freedom Democratic Party. The organizational lineage continued through the Students for a Democratic Society, Black Panther Party, and based on my 18 months in prison for militant demonstrations against the war in Vietnam, the Attica and Soledad Brothers defense committees.
The immediate predecessor to the Center was my work in the UAW Campaign to Keep GM Van Nuys Open—an historic struggle of Chicano and Black workers and communities that successfully forced GM to keep the plant open for a full decade. Throughout my ten years as a UAW/Ford and GM assembly line worker, I was also shaped by my participation in the New Directions Movement, a brilliant, insurgency in the United Auto Workers, led by Jerry Tucker that took power in the 6 mid-Southern states—including Missouri, Texas, Louisiana, and Oklahoma. New Directions challenged the racism and class collaboration of our union. During many of those years I was also a member of the League of Revolutionary Struggle, a Black/ Chicano/ Asian/ Pacific Islander majority communist group, all of whose members believed that both Blacks and Chicanos were oppressed nations inside the borders of the U.S. with the right of self-determination up to and including the right to secede from the U.S.
My job, in initiating a new institution, was to synthesize and integrate all of those histories, philosophies, and organizational reflections into something new to relate to the time, place, and conditions of L.A. and the U.S. in 1989. Clearly, the leading role of the Black and Latino movements and working class in an internationalist anti-imperialist frame reflected in actual mass organizing work was the mandate and the challenge.
The first three Strategy Center organizers were Chris Mathis, a Black autoworker from the GM plant, Lisa Duran, a Latina college affirmative action officer, and Kikanza Ramsey, a Black recent college graduate. In 1992 the Strategy Center formed the Bus Riders Union, a breakthrough movement of Black, Latin@ and Korean bus riders that generated a multi-racial organization with dynamic tri-lingual working class culture. After the 1992 Urban Rebellion in Los Angeles our Urban Strategies Group published Reconstructing Los Angeles and US Cities from the Bottom Up—in which we called for massive re-investment in South Central and massive divestment from the LAPD—"the social welfare state not the police state."
By 2001, when I returned from the World Conference Against Racism in Durban, South Africa the Strategy Center agreed that we needed a specifically Black/Afro-centric campaign. Out of a Reparations Study Group we initiated the Community Rights Campaign to focus on racism, colonialism, and militarism in the public schools based on a Black/Latinx united front but within that, a chance for us to give our work a greater Afro-centric focus. Damon Azali Rojas, Manuel Criollo, Barbara Lott-Holland, Patrisse Cullors, Carla Gonzalez, Mark-Anthony Johnson, Ashley Franklin, and now Channing Martinez and Brigette Amaya are among the many gifted organizers who have led that work for the past 20 years. 
During that same period, the Bus Riders Union became the largest mass organization of Black/Latino/Korean bus riders in the U.S. and won a major civil rights court and organizing victory against the Los Angeles MTA. In the civil rights lawsuit--Strategy Center and Bus Riders Union vs. Los Angeles MTA we won $2.5 billion in improvements in the urban bus system including replacing 2,000 dilapidated diesel buses with 2500 lower-emissions compressed natural gas buses, 1 million hours of new service, and dramatic reductions in bus/train fares that led to a 20% increase in mass transit ridership.
By 2015 the organization, to effectively give greater focus to the Black struggle and to better integrate the Bus Riders Union and Community Rights, merged both groups into our Fight for the Soul of the Cities city-wide social justice organization and move our offices to South Central Los Angeles. While we would maintain our Black/Latinx membership core, we agreed to make the struggle to protect and expand L.A.s oppressed, occupied, gentrified and rapidly declining Black community our highest priority.
We have provided a counter-hegemonic programmatic frame through our Campaign for Urban Reconstruction and it's five demands—Free Public Transportation, No Police on MTA Buses and Trains, Stop MTA Attacks on Black Passengers, No Police in the LAUSD Schools, and No Cars in L.A.
We rented, invented, modeled, and remodeled a four storefront complex at the corner of King and Crenshaw in the heart of L.A.'s Black community that we call the Strategy and Soul Movement Center—the home of our Fight for the Soul of the Cities and Bus Riders Union membership office and our Strategy and Soul bookstore and Strategy and Soul Film Theater and Art Gallery. From there our focus has been organizing Black adults in the Crenshaw/Leimert Park community and Black and Latinx students in three Los Angeles high schools through our Taking Action Social Justice Clubs—Augustus Hawkins and Ouchi O'Donovan in South L.A. and Roosevelt High School in East L.A. We have provided a counter-hegemonic programmatic frame through our Campaign for Urban Reconstruction and it's five demands—Free Public Transportation, No Police on MTA Buses and Trains, Stop MTA Attacks on Black Passengers, No Police in the LAUSD Schools, and No Cars in L.A. 
These demands were expanded through the insurgent city council campaign of Channing Martinez in the 10th City Council District where we are located--one of the last centers of Black concentration and even then not of Black majority. Channing ran on the 5 demands but expanded them to "Cut the Los Angeles Police Department by 50%," "50% of all new public and private sector jobs must go to Black applicants, and Open Borders and Amnesty for all Immigrants-Kick ICE out Of LA.
In our work, far more than many, the ideological focus on "counter-hegemonic demand development" is not abstract, tangential, or a throw-away line in the organizing process. It is in the realm of demand development where the generality meets the particular and the core politics of the campaign is reflected. "Arrest killer cops" and "defund the police" shaped our struggle and it was that ideological frame that gave the Black students in particular, the upper hand in the battle of ideas that turned the tide at the LAUSD board. In our campaign for Urban Reconstruction, it was situating the demand for No Police in the LAUSD Schools with No Police on the MTA buses and trains with Stop MTA Attacks on Black passengers" combined with "we demand the social welfare state not the police state" and "we want counselors not cops" reflected in 30 years of organizing and five years of deeper organizing in South Central's Black community that gave the Strategy Center a far better sense of orientation, legitimacy, and influence in the broad united front that won the victory.
As we have carried out our work, the Strategy Center has always understood the critical nature of a broad united front against racism and imperialism and the most principled and mutually supportive relationships with many allies. We try to fight against any form of sectarianism or organizational self-importance. We instill in every member and ourselves time and time again, "There is nothing we can win by ourselves. The Black/Latinx/Third World United Front and from there reaching out to people of all races is the only hope for the world. This is reflected in our close relationships with the Pan African Film Festival, Black Lives Matter L.A., South LA Food Co-op, Community Coalition, Inner City Struggle, Los Angeles Community Action Network, and CADRE. We call it the Strategy and Soul Movement Center because we see our work as movement-building.
We have hosted PAFF's annual three-day volunteer film festival, a film showing of DOLORES—the life of Dolores Huerta—with Community Coalition—and organized our first Strategy and Soul Community Organizing Fair with 300 attendees. We have worked closely with Dr. Melina Abdullah and BLM LA at Strategy and Soul to launch of their website, highlight the testimony of mothers whose children were murdered by police, and host he showing of Ava Duvernay's staggering film, When They See Us.
In the summer of 2019, to get more community support for our Campaign for Urban Reconstruction, and in particular our No Police in the LAUSD Schools, No Police on MTA Buses and Trains demands, 8 high school students—led by Brigette Amaya, Kassandra Soriano, Angeles Soriano, Sophie Tielemans, and Gionna Magdaleno in our Transformative Organizers Interns Program— held conversations with more than 2,000 Black and Latinx residents of South L.A. They went door to door over 20 square blocks and spoke to residents at many community events including the Compton Pride Festival, CicLavía, and the Central Avenue Jazz Festival.
At first, many people were ambivalent or even opposed to our campaign for No Police in the L.A. Schools, No Police on MTA buses and trains, (Stop MTA Attacks on Black Passengers, Free Public Transportation/No Cars in L.A.) but the sincerity and persuasiveness of the Strategy Center students convinced more than 350 people to call on the School Board and LA MTA, to end the police in the schools and on public transportation.
As late as the fall of 2019, we spoke with several school board members about getting rid of the school police but even our closest ally, Monica Garcia was not convinced. She said, "Bring me more specific complaints from students because I want to focus on police behavior. You better get more support from parents because many have been convinced that the police presence is necessary." Some of our students who attended were disappointed. They thought we would just go in, ask for what we wanted, and get it. I explained that Monica was talking to us as organizers. If we were asking board members to take on such a powerful institution as the school police and their many political allies, it was our job to build a stronger movement. It was a challenge we had to embrace.
We have a long track record of winning victories to change school policy but at the time, even for us, in the summer of 2019, it was hard to imagine the balance of forces that would win any cuts in the school police force let alone its elimination. But the reason we carry out long-distance counter-hegemonic campaigns is because you never know what set of events, conflicts, and changes in conditions can lead to a victory— but you have to lay the groundwork for when that opportunity arises. On May 24, 2020 we could not see that opportunity.
But on May 25, 2020 brother George Floyd, woke up to just live his life, and wanted to believe that his Black life mattered. Sadly, tragically, and infuriatingly, he ended it as a Black martyr. When white police officer Derrick Chauvin stood on the neck of George Floyd for 8 minutes and 46 seconds and killed him in cold blood the whole world exploded— from Minneapolis to South Central to South Africa to South London. Tens of millions of people, led by the Black community groups, Black Lives Matter chapters, and joined by Latino, Indigenous, Asian/Pacific Islander, and white social justice groups, marched, protested, fought, put their bodies on the line, and pushed history forward.
In Los Angeles, two organizations provided the driving force of the broader movement, —Black Lives Matter L.A. and Students Deserve, a Black high school student organization with close ties to BLM/LA. Still, by May 25, 2020, with the murder of George Floyd and the great Black led rebellion that was sparked by his martyrdom, the Strategy Center had become a long-standing and trusted community institution in the Black community and the Strategy and Soul Center a community asset for "retreat, repair, reconstruction, rethinking, and resistance."
As tens thousands of us chanted, "Black Lives Matter/Prosecute Killer Cops/Defund the Police" the demand "Defund the Los Angeles School Police/No Police in the LAUSD Schools" vividly illustrated what every long-distance revolutionary and every Black student knew immediately, "There is nothing more powerful than idea whose time has come."
Eric Mann
CounterPunch
Section 1: Anatomy of the Breakthrough
Section 2: The Strategy Center's Role
Section 3: The Elected Officials' Role
Section 4: Board, LASPD Struggles Continue
Section 5: What This Taught a Veteran Organizer