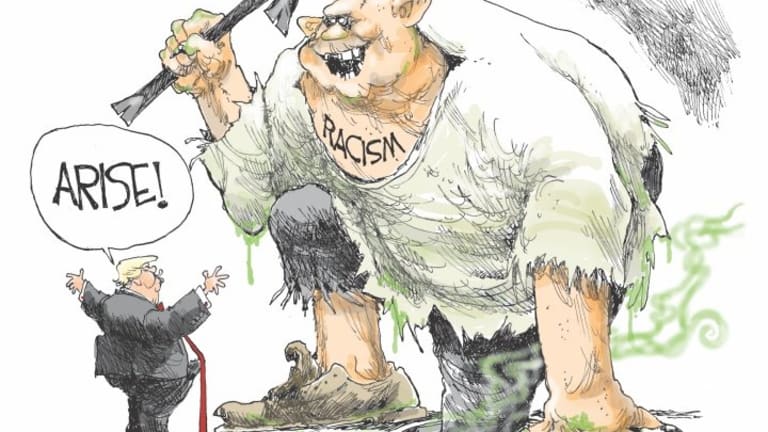 The Times Call for Impeachment
Rich Procida: The most disturbing thing about Trump's statements is that he is encouraging violence and lawbreaking at the very same time that espionage and abuses are actually happening.
I've recently come to realize what Jesus meant when he said "the poor you will always have with you" (Mark 14:7). It always seemed a bit cavalier to me. I understood that the anointing of Jesus at Bethany had to happen, but why did he have to be so dismissive of the poor?
This verse has been abused by those who use it to minimize God's preference for the poor. The poor and poverty are mentioned 446 times in 338 verses, and justice is mentioned in 1,576 verses in the Old Testament and 1,376 verses in the New Testament. The very fact that the woman in the story used the oil to anoint Jesus might indicate that we are only free to neglect the poor under very limited circumstances.
Still, it bothered me, until now. The debate over impeachment has led me to understand what Jesus was saying: Know what the times call for.
This reminds me of the lyrics to the song "To Everything There is a Season" by the Mama's and the Papas which is based on Ecclesiastes 3:1-8:
For everything there is a season, and a time for every matter under heaven: a time to be born, and a time to die; a time to plant, and a time to pluck up what is planted; a time to kill, and a time to heal; a time to break down, and a time to build up; a time to weep, and a time to laugh; a time to mourn, and a time to dance; a time to throw away stones, and a time to gather stones together; a time to embrace, and a time to refrain from embracing; a time to seek, and a time to lose; a time to keep, and a time to throw away; a time to tear, and a time to sew; a time to keep silent, and a time to speak; a time to love, and a time to hate; a time for war, and a time for peace.
And now there is a time to impeach, and a time to refrain from impeaching.
For Jesus, that meant it was time to unmask the powers and authorities, to bring down the empire and overthrow the domination system. The reading begins with the Chief Priests and Scribes looking to arrest Jesus and ends with Judas betraying him. Encapsulated by betrayal and treachery, the words of Jesus speak of the times.
Jesus is about to die. He says so much in this passage. Jesus is saying that his time has come. The Lamb of God who takes away the sins of the world is to be sacrificed (John 1:29). Emphasizing the matter of timing, of knowing what we should be focused on at this particular time in history, Jesus, speaking of the woman who anointed him with oil, says "wherever the good news is proclaimed in the whole world, what she has done will be told in remembrance of her" (Matthew 14:9).
We have a very limited time in which to hold President Trump accountable for any impeachable offenses he has committed. This means that this is the issue we as a nation must focus on at this time. If we wait until after the election, it will be too late.
The Democrats are in an unbearable situation. Many have issued omens of fear should impeachment fail and are speaking out of both sides of their mouths when they say that Trump has committed crimes and should be in jail yet they refuse to prosecute him for political reasons. This reminds of a song from the play and movie "The Producers" by Mel Brooks.
It's a comedy in which two theater producers attempt to produce a flop in order to steal from their investors, but the play becomes a smash hit and the two producers end up in jail. The name of the play they produce is "Springtime for Hitler in Germany." This led me to a humorous way of expressing my exasperation with the Democrats on impeachment.
It's not "Springtime for Trump in America" just because it's election season. If the President has committed crimes, as Nancy Pelosi says, on what grounds does she choose not to prosecute when people across the nation are doing time for lesser crimes. Like Jeffery Epstein, too many people have allegedly allowed Donald Trump to get away with crimes throughout his life. "We the people" should not be one of them.
We do not know the future. We do not know what will happen and what effect opening an impeachment inquiry will have the election. If negative things about Trump come out during the impeachment inquiry, it could just as likely hurt Republicans and help Democrats.
To let a man get away with crimes is immoral and short-sighted, but bringing a meritless case that will inevitably fall apart is disastrous. I am uncomfortable with Democrats who say that President Trump has committed impeachable offenses but then won't open an impeachment inquiry just because they are afraid of losing the election. If there were obvious impeachable offenses, Congress would not hesitate to act.
Let's face facts. The Mueller report in its redacted form is underwhelming. If impeachment is to go forward, it must be about more than some conspiracy theory that Trump colluded with the Russians behind the scenes, an unlikely scenario from the beginning. Congress has to take into account all of President Trump's actions and statements from the 2016 campaign to present and put it all together to demonstrate impeachable conduct.
The most disturbing thing about Trump's statements is that he is encouraging violence and lawbreaking at the very same time that espionage and abuses are actually happening.
Congress must draw the connections between Trump's statements and his policies. It might, for example, draw attention to President's Trump's racist statements and his negligent and criminal conduct at the border. Or it could consider his encouragement of the use of excessive force by the police while, at the same time, black and brown people are being beaten and killed by police across the country.
The most disturbing thing about Trump's statements is that he is encouraging violence and lawbreaking at the very same time that espionage and abuses are actually happening. At the same time that Donald Trump, Jr. was looking for "dirt on Hillary Clinton" from foreign agents and Trump was asking Russia to release Clinton emails, Russian agents were actually interfering in our election and working with Julian Assange to produce additional emails. It's not surprising that documents suddenly appeared days before the election which tricked Keystone Cop James Comey into reopening the Clinton investigation based on a box full of duplicates.
While the Mueller report provides us with some insight into what was going on inside the White House, it's up to Congress to put it all together and present a case for impeachment. I believe the case can be made that President Trump's public statements combined with his willful disregard of the civil and human rights of migrants and even antipathy toward people of color explains the administration's violations of federal and international law at the border. In other words, President Trump has used the power of the State as an instrument of criminality.
After all, isn't this what structural violence is, a misuse of power? Constitutional scholar Cass Sunstein defines "high crimes and misdemeanors" as an "egregious abuse of power." The President does not need to be indicted for a state or federal crime to be impeached.
Willful negligence or reckless disregard for the rights of others in the conduct of his office should be impeachable. His racist statements and encouragement of the use of excessive force by the police is not mere carelessness or rude joking. It's evidence of motive and intent to commit injury.
I can see scenarios where opening an impeachment inquiry hurts the Republicans, and I don't believe for one second that Trump or the Republicans want an impeachment fight. It's important to admit that we don't know the future. If impeachable offenses are proven it might be difficult for Republicans to explain. On the other hand, if there are no impeachable offenses, Democrats should stop accusing President Trump of crimes or come clean and state what those crimes are.
This is an unbearable situation for Democrats. It's not "Springtime for Trump in America" just because it's election season. If Trump has committed crimes then prosecute him for those crimes, and if he hasn't then don't tell us that he has.
We must make a decision about impeachment now or we may let a guilty man go free. It's a matter of holding our leaders accountable for their unlawful and abusive conduct. I think a case can be made that President Trump has wielded his power of the State to commit crimes against migrants and their children. At the very minimum, he has demonstrated reckless disregard and willful neglect toward the civil and human rights of refugees and people of color.
Such a novel approach my carry some risk, but it's hard to see a downside to impeachment done right. We can drag him through an impeachment inquiry with little fear that he will be removed from office, because if they do they will be disgraced and likely lose the election. The real question is, do we have enough evidence to impeach?
Rich Procida