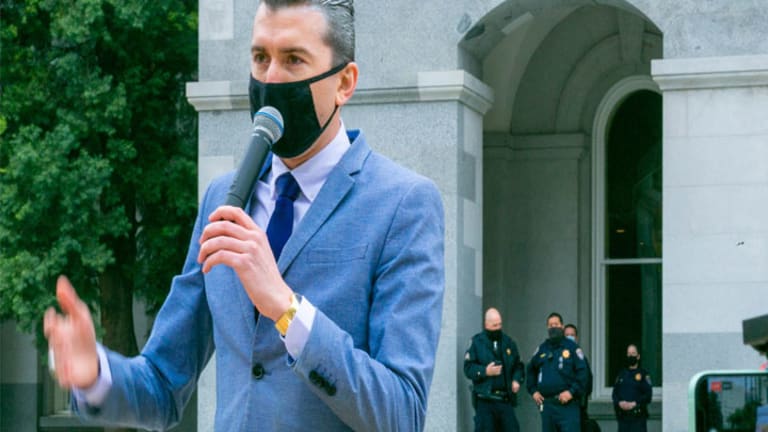 Someone Please Explain Why This Is Called a Democracy
Carolfrances Likins: What if Newsom Was Recalled ? - Forty-six candidates an to replace Governor Gavin Newsom if the recall was successful. Forty-six.
When I received the voter information guide for the recall election, I was shocked to count forty-six candidates for the replacement if voters recalled Governor Gavin Newsom. Forty-six. I did some quick math and realized that this meant that if we lost on the recall part of the vote, and if each of forty-five candidates received between one and three percent of the vote, with one candidate receiving four percent, that person would become our next governor.
I thought about this possibility: Gavin Newsom 49%, John Doe 4%. And the winner is…
Right about then and there I started looking for an organization doing canvassing. Because of conflicts in scheduling I was only able to give two Saturday mornings through the LA County Federation of Labor, a lot less than others did throughout the state, but I had to do something.
Well, Newsom won, and he won big. So that means all is well and we can put this behind us; right? Wrong!
This system needs radical change. Of course, we need a socialist nonviolent revolution and to get private money out of elections. But short of this, what I want from the County Fed – and from every organization that mobilized people to walk door to door and to phone bank – is a mobilization around not simply rewriting the recall rules but fighting for Ranked Choice Voting (a/k/a Instant Runoff Voting.) RCV moves the requirement for winning an election from attaining a plurality (like getting 4% when the other forty-five candidates get 3% or less) to attaining a majority (that is 50% plus one vote.)
That's what democracies do.
Just in case you don't t understand Ranked Choice, let's look first at how elections work in many nations throughout the world. If no candidate wins a majority, the top two candidates face each other in a runoff a month later. Wait! Does that mean that we would have to work to get out to vote twice in each election?
If a candidate attains a majority, then s/he is the winner, just as it would have been had there been only two candidates on the ballot. But if no candidate does, other choices weigh in.
Not with Ranked Choice. Voters rank their choices on the ballot. If a candidate attains a majority, then s/he is the winner, just as it would have been had there been only two candidates on the ballot. But if no candidate does, other choices weigh in. Let's say these three candidates were on the ballot: a true socialist, a moderate establishment candidate, and a super racist. Let's say you want to vote for the socialist but you're afraid that she doesn't have a chance of winning and your voting for her might help make the racist win. But with RCV, you vote for her as your first choice. If she doesn't do that well, your designation of the moderate as your second choice will make him receive your vote. 
What's really exciting about this is that as more voters "vote their hopes, not their fears," liberated from the threat of splitting the liberal vote and "handing the victory" to the racist, the socialist might actually win.
For video explanations of the process, check out https://www.fairvote.org/ .
The campaign for Ranked Choice Voting has been waged for years by election reformers and has actually been achieved in some municipalities, states, and nations.
The issue is not even discussed much in most media, but, with this week's election crisis raising the threat of Republicans pulling this stunt regularly unless we challenge it, now is clearly the time to make it a reality for the state of California.
Seize the day!