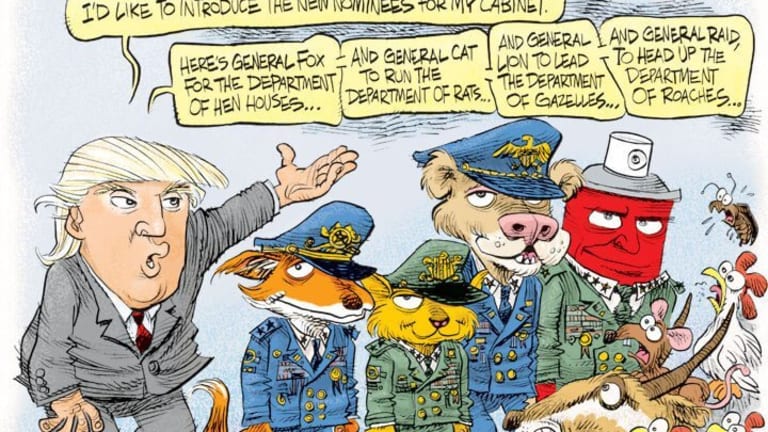 Trump's Billionaire Boys Club
Steve Hochstadt: Trump's cabinet will be the richest group in American history, dominated by the very people he criticized on the campaign trail.
Donald Trump won election as our next President partly by appealing to Americans who are unhappy with the way the economy has left them behind, while benefitting only the wealthy.
Nearly all Americans told pollsters just before the election that they think the American economy is rigged in favor of the powerful. Almost 90% said the economy is rigged to benefit the rich generally, banks and bank executives in particular, and corporations.
Trump told these angry voters that they were right: middle-class Americans can't get ahead, because big political donors, big businesses and big bureaucrats are keeping wages down and hogging all the gains of the growing economy for themselves. Only he could fix this broken system. "The economy is rigged. The banking system is rigged. There's a lot of things that are rigged in this world of ours, and that's why a lot of you haven't had an effective wage increase in 20 years, folks. And we're going to change it."
Trump specifically pointed the finger at Wall St. He told an audience in Ottumwa, Iowa, "I know the people on Wall Street. I'm not going to let Wall Street get away with murder. Wall Street has caused tremendous problems for us. I don't care about the Wall Street guys. I'm not taking any of their money." He stressed the unfairness of the tax system. "The hedge fund guys are getting away with murder. They're paying nothing, and it's ridiculous."
Now that he has won election with those arguments, Trump has been assembling his team to run the government. His cabinet choices are not yet complete, and none of them have been confirmed by the Senate. But his selections so far give us some idea of what he plans to do.
Trump's cabinet will be the richest group in American history, dominated by the very people he criticized on the campaign trail.
Trump's cabinet will be the richest group in American history, dominated by the very people he criticized on the campaign trail. For Secretary of Commerce, Trump is nominating Wilbur L. Ross Jr., a billionaire Wall St. speculator. He owned Sago Mine, a West Virginia coal mine where a dozen miners lost their lives in a 2006 explosion. His company settled a lawsuit for negligence in their deaths. A few months ago, Ross's company paid a $2.3 million fine for charging his investors excess management fees.
Just under Ross, Trump is nominating Todd Ricketts as Deputy Commerce Secretary. His father founded the online broker Ameritrade. Ricketts is even richer than Ross, and is co-owner of the Chicago Cubs and CEO of Ending Spending, an organization "dedicated to educating and engaging American taxpayers about wasteful and excessive government spending," according to its site.
As head of the Small Business Administration, Trump selected another billionaire, Linda McMahon, former chief executive of World Wrestling Entertainment, and one of Trump's biggest donors. The Treasury Department will be headed by Steven Mnuchin, another big donor and a former Goldman Sachs executive, now CEO of a hedge fund. He is worth only about $665 million.
Much further down the list of richest Americans, Trump's Secretary of Labor will be Andrew F. Puzder, chief executive of CKE Restaurants, which owns fast-food outlets Hardee's and Carl's Jr. Puzder opposes increasing the minimum wage, because his restaurants would have to pay more to their workers, meaning less income for shareholders.
Another billionaire with input into Trump's economic policies will be Carl Icahn, a Special Adviser on Regulatory Reform. Icahn began as a stockbroker and now is one of the richest Americans, buying and selling companies and a business partner with Trump.
Another cabinet secretary who is worth billions will be Betsy DeVos, Trump's nominee for Secretary of Education, whose family started the multilevel marketing company Amway. Amway has been successfully sued in the US, Canada and the United Kingdom for fraud, and has paid millions in fines.
Rex W. Tillerson will head Trump's State Dept. He was president and chief executive of Exxon Mobil, and will get a severance package worth $180 million for leaving his job. Some other billionaires have been appointed by Trump to serve on his economic advisory committee or inaugural committee.
The Republican-dominated Senate appears to be rushing the process of confirming these nominations. They have scheduled six hearings for this Wednesday, apparently hoping to minimize media scrutiny. Several of Trump's picks have not completed the usual vetting process, which includes tax returns and ethics clearances, which might be complicated for some of the billionaires with vast financial holdings. The head of the Office of Government Ethics, Walter M. Shaub Jr., has said that the Senate has never before held hearingsbefore his office completed its review.
[dc]W[/dc]e don't know yet exactly what policies Trump will direct his cabinet to implement, or even if they all will be confirmed. This is what we do know: none of them have shown the slightest interest in the economic plight of the voters who backed Trump. They are precisely the people who have profited the most from the financial system that Trump said was rigged against most Americans.
Trump not only took plenty of money from the Wall St. Guys. Now he is hiring them to run the government.
Steve Hochstadt
Taking Back Our Lives