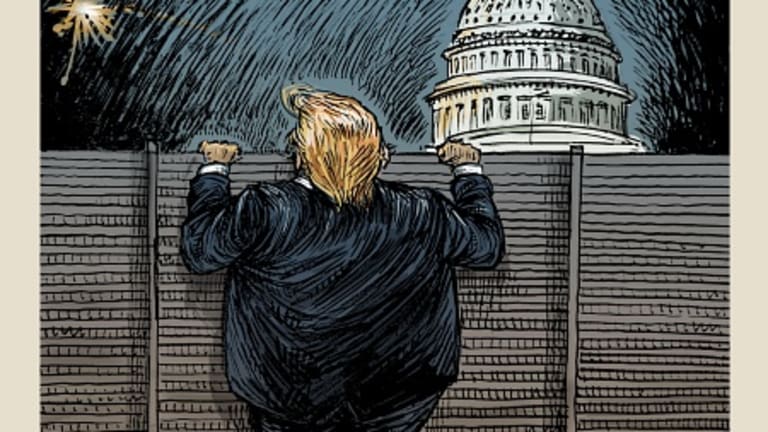 Trump Brings Up the Rear
"We're going to win so much, you're going to be so sick and tired of winning, you're going to come to me and go 'Please, please, we can't win anymore.'" Donald Trump famously boastedon the campaign trail in 2016. 
He skulked away today as one of the biggest presidential losers.
At the same time, historians will almost certainly judge him the worst president ever, by far.
Trump will wind up alone in a dark, creepy sub-basement several feet below James Buchanan. A weak-willed, Southern-sympathizing Democrat, "Old Buck" did little more than wring his hands when seven cotton states defied federal authority, seceded in early 1861 and put the country on the road to its most lethal conflict.
"I suspect the tour guides at Buchanan's National Historic Landmark homeplace, Wheatland, in Pennsylvania, are already celebrating," historian Joseph J. Ellis mused in the Los Angeles Times. "Their man, they must fondly hope, will never be last again.
Donald Trump is quite likely to assume the title as the worst president in American history.
"Donald Trump is quite likely to assume the title as the worst president in American history."
Historians rank Abraham Lincoln, the first Republican president, as one of the best. He succeeded the dithering Buchanan. Lincoln used Uncle Sam's full military and economic might to whip the rebels, win the Civil War and put slavery on the road to extinction.
Trump, the latest Republican president, is the only president to be impeached twice and the only president to lose the popular vote twice.
In addition, he is "the first incumbent president to lose a re-election bid since George H.W. Bush in 1992," wrote Will Dunham of Reuters. "Trump also became the first president since Herbert Hoover in 1932 during the Great Depression to lose the White House and see his party lose both chambers of Congress in a single term."
Oh, Trump bragged that he'd knock a big chunk out of that Democratic "blue wall" again by winning Wisconsin, Michigan and Pennsylvania. He predicted he'd pocket Arizona and Georgia one more time. He even claimed he'd flip Nevada and Minnesota, both of which went for Hillary Rodham Clinton in 2016.
Trump went 0-for-7.
Democrat Joe Biden beat him 306 to 232 in the electoral college-Trump's victory margin over HRC four years back.
"He lost Wisconsin twice, once after the votes were counted and again after the Trump campaign spent 3 million dollars on a partial recount that ultimately determined that Joe Biden's win was undercounted by 123 votes," Jennifer Horn wrote in the New Hampshire Union Leader.
Added Horn, former Granite State GOP chair and a Lincoln Project founder:
"In spite of his delusional claims to have won Georgia big...the president lost Georgia-again...after two recounts, that state's secretary of state affirmed Trump's loss for the third time."
She pointed out that Trump's lawyers also bombed in courtrooms. "In an Associated Press tally, with nearly 50 court challenges filed by team Trump, only one saw any success at all, a small case in Pennsylvania that had nothing to do with fraudulent ballots." (Horn wrote her op-ed in December; all told, Trump's attorneys went 1-for-61 in lawsuits.) 
Horn poured it on: "He lost in Arizona when Judge Randall Warner wrote in a decision that there was no evidence of a fraudulent scheme.
"Trump lost in Nevada when Judge James Russell wrote that the GOP did not offer evidence 'under any standard of proof that illegal votes were cast and counted, or legal votes were not counted at all, due to voter fraud.'
"He lost in Michigan. He lost in Minnesota. He lost bigly in Pennsylvania."Horn predicted that historians will remember 45 "as having lost one election more times than any other losing candidate." She figured that makes Trump "America's biggest loser."Works for this old union guy who used to teach history.
Berry Craig