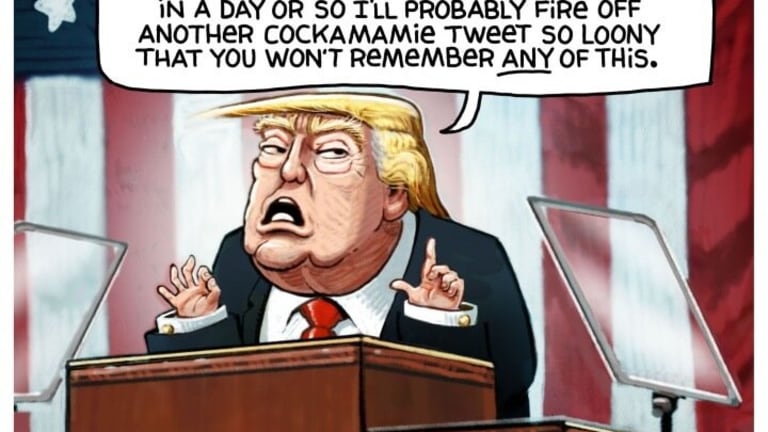 Trump Blows His Dog Whistle
Peter Dreier: While watching the speech with about 150 Occidental College students on campus, I was monitoring Politifact during the talk and impressed with how quickly its researchers were able to identify his many lies and half-truths.  Even his speech writers seem to be pathological liars.
Trump's State of the Union speech tonight was filled with the same neo-fascist themes—racism, xenophobia, ultra-nationalism, nativism, over-emphasis on law-and-order and a strong military without much about specific policies—as his inauguration speech a year ago. Lots of dog whistles to his base, including his outrageous comments about undocumented immigrants as killers, rapists, predators, and gang members.
His insistence that patriotic Americans should stand during the National Anthem was a hardly subtle attack on former NFL quarterback Colin Kaepernick and the huge wave of athletes who "took a knee" to protest police racism.
What was particularly interesting is what he DIDN'T talk about: climate change, pollution (although he highlighted his support for "clean coal"), gun violence, sexual harassment/assault, the murders last year by white supremacists and the upsurge of hate crime, homelessness, global or American poverty, civil liberties and civil rights, voting rights (not even "voter fraud"), NATO, and his administration's botched rescue and relief efforts in response to the hurricanes, especially in Puerto Rico.
I quickly looked over the transcript. I didn't see the word "democracy."
Nor, for obvious reasons, did he mention Russia or Putin, or the threat that Russia poses to the fundamental structures of our democracy, including fair elections. Trump's Russian ties could ultimately be his undoing as president, especially if the Democrats take back the House in November and begin real investigations (with Rep. Adam Schiff chairing the Intelligence Committee) and perhaps impeachment proceedings. Watching the camera pan to Jared Kushner sitting in the balcony, I couldn't help saying to myself: "In less than two years, he'll be in prison."
Not surprisingly, he didn't mention the word "union," but his remarks about making it easier to fire government employees was clearly meant to show his support for the upcoming Supreme Court decision about undermining public sector unions' ability to collect dues, which will severely weaken one of the key pillars of the Democratic Party and the ability of workers to have a voice in society. Speaking of the Supreme Court, I was pleased to see that both Ruth Bader Ginsberg and Sonia Sotomayor boycotted the speech, under the pretense of having previously-scheduled "travel plans." (Even if you are not religious, please pray that Ginsberg lives for at least another three years.)
While watching the speech with about 150 Occidental College students on campus, I was monitoring Politifact during the talk and impressed with how quickly its researchers were able to identify his many lies and half-truths. Even his speech writers seem to be pathological liars.
I assume Trump will get a small bump in his Gallup approval ratings for the next week (from 38% to perhaps 40%), but will it last? Tonight's and tomorrow's new stories and analyses will examine the political implications of his speech (for the November election) and the many lies and half-truths he told during the speech. While watching the speech with about 150 Occidental College students on campus, I was monitoring Politifact during the talk and impressed with how quickly its researchers were able to identify his many lies and half-truths. Even his speech writers seem to be pathological liars. Three examples:
• Trump said: "Just as I promised the American people from this podium 11 months ago, we enacted the biggest tax cuts and reforms in American history." Politifact reported: "It is False that the tax-cut package passed in December is the largest cut ever, as Trump has repeatedly claimed. In inflation-adjusted dollars, the recent tax bill is the fourth-largest since 1940. And as a percentage of GDP, it ranks seventh."
• Trump said: "Since the election, we have created 2.4 million new jobs, including 200,000 new jobs in manufacturing alone." Fact: The economy has added about 169,000 jobs a month since the 2016 election, but that is slower than the 185,000 jobs per month that the economy added over the previous seven years.
• Trump said: ""After years of wage stagnation, we are finally seeing rising wages." Politifact reported: "We rated Trump's claim Mostly False. By the most common measure, wages did go up for the first three quarters of Trump's presidency, but they fell in the fourth, wiping out all the gains on his watch and then some."
All presidents invite people to sit in the balcony with the First Lady during their SOTU speeches. These people are props, used to symbolize a president's priorities, his dog whistles, and his overt messages, the things he wants the American public to empathize with and remember.
These invited guests are grown-ups and they are within their rights to be used as props for the President's speech, but I was particularly offended at the use of a little baby cradled in the arms of his mother who, along with her cop husband, persuaded a homeless drug addict to allow them to adopt her child. (At least that's the story Trump told.)
I was also offended by the presence of four parents whose daughters were allegedly killed by undocumented immigrants who were members of the MS-13 gang. Trump used this to replay his attacks on immigrants as rapists and killers that he used during his announcement of his presidential campaign and has continued to use to instill fear and promote stereotypes of immigrants, even though the evidence is clear that immigrants (including undocumented immigrants) commit fewer violence crimes than native-born Americans.
All of Trump's invited guests were there to invoke sympathy and symbolize Trump's themes—anti-immigrant, pro-law-and-order, pro-military. It would be interesting if someone did a study of the people invited to serve as props at SOTU speeches by the last five or six presidents to see how similar or different they are. If anyone wants to undertake a study like that, here's a list of the SOTU invited guests since Reagan's 1982 speech.
The New York Times published a list of Trump's guests and how they were meant to symbolize/illustrate his themes:
OFFICIAL AND UNOFFICIAL EMERGENCY RESPONDERS
• David Dahlberg, a fire prevention technician, who saved 62 children and staff members from a blaze-encircled summer camp in July during the wildfires in Southern California.
• Ashlee Leppert, an aviation electronics technician in the Coast Guard, who rescued dozens from hurricane ruins. According to the White House,Leppert operated a helicopter basket that hoisted to safety a woman who was clutching four children at once.
• Jon Bridgers, the founder of the "Cajun Navy," a nonprofit rescue team that served in Texas during Hurricane Harvey. In 2016, Mr. Bridgers founded the organization in response to flooding in Louisiana and continues to collect donations for areas still devastated.
• Officer Ryan Holets, of the Albuquerque Police Department, who, according to the White House, was twice shot at during his time as an officer. He and his wife adopted a child from parents who were addicted to opioids.
• Cpl. Matthew Bradford, now retired, who lost his sight and both legs when he stepped on an improvised explosive device in 2007 during a deployment to Iraq. After extensive treatment, Mr. Bradford became the first blind double-amputee to re-enlist in the Marine Corps.
• Staff Sgt. Justin Peck, who saved a fellow service member after an improvised explosive device detonated in November in Raqqa, Syria. Sergeant Peck was on a mission to clear the devices from territory once held by the Islamic State when a member of his team was gravely wounded. Peck went to his team member, despite the potential danger of each step, and provided lifesaving medical care on the scene.
• Preston Sharp, a young boy who has organized the placement of more than 40,000 American flags and red carnations on soldiers' graves through a campaign he calls the Flag and Flower Challenge. Preston's efforts began in 2015 after a visit to the grave of his grandfather, a veteran, when he noticed other veterans' graves that were undecorated.
ECONOMIC SUCCESS STORIES IN OHIO
• Steve Staub and Sandy Keplinger, who are the leaders of a Dayton, Ohio, contract manufacturing company focused on metal fabrication. They founded Staub Manufacturing Solutions two decades ago. Over the past year, the company acquired a new building and saw a 60 percent increase in employees — from 23 to 37. Crediting the passage of the tax law, the company gave large Christmas bonuses to all employees.
• Corey Adams, a welder at Staub Manufacturing, who, according to the White House, bought his first home last year with his wife. They will put savings from the recent tax overhaul toward their daughters' future education.
A SPOTLIGHT ON GANG VIOLENCE AND BORDER SECURITY
• Four parents whose daughters, the authorities say, were most likely killed by members of the MS-13 gang: Elizabeth Alvarado and Robert Mickens, who lost Nisa Mickens, 15; and Evelyn Rodriguez and Freddy Cuevas, who lost Kayla Cuevas, 16. The teenagers were killed in 2016 on Long Island.
• Celestino "CJ" Martinez, a supervisory special agent in Immigration and Customs Enforcement's Homeland Security Investigations unit, who functions as a gang hunter. According to the White House, Mr. Martinez's investigations have led to more than 100 arrests of MS-13 gang members.
Not a community organizer, school teacher, environmental scientist, PTA president, or union activist among them.
Peter Dreier