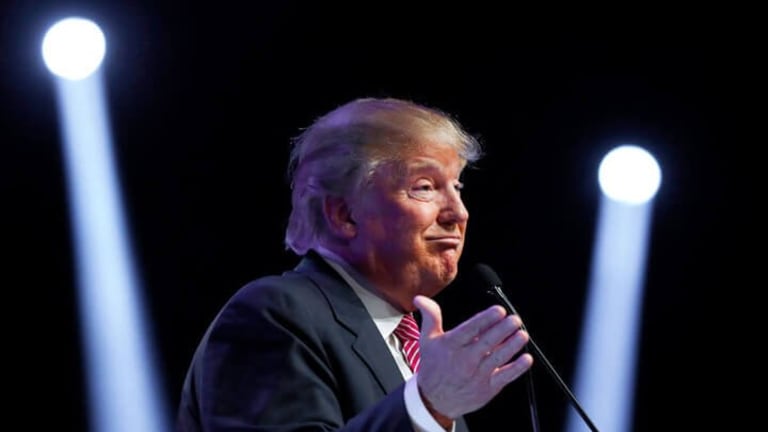 'The New Trump' Looks Like 'The New Nixon'
Berry Craig: I suspect what Trump really regrets—and is personally pained by—are his sagging poll numbers.
Much of the media is atwitter over GOP presidential hopeful Donald Trump's supposed mea culpa in a recent North Carolina stump speech.
"A new Trump emerges," trumpets the online Politico headline. "A more presidential Trump expresses 'regret' for past offenses, but will it stick?"
"Sometimes, in the heat of debate and speaking on a multitude of issues, you don't choose the right words or you say the wrong thing," the "new Trump" mused. "I have done that. And believe it or not, I regret it. And I do regret it, particularly where it may have caused personal pain."
Trump didn't explain what he regretted.
No matter, some in the media claim Trump's "regret" is a real "pivot" to the general election, a signal that a "new Trump" is on the way and that "I regret" means the same thing as "I apologize."
Sorry, this old reporter doesn't buy it. Regrets and apologies are not necessarily synonymous.
I regret not making better grades in high school. I regret getting cut on the day I tried out for my college baseball team. Both caused me some "personal pain."
I suspect what Trump really regrets—and is personally pained by—are his sagging poll numbers.
I'm 66, and I remember the media palaver about "the New Nixon." He turned out to be the same old Tricky Dick.
Anyway, James Hohmann of The Washington Post conceded that Trump "surprised everyone…by declaring that he lives with some 'regret.'" But the scribe pointed out that he "steered clear of the S-word: 'sorry.'"
Hohmann added, "Linguists and relationship experts, meanwhile, said Trump's comments were ineffective and that his words cannot accurately be described as an 'apology.' In fact, the GOP nominee did not specify exactly who or what he was talking about. The targets over the course of his campaign are plentiful, including the parents of Capt. Humayun Khan, Sen. John McCain (R-Ariz.), Megyn Kelly, New York Times reporter Serge Kovaleski, Mexicans and Muslims."
Huffington Post's Dave Jamieson also is skeptical that The Donald's Tar Heel State "regret" hints at a kinder, gentler Trump.
"By not specifying what he is sorry for, Trump apologizes for everything and nothing at the same time," the HP's labor reporter wrote. "The candidate has insulted so many people since launching his campaign last year that it's impossible to say who he has in mind when he speaks of regret. Think of it this way: Given its vagueness, who among the offended could claim Trump's apology as their own?"
Jamieson noticed that "just after Trump expressed his regret, he promised to 'always tell you the truth' -- perhaps suggesting that hard truths, not meanness, have caused people pain. So until Trump starts dropping names and making personal phone calls, let's be careful with the term 'apology.'"
Jamieson's story was followed by the same "Editor's note" HP sticks on every story it runs about Trump: "Donald Trump regularly incites political violence and is a serial liar, rampant xenophobe, racist, misogynist and birther who has repeatedly pledged to ban all Muslims — 1.6 billion members of an entire religion — from entering the U.S."
I'd add "union-buster" to the list.
And Trump is still a narcissistic, neo-Know Nothing bigot whose stock-in-trade is spiteful and shameless pandering to hate and fear and whose adoring fans include blatant white supremacists.
Berry Craig