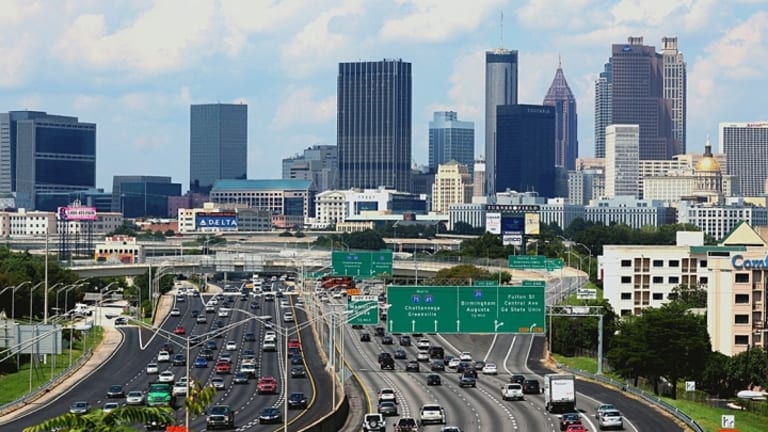 Voter Suppression Highlighted by Georgia's Racial Divide
Suzannah Cavanaugh: Stacey Abrams denounced Kemp's reopening plan as a danger to Georgians. If Biden selects her as his vice presidential nominee, she could draw enough Democratic support to turn the historically red state blue.
Georgia's primary arrives Tuesday amid multiple national crises. Protests over the continued killings of African-Americans by police have erupted in Atlanta and across the country, while COVID-19 – a disease that disproportionately kills black people – continues to ravage the state.
These twin emergencies have highlighted a racial divide in a state whose name became a shorthand for voter suppression in 2018. That was when the former Secretary of State and current Governor Brian Kemp presided over widespread poll closures and cancelled hundreds of thousands of registrations, actions that effectively disenfranchised poor and black voters.
Stacey Abrams denounced Kemp's reopening plan as a danger to Georgians. If Biden selects her as his vice presidential nominee, she could draw enough Democratic support to turn the historically red state blue.
The state's history of voter suppression underscores economic disparities that hit black Georgians hardest, but also affect rural residents and growing Latino and immigrant communities.
Throughout the state, the top five percent of earners take in an average annual household income of $366,545, 30.1 times more than the average $12,196 collected by the state's lowest 20 percent.
The inequities play out along racial lines. In Georgia, 20 percent of African-Americans, and 21.3 percent of Latinos live below the poverty line, compared to just under 10 percent of non-Hispanic whites. The gap is even wider for the state's foreign-born immigrant population. In 2014, 10 percent of Georgians were foreign-born and 30.4 percent of the state's non-citizens lived below the poverty line.

In Atlanta, a city lauded as a black mecca since the 1970s for its high rates of black homeownership, job opportunities, universities and robust middle class, economic disparity still reigns.
For the second year in a row, Atlanta has ranked highest in economic inequality among the nation's largest cities, a 2019 Bloomberg analysis found:
The city's top five percent of households took in an average annual pay exceeding $663,000, 10.2 times more than the bottom half of the population, who earned less than $65,000.
Atlanta's bottom 20 percent reported an average household income of $9,400 a year.
Within the Atlanta metro area, 34.3 percent of residents are black and 52.8 percent white, according to 2018 census data. But black residents are disproportionately more likely to be stuck in low-paying jobs. Twenty-two percent of black households in the metro area earn under $25,000 a year, compared with 13 percent of white households, Bloomberg reported in 2019.
Middle-earners experience a similar divide. African-Americans in Metro Atlanta earn a median household income of $45,000 a year, compared to non-Hispanic whites who take in $72,000, according to 2018 U.S. Census Data. That disparity is further concentrated in Atlanta proper, where the median household income for African-Americans is $28,500, but $85,700 for non-Hispanic whites.
Black Atlantans are also more likely to be unemployed. According to Brookings data from 2017, the most recent year of comparative statistics, the unemployment rate for black Atlantans was 11.5 percent versus 2.5 percent for white residents.
The 2008 recession razed Atlanta's economy, but its aftermath offered an opportunity to create jobs for African-Americans who'd been historically left out of the city's growth, said Tsedey Betru, director of partnership for Southern Equity's Just Opportunity program for economic inclusion.
"That was kind of a clean slate moment for us," said Betru. "But we just did the same thing we were doing before the recession, which is attracting really big employers."
To get Atlantans back on their feet post-recession, city government extended property tax abatements to incentivize corporate development and job creation. Instead of targeting areas where jobs were sparse – such as on the south side of Atlanta, which is also predominantly black – Betru said Atlanta's incentives allowed large companies to flock to Midtown, creating more jobs in an already well established, majority white commercial district.
The city's segregated development continues a decades-old pattern. Of the 348,000 jobs added to the Atlanta region from 1990-1997, nearly three-fourths occurred in the northern portion of the metro area, a 2000 Brookings study found.
A Citylab article mapping Atlanta's racial inequities reported, "The farther north you go in this region, the more businesses and the fewer people of color and lower incomes you'll find; the farther south you go, the more you'll find the opposite."
"We are the colloquial tale of two cities," said Betru. "So instead of using incentives to improve the disparities, they've basically been used to exacerbate them."
Development on the heels of the Great Recession brought a tech boom to Atlanta, earning the city renown as the nation's black tech capital. The metro area has the highest number of African-Americans working in the technology industry – one in four.
But black Atlantans are still underrepresented in the industry. In 2016, they made up 33.2 percent of the total workforce, but only 25.2 percent of the tech industry workforce, a gap that's grown 4.5 percentage points since 2010.
Like the majority of jobs created post-recession, the area's tech positions are farther away from where black people live. Notably, Atlanta Tech Village, which opened in 2012 with the promise to create 10,000 jobs, is a nine mile drive north of downtown Atlanta.
Underdeveloped public transit makes it difficult for black workers on the south side of town to access the high concentration of jobs in the north. The accessibility issue intensifies as you leave the city for the suburbs. Nearly 65 percent of all jobs in metro Atlanta are located 10 to 35 miles from the city's center business district, a 2013 Brookings report found. In 2019, residents of Gwinnett County, a fast-growing northeastern suburb, voted against a measure to expand public transit to their county. The vote could set the tone for similar expansion efforts throughout the area's northern and southern suburbs.
There are signs black voters – a loyal Democratic constituency and 30 percent of Georgia's active voters – are newly energized in spite of considerable barriers to voting.
Those barriers are well documented. In an analysis of 7 million registered voters, the Atlanta-Journal Constitution found between 2012 and 2018, nearly 40 percent of Georgia voting precincts had been relocated and eight percent of polling places closed. The changes likely prevented 54,000 to 85,000 voters from casting ballots in the 2018 election, a race that white Republican Brian Kemp won by 54,723 votes over black Democrat Stacey Abrams.
Long distances to polling places were 20 percent more likely to be the cause of black Georgians missing elections than whites. Still, blacks voted at higher rates than white voters and in greater numbers in the midterms than in the presidential election, a Brookings analysis showed; 94 percent of blacks voted for Abrams.
The Georgia State Board of Elections saw a surge in applicants of color in the months leading up to June's primary, a group that historically votes Democrat. The primary gives Democrats, supported by 73 percent of black voters in Georgia, the opportunity to snag two Senate seats and gain representation to address structural inequities caused by systemic racism.
When Georgians take to the polls for the June primary, Democratic voters will have the opportunity to answer six ballot questions, one of which addresses voter suppression.
Question three asks voters whether registering on Election Day should be an option. As it stands, Georgia is one of 17 states where voters must register a month in advance, a deadline that routinely leaves out young people and people of color who are more likely to sign up late and vote Democrat.
The ballot questions come during an election when the complications of COVID-19 could result in further voter suppression. The primary will take place despite a dearth of polling places. A number of locations like churches, which account for 35 percent of voting sites, have closed as a protective measure against COVID-19. The closures will leave many further from their regular polling site, a proven obstacle to voting.
Black voters are less likely to vote by mail. As of May 19, only 17 percent of black voters in Georgia had requested mail-in ballots compared with 25 percent of white voters, a Brennan Center study found. Requests by party replicate that divide: 32.7 percent of Republican voters requested mail-in ballots versus 21.2 percent of Democrats, in a state where the majority of black voters are Democrats.
The state's reopening plan, ahead of the primary, has also been characterized by partisanship. Republican Gov. Brian Kemp announced plans May 28 to reopen bars and nightclubs. Kemp's decision has been contested by the Georgia House Democratic Caucus, which urged Georgians to continue with quarantine measures.
Stacey Abrams, a potential running mate for Joe Biden, denounced Kemp's reopening plan as a danger to Georgians. If Biden selects her as his vice presidential nominee, Abrams could draw out enough Democratic support to turn the historically red state blue.
Suzannah Cavanaugh
Capital & Main