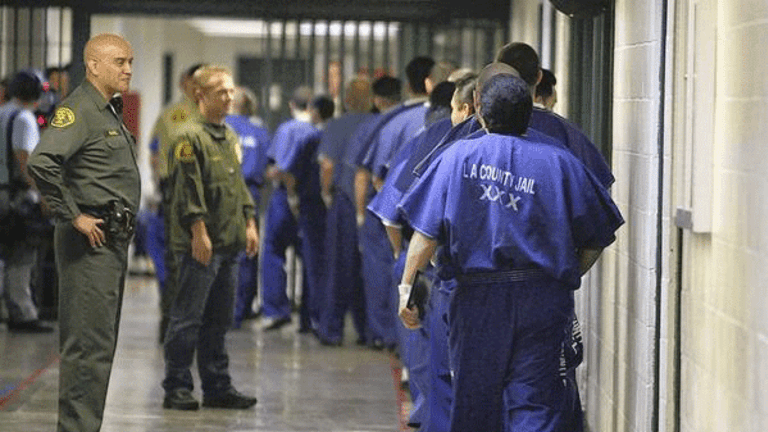 Why Are So Many Black and Brown Men in Prison
For most of the first 200 years of U.S. history, our rate of incarceration and our prison population was similar to that of other industrialized nations. For about 200 years the U.S. incarcerated something close to 100 per 100,000 of its citizens. But sometime around 1980 things changed. Today we incarcerate more than almost all industrialized nations combined. Why? Did a large portion of Americans – mostly black and brown – suddenly wake up and decide to start committing crime at unprecedented rates? Or is something else going on?
On November 10, 2015 I will be moderating a panel for the ACLU Pasadena Foothills Chapter. The topic - Alternatives to Incarceration. We're going to engage our audience in a healthy discussion of some of the causes and possible solutions for the mess we find ourselves in. We've lined up some good speakers. The panelists are well versed activists and attorneys who devote much of their lives to reducing the prison rolls. Jess Farris is a policy and advocacy counsel at the ACLU of Southern California. Mark-Anthony Johnson is an organizer with Dignity and Power Now, a Los Angeles based grassroots organization that fights for the dignity and power of incarcerated people and their families and Tarik Shawky is an attorney who specializes in criminal defense. It should be a lively and informative presentation. But, for me, moderating this panel is about much more than engaging an audience.
What has become known as the prison industrial complex has grown like a cancer in the United States touching the lives of untold millions especially black and brown people. I can honestly say that I don't know a single black person who has not been negatively impacted by our "justice" system, myself included.
To the uninitiated, the U.S. Criminal justice system doles out justice even handedly without regard for race, class, gender, nation of origin or socio-economic status. But it doesn't take much research to discover what Harvard trained lawyer Bryan Stevenson discovered. In one of the most viewed TED Talks in history, Mr. Stevenson said, "Our criminal justice system treats you better if you are rich and guilty than if you are poor and innocent." To me and many others, this is the civil rights issue of our day.
So, join us as we discuss some of the causes of this prison explosion and explore alternatives to incarceration. We'll be at Neighborhood Unitarian Universalist Church at 301 N. Orange Grove Drive, Pasadena, CA (see map below). The talk begins at 7:00 pm in the small sanctuary on the rear of the campus.
Some of the issues we'll cover are:
The Plea Bargaining System
The Pre-Trail Phase
The growth in for-profit prisons
Is Prison Abolition a possible solution?
The connection between drug policy and prison population growth
Why is the racial disparity so striking in sentencing, stop-and-frisk, arrests?
We hope to see you there.
Sharon Kyle
Publisher, LA Progressive