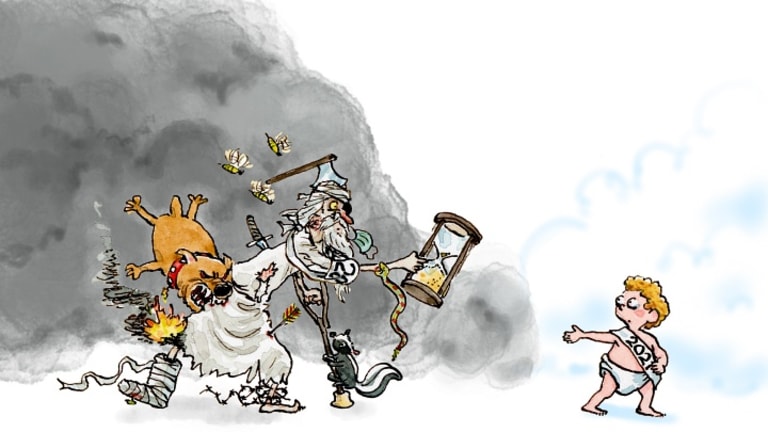 Will This Week Live in Infamy?
Ted Vaill: Today at noon, Congress will reconvene, with many members pissed that Trump's rabid recent activities have disrupted their holiday schedules with their families and/or mistresses.
This week will be critical in the 245-year history of our American democracy. Will it survive the efforts of Donald Trump to destroy it? Trump will be flying to Georgia early in the week to campaign for the two incompetent Georgia Republican Senators, first-term job destroyer and insider trader David Perdue, who is currently quarantined after exposure to COVID-19, and white "Barbie Doll" Kelly Loeffler.
Today at noon, Congress will reconvene, with many members pissed that Trump's rabid recent activities have disrupted their holiday schedules with their families and/or mistresses. Inside Trader David Perdue (who did at least one stock trade for every day of the six years he has been in the Senate) has a Senate term that expires at noon on this date, so his seat in the Senate will be unfilled until the winner of his race against Democrat Jon Ossoff is certified later in January. His GOP cohort, KKK friend and billionaire appointed Senator Kelly Loeffler, will remain in office until she is declared the loser of her campaign against Democratic challenger and MLK successor Rev. Raphael Warnock.
Today at noon, Congress will reconvene, with many members pissed that Trump's rabid recent activities have disrupted their holiday schedules with their families and/or mistresses.
Then Dictator-in-training Trump will return to D.C. to urge his now "disloyal" VP Pence to help the assembled Members of Congress destroy democracy by rejecting the votes of 81 million Americans and declare Trump as President instead or Biden. Trump will be aided by "millions" of his Trumpshirts, the Proud Boys and his other MAGA thugs descending on Washington to force Trump's will upon the American people and Congress.
On Wednesday, January 6, 2021, soon-to-be-gone VP Pence will preside over a Joint Session of Congress to conduct the formal certification of the results of the 2020 Presidential election. It is usually a procedural session to count the Electoral College votes awarded on December 14, 2020, 306 votes to Biden and 232 rural and Southern votes to loser Trump. However, 140 Traitor GOP Representatives, and 12 Traitor GOP Senators, have pledged to object to the electoral votes of a number of states, including Wisconsin, Michigan, Pennsylvania, Georgia, Arizona and Nevada, all clearly won by Biden.
Following each objection, the Senate and House members will then have to retreat to their respective chambers for two hours of "debate" over the objection, and then vote on whether or not to accept the electoral votes certified by that state. With the Democrats in control of the House, the result in each case is preordained.
However, the result in the Senate is not clear. As it stands, on January 6, 2021 there will be 48 Democratic Senators and 51 Republican Senators, with Perdue's Senate seat vacant until the Georgia election is certified weeks later. But some of the other GOP Senators, such as Mitt Romney, Ben Sasse, Susan Collins and Lisa Murkowski, will probably not support the objections of their GOP Colleagues.
Here are the 12 Republican Traitors in the Senate who will object to democracy proceeding as set forth in the Constitution: *Josh Hawley of Missouri, a 2024 Presidential wannabe; defeated Democratic Senator Claire McCaskill in 2018. He is the Chief Traitor.
Ted Cruz of Texas, also lusting for the 2024 Presidency; the most despised Member of Congress.
Ron Johnson of Wisconsin, a former businessman and mindless Trump loyalist who is up for reelection in 2022.
James Lankford of Oklahoma, also up for reelection in 2022, who does not want to be primaried by Trump.
Steve Daines of Montana, who was just reelected over Montana governor Steve Bullock.
John Kennedy of Louisiana, no relation to JFK genetically or intellectually, also hoping not to be primaried by Trump in 2022.
Marsha Blackburn of Tennessee, who reminds me of some of the witless sorority sisters in the first "Animal House" movie.
Mike Braun of Indiana, a former businessman and hopelessly dedicated Trumpster.
Cynthia Lummis of Wyoming, newly elected; formerly Wyoming's sole House member.
Roger Marshall of Kansas, newly elected and a former Kansas Congressman.
Bill Hagerty of Tennessee, newly elected and formerly Trump's ambassador to Japan.
Tommy Tuberville of Alabama, who unseated Democratic Senator Doug Jones, dumb as a rock with no prior government experience; his only qualification is that he was Auburn's revered football coach for 10 years.
The 140 members of the House who will object to the certification of the Biden victory are led by Texas Congressman Louis Gohmert, widely regarded as the dumbest member of Congress (at least until Tommy Tuberville is sworn in). Also objecting will be:
Alabama Congressman Mo Brooks, who looks like he just took off a hood;
Florida's own Matt Goetz, who as an unmarried man "adopted" a male teenager;
Jacketless former wrestler Jim Jordan, complete with a cauliflower ear;
QAnon-lover Marjorie Taylor Greene, just elected in Georgia;
Super-Evangelical Christian Jody Hice, who believes that women should not hold political office without the consent of their husbands;
Andy Biggs, the rabid head of the Freedom Caucus;
Ted Yoho of Florida, the most well-named GOP Congressman;
Steve Scalise, House Minority Whip; and
Bakerfield's own Kevin McCarthy, the House Minority Leader.
Failing to get Congress to overturn the election, Trump will then try to start a war with Iran, or possibly even China, to allow him to declare martial law in the U.S. and seize control of the government, hoping to use his Proud Boys and MAGA thugs to stimulate counter-violence that he can use to support his martial law declaration.
He hopes to use the Insurrection Act of 1807, that empowers him to deploy U.S. military and federalized National Guard troops within the United States to suppress civil disorder, insurrection and rebellion.
Once he has declared martial law, he would try to assume dictatorial powers to render null and void the election of Biden as President, and remain in office beyond January 20, 2021.
Unless the U.S. military, and the rest of us loyal Americans, stop him. I will…
Ted Vaill