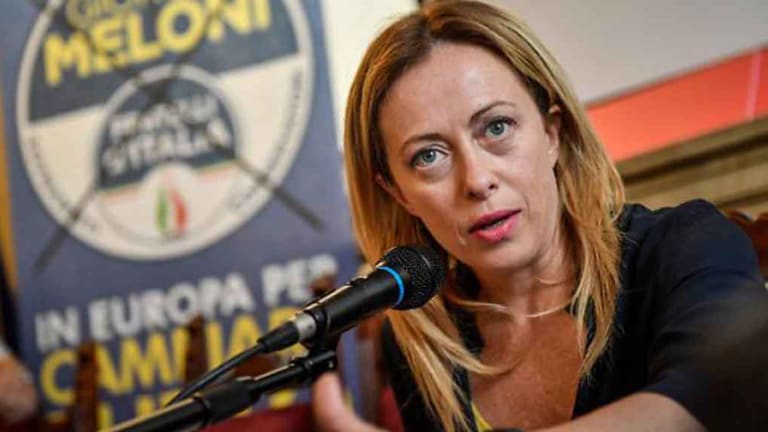 Giorgia Meloni: Anti-Women Politics and the Future of Italy
Meloni's policies are what you would expect from the leader of a party that descends from the nation's neofascist past.
Italy's far-Right Brothers of Italy party looks to have taken the largest share of the votes in the country's general election—with its leader, Giorgia Meloni, set to become Italy's first female prime minister.
A Meloni premiership has been the topic of much debate in recent weeks, as commentators in both the Italian press and overseas ask if it could be a step forward for women, or even for feminism.
Hillary Clinton, the US former secretary of state, even recently said: "The election of the first woman prime minister in a country always represents a break with the past, and that is certainly a good thing."
But is it?
"Being a woman doesn't automatically mean being feminist," Italian journalist Giulia Siviero told openDemocracy. "Arguing that a woman—any woman—[winning power] is a conquest for all women and for feminism is very sexist to me, because it puts the sex before the person and her beliefs or policies."
Meloni's policies are, in fact, what you would expect from the leader of a party that descends from the neofascist Italian Social Movement, which was formed by supporters of former dictator Benito Mussolini after the Second World War.
At the end of August, the Brothers of Italy leader tweeted a video of a Ukrainian woman being raped by an asylum seeker from Guinea on a street in the Italian city of Piacenza. Someone in a nearby flat filmed the assault, and the offender was arrested. Meloni took the video from a newspaper: the image was blurred, but the woman's screams were clearly audible.
"One cannot remain silent in the face of this atrocious episode of sexual violence against a Ukrainian woman carried out in daytime in Piacenza by an asylum seeker," Meloni wrote, adding that she was sending "a hug to this woman" and promising to do everything she could "to restore security to our cities".
The post was later taken down by Twitter. The woman who was assaulted told a newspaper she felt "desperate" because someone had recognised her from the video, adding to her pain.
The Brothers of Italy leader was strongly criticised for having used rape for electoral propaganda and showing no respect for the victim. While Meloni has defended sharing the video, Siviero believes that by doing so, the Brothers of Italy leader ended the debate around whether she's good for feminism or not: "She proved she is not, if it was necessary."
Siviero added: "She uses violence against women not to denounce it or to make proposals on the issue itself, but rather to affirm her racist policies against migrants."
Although this is probably the first time an Italian politician has posted a video of sexual violence to social media, Siviero described Meloni's tweet as "an old trick" that is "precisely in line with what we've always seen" from the far Right.
Violence against women is a structural problem in Italy, with 125 femicides registered between August 2021 and 31 July 2022 – more than one woman killed every three days. Despite the majority of the perpetrators being Italian, "the far Right has always brought up gender violence when it was some non-Italian committing it," Siviero explained.
The myth of the 'migrant rapist' – or killer – and the exploitation of women's insecurity for racist and xenophobic purposes is a phenomenon termed 'femonationalism' by Sara Farris in her 2017 book, 'In the Name of Women's Rights: the Rise of Femonationalism'.
The following year, the course of an Italian general election campaign and the nation's political discourse were completely altered by the murder of a young woman by a Nigerian man in Macerata, central Italy.
Speaking to openDemocracy, Giorgia Serughetti, a political philosopher and author of "The Conservative Wind – The Populist Right's Attack on Democracy," explained why "femonationalism" is working for Meloni.
"Being the woman who protests against offences to women's rights by mobilising traditionally right-wing rhetoric works well, because it speaks to a public opinion that is potentially hostile to immigration and can't wait to express that hostility."
Serughetti added: "She speaks to a specific population: one where families are composed of 'men being men' and 'women being women', fathers and mothers, native and white."
Indeed, Meloni takes a 'traditional' view of womanhood. She famously branded herself as "woman, mother, Italian, Christian" in a speech at a 2019 rally in Rome.
According to Siviero, "The use [Meloni] makes of her own gender relies on gender stereotypes. She perfectly embodies a male model as she doesn't question the existing system. She uses her own gender to do things that are completely anti-feminist."
Siviero highlighted Meloni's "exaltation of motherhood as if the only function of women is naturally being a mother, while at the same time, she denies sexual and reproductive rights".
Meloni defines herself as 'pro-family', and she and her party collaborate with anti-abortion and anti-LGBTIQ+ movements. One of her main campaign themes is the need to increase Italy's low birth rate by encouraging native women to have babies, while at the same time denouncing the danger of an "ethnic substitution" by immigrants.
It's for these reasons that journalist and feminist philosopher Ida Dominijanni likened Brothers of Italy to "a dystopian ship". Meloni, the party's founder and the only woman with a leading role, Dominijann wrote, has decided that other women should fulfil "the traditional maternal destiny, in a traditional family, where gender roles return to their place".
For Serughetti, Meloni's 'woman, mother, Italian and Christian' slogan is simply a reiteration of traditional far-Right talking points.
"It is a very clear expression of the identity politics of the far Right," Serughetti told openDemocracy. "It shows how it translates issues like family, religion and borders into issues of identity."