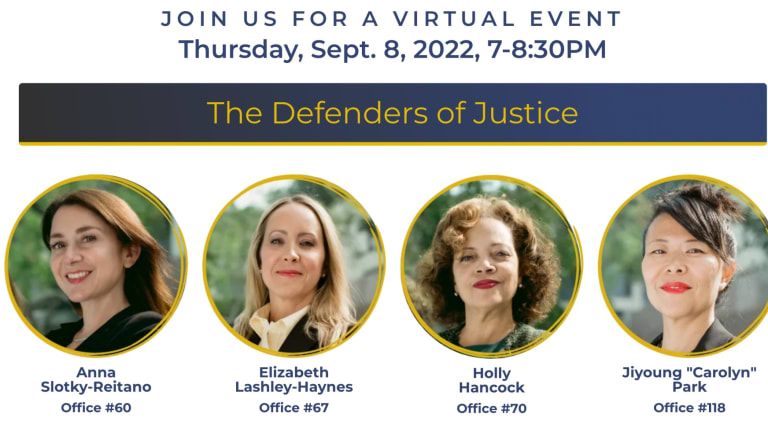 FIGHTING for the Change Our Court System Needs!
To see the change we want in our court system — one that ensures that the system works for all Angelenos — we must vote for change at the County's judicial level.
Join @tdoj2022 and @laprogressive on Thursday September 8th from 7:00 PM to 8:30 PM PDT to learn WHO The Defenders of Justice are and WHY you should vote for them!
Holly Hancock: As a Deputy Public Defender, she fights every day for the individuals and families who find themselves facing the bench. She tirelessly protects and defends the constitution.
Elizaberth Lashley-Haynes: Her nineteen years as a Deputy Public Defender has allowed her to understand the legal system firsthand, making her deeply passionate about serving the public.
Anna Slotky Reitano: Through her role as a Deputy Public Defender, she has a unique perspective and understanding on the issues we are dealing with daily in the courts.
Carolyn "Jiyoung" Park: Jiyoung worked for at a public sector union as a staff attorney and currently has a private general practice which handles civil rights, labor, tenant and social impact business matters.
This event will be moderated by Sharon Kyle, past president of the Guild Law School—Peoples College of Law—where she also served as a law professor
Register here: bit.ly/TDOJregister