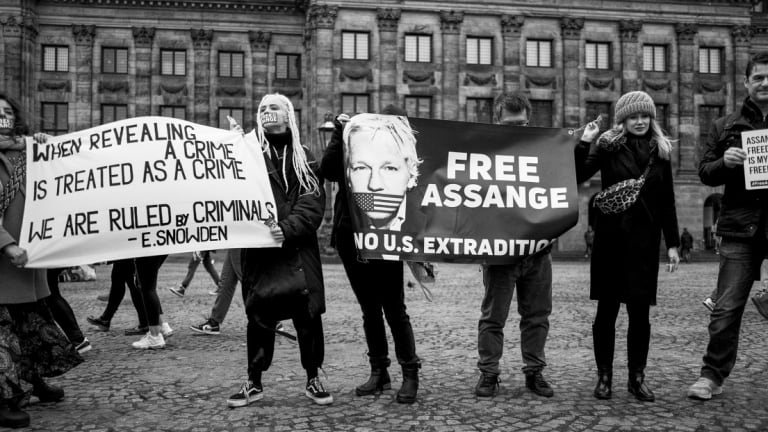 "Free Julian Assange"–Defender of a Free Press
Rally at LA's All Power Books will call for Justice Department to drop extradition orders again Assange.
In Honor of International Human Rights Day
Assange Defense Committee, CODEPINK, National Lawyers Guild, LA Progressive, the Pasadena-Foothill Chapter ACLU, Interfaith Communities United for Justice Peace (ICUJP) Present "Free Julian Assange"-- Defender of a Free Press
Sat., Dec. 10, 3 PM
All Power Books, 4874 W Adams Blvd, Los Angeles, CA 90016
Actors and activists will read selected excerpts from Wikileaks' Afghan and Iraq War Logs.
&
Participants will send messages urging the US Justice Department to drop the extradition order and charges against Assange, the founder of Wikileaks. Julian Assange remains in solitary confinement in the Belmarsh Prison in London England, while facing US charges of violating the Espionage Act of 1917 for publishing classified documents revealing US war crimes in Iraq and Afghanistan.
Vince DeStefano, National Organizing Director, Assange Defense Committee, said, "Without a robust and Free Press there is no way for the public to know the difference between fact and fiction in the lead up to US wars and occupations. Where is Julian Assange on International Human Rights Day? Silenced in solitary, facing extradition from the Biden administration, which refuses to drop the Trump-initiated extradition order. We ask President Biden and the US Justice Department to drop the charges, rip up the extradition order and affirm the importance of our 1st Amendment rights to freedom of the press."
Marcy Winograd, coordinator of CODEPINK Congress, said: "On International Human Rights Day, CODEPINK stands with Amnesty International in calling on the Biden administration to drop the extradition order against Julian Assange, the founder of Wikileaks. In pursuing this extradition order and charges, the Biden administration is not only threatening Julian Assange, but the entire press corps in the United States, for The New York Times also published the documents revealing civilian deaths and torture during the US occupation of Iraq. How can we protect human rights without a free press to inform us of violations of those rights? A free press is essential if we are to preserve human rights."