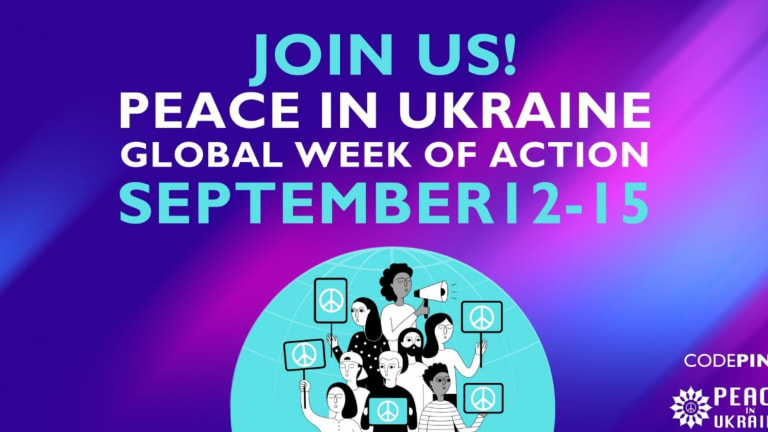 New Peace in Ukraine Coalition Kicks Off Nationwide Week of Action Monday, Sept 12 in D.C.
From DC and across the nation, CODEPINK & the Peace in Ukraine Coalition will rally inside and outside congressional offices to call for a ceasefire in Ukraine and investments in climate, not weapons to fuel endless war.
CODEPINK: Women for Peace, along with the Peace In Ukraine Coalition, will kick off a nationwide Week of Action Monday, September 12th, to demand a ceasefire in Ukraine, direct talks between the US and Russia and a freeze on weapons shipments to resolve a war in which the stakes have never been higher since the Cold War. During the Week of Action, activists around the country will gather inside and outside congressional district offices to demand investments in urgent needs at home, not in more weapons for an endless proxy war in Ukraine.
As the war on Ukraine enters its 7th month, the United States continues to escalate the conflict that threatens to kill thousands more Ukrainians and Russians, worsen global famine, further devastate the climate and push the two most heavily armed nuclear nations, the United States and Russia, to the brink of nuclear annihilation.
The DC launch for the Week of Action will be held at 1pm ET in front of the House of Representatives' Cannon building. The action will feature CODEPINK co-founder, Medea Benjamin, and retired United States Army Colonel and U.S. State Department official Ann Wright.
"The White House and Congress are fueling this war with a steady stream of weapons instead of pushing for talks to end the conflict," said Medea Benjamin. "That's why we, the people, have to rise up with a demand of Negotiations, Not Escalation." Benjamin, who has authored 10 books, is gearing up for a book tour for the release of her new book, "War in Ukraine: Making Sense of a Senseless Conflict," co-authored with Nicholas Davies.
Also speaking at the launch will be Ann Wright, who resigned from the State Department in 2003, on the eve of the US invasion of Iraq, stating that the invasion would be a violation of international law. Since then, she has advocated for peace around the world, and joined the NO to NATO movement, marching with protesters in Madrid before the recent NATO summit.
CODEPINK argues that rather than push for a protracted war, the White House and Congress should support a diplomatic solution along the lines of the MINSK II Peace Accord, signed by both Ukraine and Russia in 2015, to declare Ukraine a neutral non-NATO country and hold elections in the eastern region of Ukraine. Instead the US government, according to the Security Policy Reform Institute, has budgeted $40 billion over this one year period to escalate the tension with weapons, military equipment, troop training and intelligence, with zero accountability or oversight for taxpayer dollars. The same amount of money could have paid for 350,000 nurses or 400,000 elementary school teachers, according to the National Priorities Project's trade-off calculator.
Other events planned for the week include peace actions in Rockville, MD; Milwaukie, WI; Nashville, TN; Philadelphia, PA, Newton, Quincy and Maiden, MA, as well five cities in California: San Francisco, San Pedro, Los Angeles, San Mateo and Santa Barbara. Peace delegations will meet inside and outside the congressional offices of Representatives Jaimie Raskin (MD-08), Katherine Clark (MA-05), Jake Auchincloss (MA-4), Stephen Lynch (MA-08), Judy Chu (CA-27), Salud Carbajal (CA-24), Jim Cooper, (TN-05), Adriano de Jesús Espaillat Rodríguez (NY-13), and Ted Lieu (CA-33), as well as Senators Padilla and Feinstein (CA).
Partner organizations in the Peace in Ukraine Coalition include CODEPINK; Veterans for Peace; World Beyond War; Women's Women's International League for Peace and Freedom-US; Massachusetts Peace Action, International Committee-Democratic Socialists of America (DSA); Foreign Policy Team-Progressive Democrats of America; Peace, Justice and Sustainability Now, as well as others.
Check out the list of events at https://www.codepink.org/events