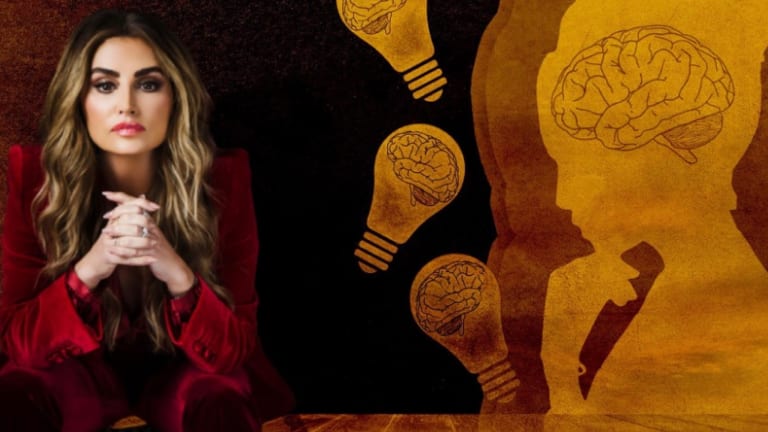 Dr. Venus Nicolino: Mental Health and How SoundMind Can Help
Beyond helping people with love stuff and matters of the heart, she's also interested in helping people's mental health.
If you've ever had the opportunity to hear or see Dr. Venus Nicolino in action, you likely enjoyed her straight talk that went right to the core of some tough topics.
Dr. Venus Nicolino (AKA Dr. V) has become a go-to expert in all types of romantic relationships, everything from providing useful suggestions for the best (and worst) ways to ask someone out on a date to keep the feelings of passion going strong in longer-term relationships.
Beyond helping people with love stuff and matters of the heart, she's also interested in helping people's mental health.
Dr. Venus Nicolino gladly offers her expertise and observations on a variety of TV shows as well as her popular podcast "Tea with Doctor V," where she enjoys sharing helpful advice to couples and to singles looking for love, as well as those who just want their lives to be better.
Her book, "Bad Advice: How to Survive and Thrive in An Age of Bull*hit," even led to a new literary sub-genre within the self-help book category: "no one's an expert," where readers are encouraged to figure out things for themselves rather than seeking help from so-called love gurus.
Dr. Venus Nicolino is happy to point out that everyone has their unique interpersonal struggles and encourages her various audiences not to get sucked into listening to all the terrible relationship advice that's present everywhere, from social media to TV to books and magazines.
There's a lot to criticize, and she's quick to share that many aspects and rituals of our modern life can be confusing and are known to make things worse for our mental health, everything from how little we sleep each night to our bad boundaries to our culture's too-strong focus on work and productivity.
If someone is not able to work for any reason, they often feel out of sorts and unsure of their place in the world. At the same time, in our society, employers, parents, and even spouses are sometimes also quick to pass judgment on people based on their lack of productivity. This pressure can make life even more challenging for people who are trying to deal with trauma or their own valid reasons to keep from working to their full potential.
Dr. Venus Nicolino likes to make her advice and interactions relevant to modern audiences. For instance, she made several fun TikTok videos, Instagram posts, and other clever ways of connecting with larger groups of viewers who may respond well to these visual presentations rather than having to read long posts or watch long videos.
So, What Is SoundMind?
This year, Dr. Venus Nicolino is expanding her abilities to help others by providing a mobile application called SoundMind. The app was initially designed to help those with mental health conditions and challenges, including post-traumatic stress disorders, anxiety attacks, depression, and general stress.
But she and others say that anyone and everyone can get something from it, especially since we're all dealing with so many unhappy and often unhealthy processes and situations in our daily lives.
She's an investor in SoundMind and on the company's board of directors.
The goal of the app is to provide some degree of audio and visual therapy to help people find happiness and wellness in their lives, whatever happiness means to them. Using the app properly can help reduce stress, improve a person's ability to focus and concentrate better, and get better sleep at night.
Consistently better sleep can also do so much for the brain and body, including helping with overall alertness and attention, and general well-being.
SoundMind is a free download from your respective app store. Once installed and active, people can hear soothing music as they start to feel better and begin the process of healing.
The app goes beyond listening to happy music – it's been designed by mental health professionals to provide optimal resources for a therapeutic experience. Users can focus on the areas of Music Therapy, Memory Rehabilitation Games, and Mindfulness Meditation.
All of these areas can help stimulate the brain to reduce anxiety, lessen stress over negative memories, emotions, and experiences, and create better feelings overall.
Support and collaboration in its development were given by mental health programs at universities around the country, especially experts who treat depression and PTSD.
Dr. Venus Nicolino said there had been other attempts at mental health apps in the past, but most of them have felt incomplete and not able to balance current therapeutic approaches with the capabilities of modern mobile devices.
But she's found that SoundMind is able to achieve the right combination of sharing useful and unique mental health techniques in an easy-to-use format.
She knows the app's features may not be able to help everyone's unique situations, but it can offer a new option for people trying to find help for their mental health conditions.
Dr. Venus Nicolino's History
Dr. Venus Nicolino has been interested in mental health topics for years. She has earned a Ph.D. and a master's degree in clinical psychology, and a master's degree in counseling psychology.
Even with her academic honors, she has tried to approach the world with a working-class, blue-collar focus. She grew up in a big family in the Philadelphia area, where six family members and a big dog all lived in a small space.
Money was tight, and she learned a lot about life just from how her family and her neighbors struggled to make things work for their families. She also enjoyed simply listening to them talk about their lives, a practice that she learned how to do professionally.
Her upbringing also taught her that the authorities don't always have all the answers, no matter how much they try to convince people they're the only ones to listen to. The Internet is abundant with toxic figures giving poor advice.
So, even though she also uses the Internet to reach out to people, she feels it's important to be someone who tries to counter some of the negative, even harmful, advice that goes around online from so-called life experts. She encourages people to do their research and not to compromise.
Her style in her podcast and TV appearances is sometimes described as warm yet fiery, where she tells it like it is but isn't cruel or combative. She's supportive but also sharp, empathetic, and compassionate, but known to swear occasionally.
She currently lives in Los Angeles with her husband, sons, and two nephews.
Dr. Venus Nicolino is especially excited for people to check into the SoundMind app and see if it can help their mental health journey.