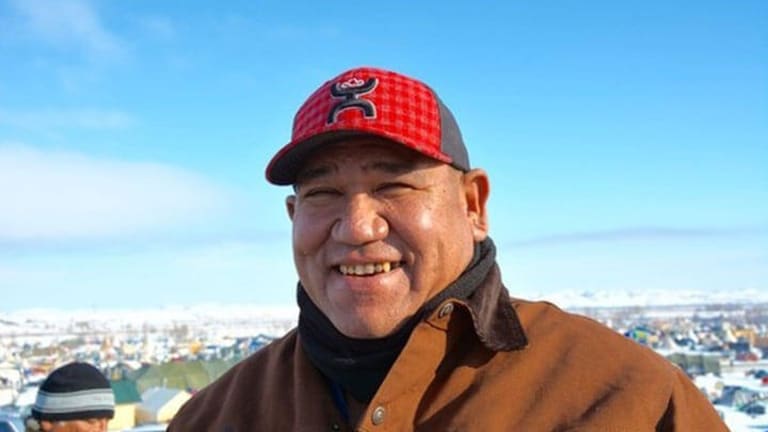 Tribal Chairman Talks Trump, Pipelines, Poverty on the Plains
Georgianne Nienaber: One of the important things is to get the truth out in mainstream America. The vets said they would like to gather all the videos from everybody and get the story out.
The last time that the Army had a plan to pacify the Great Sioux Nation, our men, women and children were slaughtered at Wounded Knee; the time before that, Custer died and Sitting Bull was chased to Canada by five armies so the General Sherman could steal our gold. Crazy Horse said, "One does not sell the Earth the people walk on," and he fought alongside Red Cloud to protect our homeland. At the close of Red Cloud's War, in the 1868 Sioux Nation Treaty, the United States promised: "From this day forward all war between the parties to this agreement shall forever cease. The government of the United States desires peace, and its honor is hereby pledged to keep it. ~~Excerpt from "Letter from The Great Sioux Nation to President Obama-November 30, 2016"
The participation of the Cheyenne River Sioux Tribe is an important and overlooked piece of the history of Standing Rock protests against the Dakota Access Pipeline. While major media satellite trucks were lining up at the Highway 1806 entrance to Oceti Sakowin in Morton County in anticipation of the arrival of thousands of veterans on December 4, something was happening just a two-hours drive to the south. Veterans began pouring into Eagle Butte, South Dakota, as they made their way to the contested piece of treaty land that had become a powerful symbol and last stand of resistance against the Dakota Access Pipeline. No one knew that history was about to be made in a few days, and that the permit to drill under the Missouri River at Lake Oahe would be denied within 48 hours. Uncertainty had settled over the frozen Dakota landscapes. A blizzard had just passed and another was on the way, but they kept coming. They came in caravans, by bus, by train and by air.
Geoffrey Badgley, an organizer for the veterans was worried. "I was concerned as we moved in that we might have serious issues moving this many people but the (Cheyenne River) Tribe has been incredible, and I know that we will be safe because of them. They have provided food and housing for over 2,000 people and will provide cultural education briefings for the thousands of veterans before they head to the camp," he said in a press statement.
A tribal member described the arrival of the first veterans in an email. "Everyone automatically stood straight up, heads high, shoulders back, and a moment of total silence went through the office. All we could think was, "Oh my gosh they are really here. The Protectors are here." We rushed to them to shake their hands and say thank you. Wopila tanka iciciyapi."
Mainstream media was not there to witness this. In fact, there has been scant mention in the press that The Cheyenne River Sioux Tribe is a plaintiff in an open lawsuit, along with the Standing Rock Sioux Tribe, against the Army Corps. Case 1:16-cv-01796-JEB was filed in Federal District Court on July 27. On August 10 The Cheyenne River Sioux Tribe filed a motion to join the lawsuit. Why?
Media reports have mostly ignored the fact that the Cheyenne River Sioux Reservation is contiguous with the Standing Rock Reservation. Both are situated along the banks of the Missouri River, and both are subject to potential and immediate environmental and historical desecration from the Dakota Access Pipeline (DAPL). Recognizing this and the importance of tribal involvement, Chairman Harold Frazier filed his August declaration with the court.
Frazier's declaration reads like a passionate manifesto as he relates the history of his people. He describes how the Tribe is a successor to the Great Sioux Nation, which was a party to the Fort Laramie Treaty of 1851 and the Fort Laramie Treat of 1868.The Great Sioux Nation's territory once spanned all of the Dakotas and much of Montana, Wyoming, and Nebraska, including the area at the confluence of the Cannonball and Missouri Rivers on which the Army Corps of Engineers granted permits on private land that is also contested treaty land.
Frazier's statement enters the account of a tragic history into modern court records; reminding the Corps of the time they flooded the eastern boarder of the Reservation on the Missouri River, "destroying more than one-hundred thousand acres of the most culturally and economically valuable land on the Reservation."
This was the genesis of Lake Oahe, the modern day epicenter of the epic battle between Energy Transfer Partners, the Army Corps and the Great Sioux Nation over the DAPL pipeline. Major historical and sacred sites have already been destroyed and water quality is in jeopardy if the pipeline is ever completed.
The losses have been astronomical. After losing the Tribe's most valuable land, the Tribe struggled. Ziebach County, the poorest in the nation, is within the Cheyenne River Sioux Reservation. Agriculture and tourism, which sustain the Reservation, depend upon the viability of Lake Oahe. "But just as importantly, Frazier said, "the waters of the Missouri River and Lake Oahe are sacred to the Lakota people and essential to the practice of our religion and our way of life."
For months I had wanted to sit down with this Sioux Chief, who has a reputation as a strong, unflappable leader working tirelessly to protect his people. So the day after the veterans began pouring into the community center at Eagle Butte, the Chairman agreed to drive two hours north to an interview on a windy hill overlooking the Oceti Sakowin Camp. Hundreds of reporters from private blogs to major media outlets were in Oceti Sakowin in anticipation of the vets arriving, but no one, except a friend who happens to be a Cheyenne River member, was down at the Cheyenne Sioux Reservation to be a witness. Armed with a small camera, Elder Jay Cook would take photos and text them to me while I interviewed Chief Frazier. The photos would take twelve hours to arrive, due to the lack of reliable cell service.
We did not know that a denial of the easement permit was being filed as we spoke on December 4.
But pipeline interests will not go down without a fight to save the $3.7 billion pipeline and uncertainty clouds celebration.
As of this writing, on December 5 DAPL filed a motion for a summary judgment to reverse the permit denial of December 4.
"Cross-Claimant Dakota Access, LLC ("Dakota Access"), pursuant to Rule 56 of the Federal rules of Civil Procedure and Local Civil Rule 7(h), respectfully moves the Court to enter summary judgment in its favor and to issue a declaration that the U.S. Army Corps of Engineers has issued a right of way under 30 U.S.C. § 185(a) to construct, operate, and maintain the pipeline beneath federal land at Lake Oahe, North Dakota, and that the right-of-way is subject to the "Conditions of Easement (Lake Oahe)" set forth in the July 25, 2016 Mitigated Findings of No Significant Impact."
But, on Saturday, the future was unknowable and fortunately, someone offered us a tent for the interview. As Chief Frazier settled into a folding metal chair, a cup of coffee in hand, I wondered how many meetings had taken place on this land, going back hundreds of years. How many stories had been told, negotiations made and treaties broken? We were in a canvas tent, but a hundred years ago Sitting Bull brought his people to Standing Rock to discuss treaty demands offered by the United States. There is a photo in the archives of history that show him, flanked by the great Chiefs, with a birch tipi in the background.
The Chairman was coughing, off and on. He has asthma, now exacerbated by the tear gas he experienced on the night of violence at the Backwater Bridge. The photos and videos from that event finally galvanized national media to pay attention to the use of excessive force by the Morton County Sheriff's Department against the people who have come to be known as the water protectors.
One thing Chairman Frazier wanted to make clear was that he only agreed to meet because of the significance of the veterans' event and the "importance of getting our message out."
"All those pictures they (the media) take of the chiefs and all, that is not me. I want to be here for other reasons."
And so we settled in to discuss some of those reasons and to learn more about the Cheyenne River Sioux.
A Conversation with Barack Obama
GN: In October you met with President Obama at a roundtable event held in Los Angeles at a private home in Beverly Hills. What did you discuss? How was he viewing the pipeline conflict?
CF: He said we should go through the council of nations process before decisions are made on the pipeline. He explained that the Army Corps does not operate as normal Federal agency. In some areas they have full authority at a local level; in others, at national levels. He talked about reviewing all the laws around pipelines before he made a decision.
I also expressed concern about civil rights violations and excessive force being used on our people. All he responded back on that question was "I have federal monitors out there." But I have not seen them.
GN: Did you see Loretta Lynch's statement on YouTube Friday night (December 2)? She said there are mediators out here. Have you seen them?
CF: I went to a meeting in St. Anthony North Dakota. Chairman Archambault was there, some of my staff, Crow Creek Chairman Brandon Sazue, the Morton County Sheriff Kyle Kirchmeier, the North Dakota Highway Patrol, the National Guard General and a Morton County Commissioner. That was the night before people were attacked in the water below Turtle Hill. Everyone said it was good to talk and important to keep open communication. Since then I have had no communication, no correspondence. Nothing. I have no communication with anyone. There were three mediators there. They came from the Department of Justice. Two men and a woman.
(In a November 2, press release Frazier responded to the attack on water protectors gathered in the water below Turtle Hill.
"A report by the Morton County Sheriff's Office states that your agency, I presume through Colonel Henderson, authorized them to exercise jurisdiction on this land and arrest unarmed peaceful demonstrators for criminal trespass. If this is true, I require an explanation from the Corps why it has deputized North Dakota law enforcement agencies to spray unarmed people with mace, shoot them with rubber bullets, and terrorize them with guns and helicopters on federal property. Additionally, what other U.S. Army Corps of Engineers or Department of Defense officers approved the Corps deputizing state law enforcement officers to enforce federal law? The Morton County Sherriff's Department, who has been proven to repeatedly engage in unreasonable use of force and has only escalated tension in the area, are now federal actors."

Sovereign Nation to Sovereign Nation
GN: Are you getting the respect and attention you are due as leader of a sovereign nation when you communicate with these agencies?
CF: No. I think with some agencies we do, I get respect from the DOJ, The Department of the Interior, but with the Corps, no. State governments, definitely not. Local, no. Even the county commissioners, to me, I think they think they have as much power as a tribal chairman.
GN: Can you define a sovereign nation for people who read this interview?
CF: To me a sovereign nation has the ability to develop their own laws and enforce their own laws within their country. I think that's number one. I think we should be allowed to live our way of life based on our own laws. The only thing that really harms us is not having our own currency and not having our own economy as far as import and exports. That limits us in that we have to rely on the federal government. To them, we are getting handouts. To us, what we receive are the treaty entitlements they owe us for the lands they have taken from us.
Thoughts on Trump
GN: Have you any thoughts about President-elect Trump?
CF: We really do not know what kind of a President he will be. It is all speculation. I think dealing with Indians; he thinks he knows better than us. He will tell us how we need to live. I think historically, he has been against Indian people based on casinos. He did not want an Indian casino because it would impact his casino. So I think we are pretty leery about him. But you know on our reservation we do not have a casino (Standing Rock does operate the Prairie Knights Casino). We are the only tribe in South Dakota that does not have a casino. Our people didn't want a gaming pact because under the Indian Gaming Act you have to have an agreement with the State. Our people feel that by us having a compact we are giving up our sovereignty.
GN: If you could have a conversation with President-elect Trump, sovereign to sovereign, what would it be like?
CF: Well, one of the things would be to stop the pipeline. Obviously I would tell him that. Don't allow it to be built near our water. If there are other alternatives I would be willing to discuss those. There are alternative routes to transfer the oil. I think the other thing I would talk about is that in his debates he did not want to outsource jobs to other countries.
So I would say to him, if you want to do that, if you want to bring the economy back, why don't you build some factories down in impoverished areas such as reservations, particularly ours? I would advocate bringing businesses to the Cheyenne River Indian Reservation. He needs to listen (laughter).
You know he was a Democrat and switched to the Republican Party. We are one of the poorest counties. It is not something to be proud of but it is a fact. Ten or twelve thousand live on the reservation, and we have nearly 20,000 enrolled members. The young ones have left. There are no jobs here.
Communication Between Nations
GN: How involved are the Cheyenne River Sioux at the Standing Rock camp at Oceti Sakowin?
CF: We are not here for the glory. I am glad you asked that. People assume we get donations; that we have all these resources and then people are shocked after I asked our Treasurer how much we received in donations and I was told $400. I am going to say we probably spent, counting our legal fees and our expert fees and our travel, probably half a million dollars.
Before we officially joined the lawsuit, we were sitting at the table, but we could not talk. Since we joined, and the lawsuit is still ongoing, they have not officially answered our complaint. Our complaint is different from Standing Rock. We filed more on treaty rights.
GN: What about the veterans? They are gathering down at your reservation right now, as we speak.
CF: I think it is a pretty awesome thing. They are here to help us, offer advice. Help in any way they can, including legal advice. One of the important things is to get the truth out in mainstream America. The vets said they would like to gather all the videos from everybody and get the story out. You know North Dakota's congressional people are sure painting a bad picture on the record in Congress, saying the water protectors are violent, that we are throwing Molotov cocktails at the police. But pictures don't lie. What they are saying is untrue.
Chairman Frazier had other interviews scheduled, so we wrapped things up with some talk about Christmas and his hopes to participate in the Big Foot Ride. (On December 29, 1890, the Seventh Cavalry massacred Lakota leader Big Foot and 150 of his people at Wounded Knee, South Dakota on the Pine Ridge Reservation).
In 1986 two Lakota elders—Curtis Kills Ree and Birgil Kills Straight—established the Sitanka Wokiksuye (Big Foot Memorial Ride).
Meetings and negotiations already scheduled regarding the future of the Dakota Access Pipeline might get in the way, but a Chairman/Chief steeped in the traditional Dakota ways still hopes to ride his horse in memory of those great chiefs who went before.
We did not know at the time, but less than 24 hours after this interview, the Corps issued a statement saying it will not grant an easement under Lake Oahe to DAPL interests. DAPL swiftly filed apress release saying they will proceed.
Chairman Frazier, chief executive of one of the poorest reservations in the country, was ready with a response. The reservation that operates without a casino, and without much in the way of donations other than treaty reparations, had a legal team ready for any contingency.
The legal team of Fredrick, Peebles and Morgan issued the following statement on behalf of the tribe.
"It is not clear exactly what the review process for the easement will look like going forward, but it is certain that Dakota Access will challenge it in federal court and the Tribe is prepared to fight back. It appears that the Corps will be actively considering alternative routes, and the Cheyenne River Sioux Tribe will insist on being full and active participants in consultation on that. Although no timeframe was given as to when the full review will begin, the Tribe does not expect it to conclude until after January 1, 2017. The Tribe intends to continue providing all the evidence and argument to show why the United States should not approve any alternative that jeopardizes our Treaty-derived right to clean water or our sacred sites."
It is now Tuesday and people who have not left the camps are trapped in a blizzard.
Cheyenne River is aware and poised to help.
Georgianne Nienaber
Republished from Huffington Post with the author's permission.