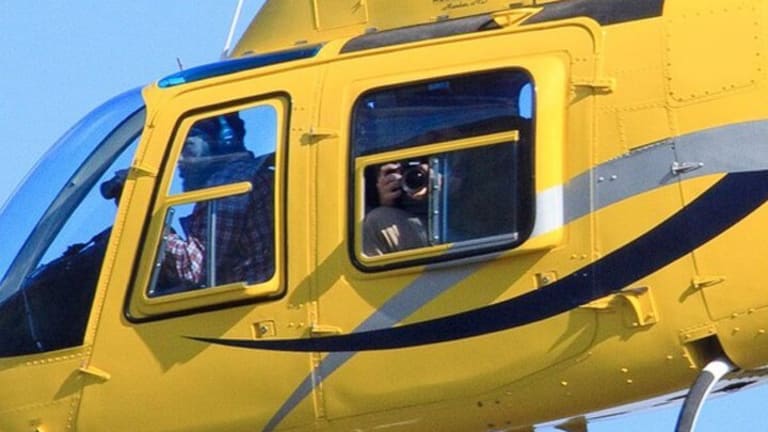 Choppers Over Dakota Pipeline Protest
UPDATE and Correction: Arnold Johnson Jr. is the registered owner of aircraft flying under false N number. Monte R. Myers owns Double M Helicopters. A Mr. MEYERS is referenced in FOIA response (s) and according to FOIA response admitted to falsifying N number, but we do not know for sure because of spelling inconsistencies in FAA responses. We do NOT KNOW the name of the pilot, or who HIRED the helicopter. FOIA number (s) are 2017-000029F6 and 2016-009518F6 "Mr. Meyers" is identified as the "operator" of the aircraft.
Helicopter Allegedly Hired by North Dakota Authorities Found Flying in Violation of FAA Rules
The Dakota Access Pipeline (DAPL), owned by the Texas company Energy Transfer Inc., is a $3.7 billion oil pipeline that runs southeastward from the Bakken region of northwestern North Dakota down to southern Illinois. The planned route through south central North Dakota traverses particularly sacred areas of the Standing Rock Indian Reservation.
One such area, known originally as Sacred Stone Camp and located along a tributary of the Missouri River known as the Cannonball River, has become the epicenter of a bitter standoff between interests of the oil industry and those of Native Americans. The proposed pipeline threatens water supplies for the reservation and also requires significant disturbance to sacred sites that are specifically protected by the National Historic Preservation Act (Public Law 89-665; 54 U.S.C. 300101 et seq.)
These sites are considered sacred to the descendants of all bands of Sioux Indians, who cite them as being essential to their identity as a People.
Thousands of protesters have tried to bring attention to the nature of this destructive activity on the Standing Rock Sioux Reservation and to stop DAPL from causing further damage to water supplies and sacred sites. With an estimated population of 5,000 to 7,000 here, this area qualifies as among the fifteen most populated cities in North Dakota.
For the past several months, protesters have been harassed and frightened by frequent low-altitude helicopters and fixed-wing aircraft flying surveillance over them. Two such surveillance helicopters are Bell Ranger 206B helicopters. These are not lightweight aircraft. In the 1960s, the U.S. Navy used the 206A as its primary training helicopter. The 206B Jet Ranger was introduced in 1971. In 1993, the U.S. Army approved the Bell 206B-3 as its primary training helicopter.
A local company known as Double M Helicopters, Inc. out of Mandan, North Dakota, owns one of the surveillance helicopters. Another of the helicopters, flying on behalf of local law enforcement and flying at low altitudes over the heavily populated main Oceti Sakowin encampment, has been found to have been flying with registration numbers that have been altered in order to disguise the identity of its registered owners.
In particular, on September 8 and 9, a yellow Bell Ranger 206B helicopter was making low passes over this area; low enough that people on the ground could easily identify he helicopter's registration "N-numbers," which the FAA requires to be clearly visible and legible. In fact, it was also easy to see that those N numbers had been altered from their original digits. What appeared to be "N10767" was in fact an altered version of "N16757." See the photo below, taken with a 200 mm lens on a Nikon D7000 camera.
Flying Under False Flag
Flying with false registration is a serious violation of FAA regulations. Section 49 of the U.S. Code states that anyone " who knowingly and willfully displays or causes to be displayed on an aircraft a mark that is false or misleading about the nationality or registration of the aircraft" shall be "fined under title 18, imprisoned for not more than 3 years, or both." Given the arguable over reach of power and the use of military tactics by the Morton County Sheriff's Office since the protests began in August, this situation requires a serious discussion.
The registration number N10767 actually belongs to a fixed-wing single-engine pressurized Piper Malibu Mirage (PA46-350P), built in 2007 and owned by Kansas Development Corporation, Inc. in Junction City, Kansas. One wonders if Kansas Development Corporation, Inc. was notified of this intentional ruse.
The actual N-number for this Bell Ranger 206B helicopter,N16757, identifies it as being registered to Arnold Johnson, Jr. of 37190 US Highway12 in Mina, SD. This helicopter, with its altered N-numbers, has been seen to re-fuel at Mandan Municipal Airport (Y19), south of Mandan on Hwy 6 near Sheriff and Highway Patrol offices.
We filed an inquiry and complaint with the FAA Fargo Flight Standards District Office (FSDO). Within ten days the officer in charge replied that they had conducted an investigation "and determined that further action was warranted" and "that a compliance action had been completed."
Several important questions remain unanswered: who ordered the alteration of the N number on the Bell Ranger 206, the exact name of the person who hired the helicopter, what compliance action was taken, and the reason behind the N number falsification by Arnold Johnson Jr., or the person/entity that hired his helicopter.
Freedom of Information Act Response
A response to FOIA request 2016-009518F6 provided some, but not all of the missing information. The FOIA response indicated that there is no official record of the person or entity that hired the Bell Ranger, but that Mr. Johnson "admitted that the registration number was altered from N16757 to become N10767." Johnson told investigators "this was due to threats made against registered owners of aircraft being flown supporting law enforcement during the oil pipeline protests near Bismarck, North Dakota."
If the Morton County Sheriff's Office ("law enforcement") or DAPL hired Mr. Johnson, the Sheriff's office and/or DAPL has broken the law by knowingly or willingly hiring an aircraft with a false N Number.
The alleged threats by opponents of the DAPL pipeline against the registered owners of other craft "being flown supporting law enforcement" are unproven, but there is a clue in Facebook posts from September 5 which have camp residents expressing alarm about another Bell Ranger 206 that was flying with proper the registration. N38HH is registered to Double M Helicopters in Mandan, ND.
According to the company website, "The owner/operator of Double M Helicopters is Monte R. Myers. He is a 30 Year veteran of the US Army with overseas deployments to Central America and Afghanistan." Double M offers power line and pipeline patrols, high definition photography, animal herding, and aerial surveys, among others services. There is a photo of Mr. Myers taken in Kandahar Afghanistan in 2004 prominently displayed on the webpage. Camp residents searched the N number, which led them to Double M Helicopters.
Psyops and Generational Trauma
It is critical that all of this information be placed in context of the current protests as well as the historical "Militarization of Indian Country," a phrase taken from a book written by Ojibwe activist Winona LaDuke.
LaDukes's work examines in dreadful detail how the military has poisoned and exterminated indigenous populations. For those interested in more background, the book is carefully organized into sections examining the deep ties between the military and indigenous people, how the economy drives the military and vice-versa, and the military's appropriation of Indian lands.
Combine this historical reality with the generational trauma experienced by the Native American community, and it is obvious that the constant presence of aircraft over the camps filled with woman and children would naturally raise anxiety levels. Whether activists actually threatened owners of helicopters working for law enforcement is unknown.
Looking Down the Barrel of a Gun
Consider also, that there have been to date 95 arrested for protest activities since the start of the Dakota Access Pipeline protests. The most recent was on September 28 when law enforcement officers assigned to the DAPL protest arrested 21 protesters at two construction sites along the pipeline route south and west of St. Anthony, ND.
Every picture tells a story. The Morton County Sheriff, Kyle L. Kirchmeier, issued a press release on the office's Facebook page.
"Officers arrested the protesters for various crimes including resisting arrest, criminal trespass on private property and possession of stolen property. Tow trucks were called to transport 5 impounded vehicles. When officers responded they witnessed numerous people and horses on private property. A protester on horseback charged at an officer in what was viewed as an act of aggression," according to the Sheriff.
Responding to An Act of Aggression By a Horse
In response to the "act of aggression" by a horse, law enforcement responded with specialized equipment and weapons that include armored vehicles and less lethal ammunition using bean-bag rounds. The Valley News reported that an officer raised his gun at the horse and rider. Morton County Sheriff, Kyle Kirchmeier, claimed that he was protecting the safety of his citizens.
What is appropriate use of force, and who are the citizens of Morton County that need protection? Census data for 2015indicates there are 30,310 people living there. 92.4 percent are white and 4.1 percent Native American. Should the minority be provided less protection?
The Red Warrior Camp, part of the larger Oceti Sacowin camp, countered that the water protectors (they do not consider themselves protestors) were unarmed, yet met with "armored vehicles, shotguns, assault rifles, snipers, helicopters, and tear gas."
A smartphone video of a Lakota grandmother tells a chilling story. She had never had a gun pointed at her in her life, and describes being in a "state of shock" in the aftermath of the police action.
Adding to the mystery of who is flying what aircraft in the area, a crop duster was photographed on September 28 spewing thick yellow smoke at low altitude and in close proximity to the protector's prayer service. Many were convinced that they were being exposed to a toxic substance from the crop duster. Was this an innocent coincidence, or was this an example of extreme psychological manipulation employed to frighten and discourage future prayer and protest?
The reaction of the protestors/protectors was understandably one of fear, considering 500 years of genocide, Wounded Knee, and smallpox laced blankets that wiped out entire populations. The numbers vary from study to study, but looking at the most conservative estimates there were over 10 million Native Americans living in land that is now the United States when European explorers first arrived in the 15th century. Less than 300,000 were living in the United States around 1900, and 5.2 million were identified as American Indian or Alaska Native in the 2010 census.
Generational and historical trauma is real. LeManuel "Lee" Bitsoi, Navajo, PhD Research Associate in Genetics at Harvard University, says that "Historical trauma, therefore, can be seen as a contributing cause in the development of illnesses such as PTSD, depression and type 2 diabetes. According to Bitsoi, epigenetics is beginning to uncover scientific proof that intergenerational trauma is real, as reported in Indian Country Today.
Morton County law enforcement offered what seems, on the surface, to be a reasonable explanation of the yellow contrail in a press release.
According to the North Dakota Highway Patrol, the bi-plane was flying at an altitude of 400 to 500 feet and was approximately ½ mile from the protestors. But there is no FAA verification of this data, and surely the pilot would have been able to visually notice the presence of the protestors/protectors.
"It is very important that our residents are aware that the aircraft in question was an
agricultural spray plane (bi-plane) flying to a field to apply a product. The pilot noticed a DAPL helicopter in the area, and because its engine was too loud to use radio communication to identify its location, the pilot deployed a common tactic to alert the helicopter to the biplane's location. The protocol is to use vegetable oil (the same used in air shows) as a method to identify an aircraft in the area," according to the Sheriff's statement.
It is true, that as the oil was being burned off, it turned yellow. Thistechnique is used at air shows and depending upon the composition of the oil, it can present as any spectrum of color.
Can You Hear Me Now?
What is in question, is the assertion by the Sheriff, not the pilot, that the engine was "too loud" to notify the DAPL helicopter. According to a knowledgeable pilot, "That ag plane has a comm (communications) radio and so does the helicopter; they have crossed paths before and there is probably a nearby airport or private strip with a CTAF they would have been on."
CTAF is Common Traffic Advisory Frequencies; the radio frequency used for all communications at and around airports that do not have FAA Air Traffic Control (ATC) towers, or "uncontrolled" aircrafts in FAA jargon. Pilots of all radio-equipped aircraft at or in the vicinity of uncontrolled airports are required to announce their positions and intended movements in these areas.
An attempt to contact the registered owners of the crop duster pictured in the press release, Sprayers, Inc., yielded a Post Office Box in Mandan and a disconnected phone number.

Equal Justice?
The litany is long of offenses leveled against The Standing Rock protestors/protectors. Misdemeanor and felony charges have resulted in arrests, incarcerations and bail for 95 people. There are no weapons charges, other than the "aggressive" horse.
On September 14th officers arrested three individuals for "felony reckless endangerment" for chaining themselves to DAPL equipment. This carries a penalty of up to five years and/or a $10,000 fine.
The use of attack dogs against unarmed women and children was extensively documented by Democracy Now and resulted in an arrest warrant for journalist Amy Goodman. It also resulted in a national shaming for the Sheriff's Department. Still there has been no action taken so far against Morton County for an obvious and serious FAA violation.
On October 3, Morton County Sheriff Kyle L. Kirchmeier issued afelony arrest warrant for 19 year old Mason Redwing. According to the affidavit filed in Morton County, "Redwing's actions caused the officer to be in fear for his safety as well as the safety of officers manning the line in front of the protesters. The officer said Redwing clearly had a reckless disregard of the risk of causing terror and disruption when he escalated an already tense situation with the charge of his horse causing officers to fear serious bodily injury."
Above the Law?
There have been no charges filed against the Sheriff or DAPL for a possible felony offense for hiring a 4,450 pound Bell 206B helicopter with falsified registration. The FAA is a civil agency and does not have the authority to file criminal charges. The FAA has the authority to assess civil monetary penalties and/or suspend or revoke a pilot's license. Any criminal charges would be filed by the Justice Department, totally at their discretion. Nor has the Sheriff or anyone from Energy Transfer Inc. been charged with assault by the Justice Department for using attack dogs on women and children.
The cliché question presents itself. Is Sheriff Kyle L. Kirchmeier and/or DAPL above the law? What are the real reasons behind the unusual incidents behind crop dusters and fraudulent aircraft identification numbers?
We are waiting for the results of a second FOIA request. We have no timeframe on the answers, but a Public Affairs Manager of the FAA said in an email that the FAA "takes this type of violation very seriously," and urged us to continue asking the necessary questions.
Georgianne Nienaber

Sandy Rosenthal, founder of Levees.org and filmmaker Keri Pickett (keripickett.com) assisted with research. Bonny Schumaker (onwingsofcare.org) provided aviation assistance and clarifications