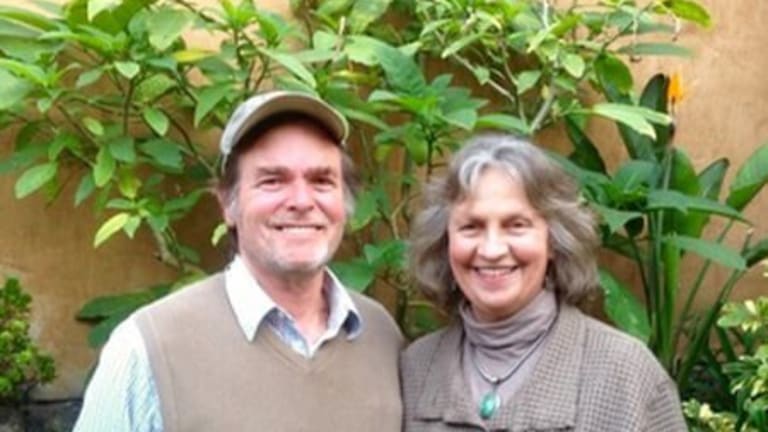 "We Are Enbridge and We Don't Go Around Anything"
Dedicated to American Indian activist and environmentalist Winona LaDuke, who is recovering from an accidental fall from a horse on Thursday, with a fractured pelvis. Winona suffered her injuries preparing for the Love Water Not Oil pipeline ride. She vows to be at the next meeting with her walker! We were discussing this article hours before her accident.
The disruptive phone calls came at dinnertime, and were not the usual telemarketing solicitations. The caller identified as a representative from a multinational oil company that wanted to run a 24-inch pipeline through farmland owned by James and Krista Botsford. The caller was not selling anything, but wanted the Botsfords to sell a right of way through their North Dakota land. This pipeline would push 300,000 barrels of oil a day to ports in Superior Wisconsin. The crude oil, pumped straight from the Bakken Oil Fields, could not be sold on the world market until it was processed at refineries on Lake Superior.
Every time that James Botsford answered the persistent ringing of the phone, he told the caller in no uncertain terms that he and his wife were not interested. Issue number one, he did not want to participate in a private enterprise that would increase global warming and threaten the lives of his heirs. This was a moral imperative and no amount of persuasion, including money, would make him change his mind.
The calls continued, and finally FEDEX packages began to arrive with contracts and offers of money. The honey pot grew, and the amount of money offered escalated escalated from about $25,000 to about $50,000. Still, Botsford's answer was "No."
In a final heated and somewhat ugly exchange over the phone, Botsford suggested to the caller in no uncertain terms that the company just go around the property.
"They (the caller) said they were Enbridge and they don't go around anything—they go through it, Botsford says."
Oily Nomenclature
The company, North Dakota Pipeline Company LLC (NDPL), is a Delaware limited liability corporation and qualified to do business in North Dakota through the North Dakota Public Service Commission. Well, that is not exactly the whole truth. NDPL is a joint venture between Enbridge Energy Partners, L.P. and a subsidiary of Marathon Petroleum Corporation. In fact NDPC formerly operated as Enbridge Pipelines (North Dakota) LLC.
After all, it's all in the name and a rose is not always a rose, and this hybrid rose smells of oil. Lots of oil. Enbridge is a Canadian Company that filed in Delaware as Enbridge Energy for LLC status. Enbridge, Inc. is an energy delivery company based and incorporated in Calgary, Canada. Enbridge, operating the longest crude oil and liquid hydrocarbons transportation system in the world, desperately needs the Botsford's quarter section (160 acres) of family farmland as a lynchpin in its delivery system. Endbridge is Big Oil, Enbridge has armies of attorneys, Enbridge has many aliases, and Enbridge will not be stopped. Most importantly, Enbridge was going to teach the Botsfords a lesson.
No one seems able to answer the question as to how Enbridge became a "Public Utility" in Delaware, thereby assuming the powers of condemnation of Botsford's land in North Dakota through the North Dakota Public Service Commission. Enbridge doesn't provide any public services to North Dakotans, but wants to get its oil out of the state as quickly as possible for sale on the world market. In fact, one could argue the opposite and point to the number of spills, accidents, blow-outs, environmental degradation and social decline in North Dakota as evidence of a net loss oil has cost the State. Enbridge has a litany of spills across the U.S.
Using data from Enbridge's own reports, the Polaris Institute calculated that 804 spills occurred on Enbridge pipelines between 1999 and 2010. These spills released approximately 161,475 barrels (25,672.5 m3) of crude oil into the environment.
This does not take into account the Kalamzoo Spill of 843,000 gallons of crude.
Nor does it include the day in March 2013 when oil flooded a suburban neighborhood in Arkansas. The Mayflower pipeline, operated by Exxon Mobile, leaked 5,000 barrels of heavy crude oil from Canada onto the city streets.
So, the company did what big companies always do and filed suit against the little guy; citing its rights to the land under North Dakota's eminent domain law. Enbridge has power, not real moral power, but legal power derived from a filing in Delaware and a name change, giving them muscle to condemn land for a right of way on 160 acres in North Dakota that has been a family farm and refuge for decades.
The Resulting Case # 18-2014-CV-01058 has made its way to North Dakota's Northeast Central District Court. Jury Selection begins this Tuesday, August 11 and the case could be wrapped up that day or extend to Friday, August 14, depending on the disposition of the judge and the extent of oral arguments.
The Lawsuit and Drones
The North Dakota Central Judicial Court Case 18-2014-CV-01058 filing by North Dakota Pipeline Company LLC, suggests James and Krista Botsford are screwed. NDPC claims a right to exercise power of eminent domain, and that it may enter and condemn the Botsford's land, use right of way, casements, and the property for the construction, maintenance, or authorization of the Sandpiper Pipeline.
This includes "ingress and egress from a public road or right-of-way, in order to survey, locate, construct, operate, maintain (including cathodic protection systems), clear, inspect (including aerial patrol and subsurface digging), reclaim, remove, protect, idle in place, repair, replace, relocate, change the size of and reconstruct a single pipeline, together with any associated valves, fittings, location markers and signs, communication systems and lines, utility lines, safety and protective apparatus, and all other equipment and appurtenances, whether above or below grade." (Direct quote from the Complaint) Aerial patrols can and may include drones over the property.
The heart of the Botsford's legal response is the "Abusive overreach of the use of eminent domain by a (foreign) corporation for private gain," James Botsford says. "They want a 99 year lease that they get whether the pipeline is built or not and that they can sell to any other entity for any other purpose at any time in the 99 years. Eminent domain to take private property is supposed to be restricted to a particular public purpose."
Eminent domain assumes that North Dakota residents will benefit from this pipeline.
On the surface, this does not seem to be the truth.
The Sandpiper pipeline will run from North Dakota to Superior, Wisconsin, on the shore of Lake Superior. So, far, the only shippers disclosed by NDPC are Marathon Oil, a part owner of the project incorporated in Delaware, and Enerplus, a Colorado shipper. The Sandpiper is a conduit for money and there are no cash withdrawal machines for residents or landowners along the route in North Dakota.
Indians Jump State Lines and Join the War
Although over 700 landowners in North Dakota took the money, Botsford has found an unlikely group of supporters. He is not standing alone. Ironically, it may be a group of Native Americans who will ride to the support and rescue of a white farmer and his next of kin.
James Botsford is a white attorney who has worked extensively on behalf of Native people for decades, and serves as a judge for the Winnebago Tribe of Nebraska. Although retired from his law practice, Botsford is regarded nationally by Native Americans for his work on "Rueben Snake on Religious Freedom."
Honor the Earth will have representatives at the August 11trial in a show of support and as part of the 3rd annual Love Water Not Oil Tour. The group of Minnesota Indians and supporters has a vested interest, since the Sandpiper pipeline, part of which Enbridge wants to force through the Botsford property, involves construction of a new 375-mile, 24-inch diameter line from Beaver Lodge, N.D. near the Fort Berthold Reservation to the current terminus of the NDPC system at Clearbrook, Minnesota. This will add 225,000 barrels per day (bpd) to the existing 210,000 bpd of capacity. The Sandpiper also includes a new 375,000 bpd, 233-mile, 30-inch diameter line to be built extending the NDPC system from Clearbrook to connect with the Lakehead Pipeline mainline terminal at Superior, Wisconsin. Then there is also the proposed addition of another line in Minnesota, Line 3, which when combined with the other lines would pump more oil than the Keystone XL through ceded treaty lands. The Indians are faced with a potential oil super corridor through sacred wild rice and fishing waters.
Enbridge does not yet have final approval to build the Sandpiper in Minnesota, but has exercised an abundance of hubris and prematurely stacked pipes just outside of Itasca State Park, headwaters of the Mississippi River. Minnesota tribes are angry. They were shut out of the preliminary approval process and Sandpiper is a deadly threat to sacred wild rice beads and violates treaties. The tribes claim eminent domain in Minnesota, but Enbridge is stacking its dented and dropped pipes anyway. "Dents caused by placing pipe on rocks," is mentioned in a flyer listing of typical issues that have been identified by US Department of Transportation (PHMSA) inspections of new pipeline construction projects.
Hiding Behind the Marathon Connection
The Botsford's response states that the "major motivating factor of the Sandpiper project was an effort to assure Marathon Petroleum Corporation, an equity owner of the pipeline and the 'anchor' committed shipper, that Sandpiper will enable it to deliver crude oil to its Illinois and Ohio refineries." Marathon's termination of its commitment would of course also terminate Sandpiper. Is the rationale for building Sandpiper an effort by NDP, acting in concert with Marathon, to ensure a supply source to the Marathon refineries?
If so, this arrangement benefits no one except the oil companies.
And who are the oil companies? NDPC is not offering that information as disclosure, citing confidentiality regarding proprietary information and confidential shipper information. "Common carrier oil pipelines are prohibited from disclosing confidential shipper information under Section 15(13) of the Interstate Commerce Act."
Because NDPC is a public utility, the judge has issued a preliminary ruling that only the monetary value of the Botsford's land can be decided in this initial phase. The attorney's did an end run around the merits of the eminent domain case. Enbridge is big. They can widen the loopholes to suit their game plan. This is legalese for a Motion For a Partial Summary Judgment.
The Plaintiff's Response
In a filing, the Botsfords are requesting that the court either deny the Motion for Partial Summary Judgment, or stay a decision on the motion until the Botsfords are able to conduct full discovery on these issues. Despite much higher offers made to the Botsfords for an easement, NDPC now takes the position that the damages to the Botsfords are a mere $2,000. James Botsford will offer testimony regarding the market value of the easement.
Moral arguments seldom hold up in court. In this case, whose rights are more important; pipelines or human beings?
Perhaps the best summary judgment of this case comes from James Botsford. His words show he is much more than the little guy serving as the bully corporation's punching bag.
This is land that has been in my family for decades. It is prime Red River valley agriculture land. It was handed down to me by my mother and father when they passed away, and I'm intending to hand it down to my children when I pass away. My wife and I have told our children that we will pass this on. Of course, if 225,000 barrels of oil bursts through this thing, that certainly is the end of this family legacy
Georgianne Nienaber