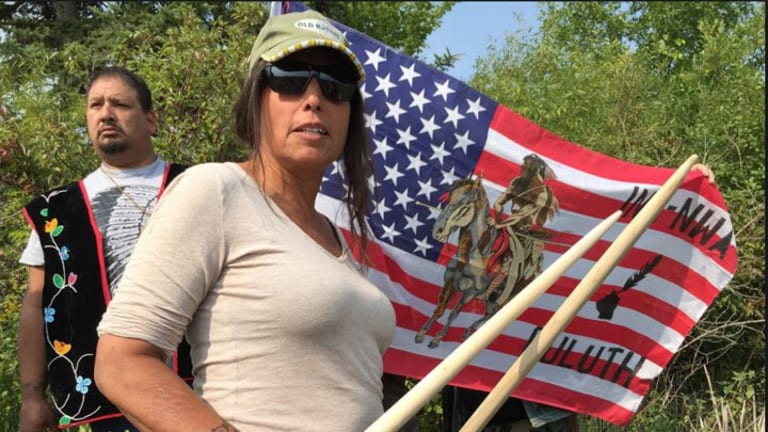 "First Daughter and the Black Snake" Lights the Path
Dick Price: Besides being a masterfully conceived, thoroughly engaging film, what makes "First Daughter" so moving is the heartening solution it offers in these dark times.
Last year it was #OscarsSoWhite. Now it's #OscarsKindaBlack. But what about Native American Women?
Just days after Dakota Access Pipeline protesters burned their Standing Rock camp ahead of forced evacuation, a powerful new film showcasing the battle to defend tribal rights and protect Native American ways of life premiered at the Native Women in Film Festival held this past Thursday in Santa Monica.
"First Daughter and the Black Snake" follows the efforts by Winona LaDuke, famed Native American environmentalist and executive director of Honor the Earth, in her battle—successful to this point—to stop development of several pipelines that would cut across Indian reservations in northern Minnesota, jeopardizing food and water sources for the Ojibwe tribes, while trampling treaties now a century and a half old.
Produced by award-winning photographer and filmmaker Keri Pickett, who joined LaDuke and several other filmmakers at a panel session that concluded the festival, "First Daughter" interweaves an examination of the legal battle to stop pipeline development with a look at an ancient way of life still practiced in the deep woodlands on and around the reservations, overlaid with a warm, in-depth look at LaDuke's life as an activist.
First Daughter and the Black Snake (Trailer) from Keri Pickett on Vimeo.
On the legal front, Enbridge Energy Partners, a Houston-based energy juggernaut, has planned an expanded network of pipelines that would carry tar sands or fracked oil—the dirtiest fuels imaginable—from the earth-scarring open-pit mines in western Canada's Athabasca River Basin, to Superior, Wisconsin, where it would be loaded onto oil tankers and then ferried across Lake Superior and the other Great Lakes to the Atlantic Ocean and beyond. These pipelines—the Sandpiper and the Alberta Clipper among them—cut across forested lands where native American tribes have fished, hunted, and gathered rice for centuries.
As "First Daughter" follows LaDuke and her colleagues from courtroom to public hearing to street protest in their attempt to stop Enbridge from violating long-held treaties, the film shows Ojibwe tribe people living close to the land, harvesting wild rice as their ancestors have done for a thousand years, growing multicolored corn, tilling their fields with horse-drawn plows, tapping maple trees for sap to make syrup and sugar, fishing the many bountiful lakes in their region, and riding their brightly colored horses. Particularly moving are scenes showing Ojibwe people harvesting rice by knocking the grains into their canoe with a pair of sticks, then ladling the slow-roasted grain into their hands to eat with their fingers as you imagine their forebears would have done long, long ago.
If the legal battle is the film's head and the National Geographic-like examination of native life is its heart, the story of Winona LaDuke's life is its soul. Born in East Los Angeles, raised in Ashland, Oregon, and educated at Harvard, the half-Jewish and half-Cree Indian LaDuke moved to northern Minnesota to become part of the White Earth Ojibwe decades ago. Yes, she's shown courageously confronting beefy Enbridge engineers in public forums, demanding answers to questions they are loath to give, but she's also shown mothering her own children and their ever expanding gaggle of friends, struggling to keep physically fit as she gets schooled by her 84-year-old mother in a yoga session, and just living her closer-than-close-to-nature life with her partner and friends.
In the film and during the panel session, LaDuke said what she really wanted to do is grow her corn—a gorgeous heirloom variety from Montana kept alive by Mandan Indians—and live her life. But you can tell she's also proud of the victories she's won, no matter how temporary they may be.
"I heard we cost Enbridge $600 million. I feel really bad about that—not really," she said with a smile. "They don't want a Standing Rock in Minnesota. They're nervous. You can see they're really nervous."
Ultimately, LaDuke's efforts succeeded in stopping one incursion, the Sandpiper Pipeline, which Enbridge cancelled in September after prolonged assault by LaDuke's Honor the Earth movement. But another battle looms to stop the Line 3 replacement project, with Enbridge angling not to remove the old pipeline and contaminated soil around it, but simply to add a new pipeline.
And then there's the Dakota Access Pipeline, which is now going forward to the west, despite the months-long protests at the Standing Rock camp in North Dakota, whose smoldering fires are still glowing as most of the Water Protectors have been forced to pack up and leave. LaDuke was heavily involved in the DAPL protest, camping with the protesters and serving as a leading spokesperson on such shows as Amy Goodman's Democracy Now.
Besides being a masterfully conceived, thoroughly engaging film, what makes "First Daughter" so moving is the heartening solution it offers in these dark times. Yes, LaDuke is a wonderfully multi-talented, highly educated woman, but "First Daughter" shows that her battles were won with just a small army of regular, salt-of-the-earth people, most of them Indians, but with White, Black and Latino allies as well. Their "bottom-up" approach lights the path for other small groups of people who want to rally to defend their freedoms, their way of life, that are under such deadly assault by the Trump administration and the country's shift rightward.
[dc]A[/dc]T THE PANEL SESSION afterwards, which was moderated by the actor Max Gail, "First Daughter" Home
" target="_blank">director and producer Keri Pickett noted that precedent. "A war has started with documentaries coming out of Standing Rock," she said. "People are seeing how powerful the camera is."
Pickett produced this, her second film, by following Winona around for two years. "I probably shot enough film for a full-season miniseries," she said, acknowledging that storytelling was her key concern in developing her film.
Netflix picked up her first film, "The Fabulous Ice Age," bringing it to a wide audience and helping it win several "best documentary" awards. She is now looking for a distributor for "First Daughter " to give it a similar boost.
Since starting in 2005, the annual Native Women in Film Festival is designed to promote equal opportunities for American Indian and Indigenous women and featured a half dozen films this year, in addition to "First Daughter."
Joanelle Romero, the award-winning actress who founded the event's sponsoring organization, noted that "It's been 24 years since we've seen a native woman on episodic television."
Romero, who also screened her own film, American Holocaust: When It's All Over I'll Still Be Indian, sees that invisibility a central part of a genocide wiping out native women and children.
"The white men making the decisions that exclude native women's faces may not even be aware of what they're doing, but this has to change," she continued. "Our murdered and missing women are everywhere—because they don't matter. You don't see us because we're no where."
"It's time for our women to lead, to stand up and speak our truth," Romero continued. "Maybe I waited too long, so I want the young ones here to not be afraid and stand up."
Also screened was "End of the Line: Women of Standing Rock," a moving work-in-progress by filmmakers Shannon Kring and Pearl Means, which features extended interview segments with women who have led the protests at Standing Rock for these many months.
END OF THE LINE: THE WOMEN OF STANDING ROCK Teaser from Red Queen Media on Vimeo.
"Women need a clear voice in media," said Kring, who focuses her work on films involving indigenous people and who spends much of her time in Hondouras working with them. "Women are only 2 to 7% of filmmakers and typically only get to make one film, while most white male filmmakers make film after film, getting second chances denied to women."
Means, who is famed Indian activist Russell Means' widow, sees the American Indian as the real miner's canary.
"What's happening to us will happen to others later on," she said. "We have a responsibility to our grandmother, the earth. We're looking at the question of whether we'll survive as a species."
Pointing out that 95% of Indians come from matrilineal societies, Means sees American Indian women playing a key role in that battle. "We respect men," she said. "And we don't compete with them."
But women making films about American Indian women can be a battle.
"My motivation is really to wake people up who look like me—blonde and blue-eyed," said Kring, a Wisconsin native who is descended from the indigenous Sami people of northern Sweden. "But the attacks on social media are out there—ugly threats, name-calling threats, death threats."
"So you've just got be a badass and speak your truth," Kring concluded, which describes Winona LaDuke to a tee as well.
Dick Price
Editor, LA Progressive