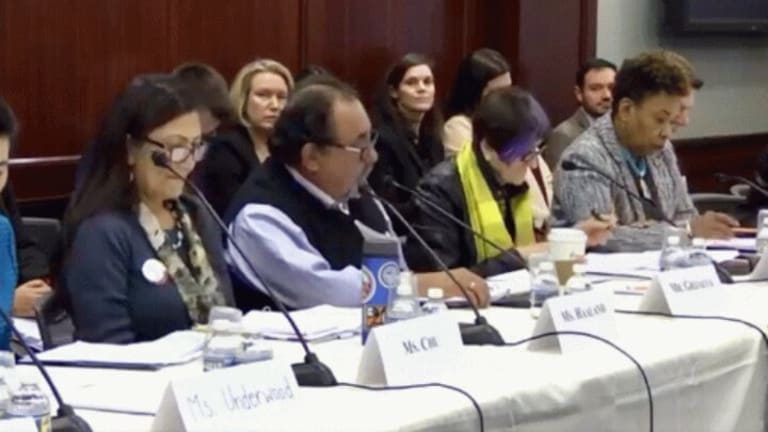 Native Populations Forgotten and Vulnerable During Shutdown
Georgianne Nienaber: Broken treaties. Broken promises. The vulnerable continue to suffer the consequences of U.S. policy.
[dc]"W[/dc]e are preparing to bury one of my grandsons who was shot and died quickly after Saturday night woke up to a cold house my furnace gave out this morning next figuring out what needs to be done, no travel, no purchases, emergency work only because of the shutdown."
This morning's text message from a Native friend in South Dakota was a shock and opened my eyes to a hidden and devastating consequence of the federal government shutdown.
Mainstream media has barely whispered about the effects of the shutdown on Indian Country. As of today, there are more than 800,000 federal employees and contractors working without pay, according to media reports. Having no idea how this affects reservations in the Heartland due to the under-reporting, I contacted Avis Little Eagle, publisher and editor of the Teton Times. We met and collaborated during the Standing Rock protests.
"Most of the unpaid workers are employed by the Indian Health Service, a division of the Department of Health and Human Services, or by a third-party health care contractor," Little Eagle said.
Little Eagle added, "If you look at the flip side or count our blessings so to speak - it opens our leaders eyes to how dependent they are on Government and maybe will seek to diversify and cut apron strings."
I thought this was a wise reference to the fact that the U.S. government is in a "caretaker" role with the Native populations. I have seen some of the health facilities, and can attest that the "caretaker," even before this shutdown, has not demonstrated care or fulfilled treaty promises.
Remi Bald Eagle is the intergovernmental affairs coordinator for the Cheyenne River Sioux. He told the Washington Times that employees being forced to work without pay is having an outsized impact on Eagle Butte, South Dakota, which is the seat of government of the reservation. "And now you have 200 employees not getting paid on this reservation. That's going to have a huge impact on our small economy," Bald Eagle said.
Located just south of the Standing Rock reservation, and west of the Missouri River, the Cheyenne River Indian Reservation was created in 1870 after the Indian wars, when the U.S. broke up the Great Sioux Nation in a series of treaties. Current census stats indicate that approximately 41.6% of families and 47.9% of the population are below the poverty line. The 2018 federal poverty level is $25,100 for a family of four. This includes 58.9% of those under age 18 and 21.6% of those aged 65 or over.
"Those who are most vulnerable are those who most immediately feel the effect," said Chairman Raúl M. Grijalva (D-Ariz.) at a January 15 meeting of the Democratic Steering and Policy Committee. The event featured two panels of witnesses and a broad cross section of the House Democratic Caucus.
The invisible are being hurt, and are being hurt badly.
"The Trump administration and its friends in Washington can only continue this shutdown if the real costs remain invisible, and we're well past that point," Grijalva said. "Families across Indian Country are suffering health and economic impacts too upsetting to ignore."
Here is his opening statement
Impacts to Indian Country health services are especially grave, and Indian Health Service (IHS) programs still have no appropriations for the current fiscal year, according to a press release. The House recently passed bill (H.R. 266) to fund IHS at $4,072,385,000 for the remainder of fiscal year 2019.
That is all well and good, but each day without that bill becoming law is a day without health funding for Indian Country.
The rural poor are the most invisible. 78 percent of Native Americans now live in urban areas, the "Urban Indian" line item constitutes "less than 1 percent of the total IHS budget," according to statistics.
In a January 7 letter to Congress, Francys Crevier, Executive Director National Council of Urban Indian Health, writes "The Indian Health Service (IHS) has now been unfunded for 16 days. This has already profoundly impacted Urban Indian Health Programs (UIHPs) and the American Indians and Alaska Natives (AI/ANs) that depend on them for health care. The situation is critical. We respectfully request your urgent action to restore funding to IHS and save AI/AN lives."
62% will have to cancel programs/cease offering services
54% will be forced to lay off essential staff
46% will need to reduce operating hours
In a heartbreaking clip from the hearing, Rep. Deb Haaland (D-N.M.) breaks down as she begins to describe the current situation, which will have catastrophic results if not mitigated, and mitigated soon.
The Pine Ridge Indian Reservation is an Oglala Lakota Native American reservation located in South Dakota. It also was included within the territory of the Great Sioux Reservation. Pine Ridge was created on March 2, 1889, but was originally part of the 1868 Fort Laramie Treaty. The Wounded Knee Massacre occurred there on December 29, 1890.
Broken treaties. Broken promises. The vulnerable continue to suffer the consequences of U.S. policy.
The Oglala Sioux Tribe has also suffered because of the shutdown. Sen. Red Dawn Foster, D-Pine Ridge, told the Argus Leader, click here "A lot of our IHS (Indian Health Service) employees live paycheck to paycheck and they're dependent on this. They're already overworked and understaffed, and to have this economic worry on top of that, creates a more fragile environment that therefore impacts our citizens."
Broken treaties. Broken promises. The vulnerable continue to suffer the consequences of U.S. policy.
In its current mission statement, the U.S. Department of the Interior continues to offer words with no action.
"The U.S. Department of the Interior upholds its trust responsibilities to foster the government-to-government relationship between the federal government and the federally recognized American Indian and Alaska Native tribes. The Department supports Indian self-determination to ensure that tribes have a strong voice in shaping federal policies that directly impact their ability to govern themselves and provide for the safety, education and economic security of their citizens."
No so much. Another broken promise. Another broken treaty.
Avis Little Eagle has it right when she suggests the government shutdown may be another huge wake-up call for independence.
Meanwhile the reservation culture of forced dependency, one that relies on federal funding for life itself, finds itself at the mercy of Congress, as it has in the past. This immoral shutdown is causing yet more fear and anxiety in First Nation populations.
Georgianne Nienaber
OpEdNews