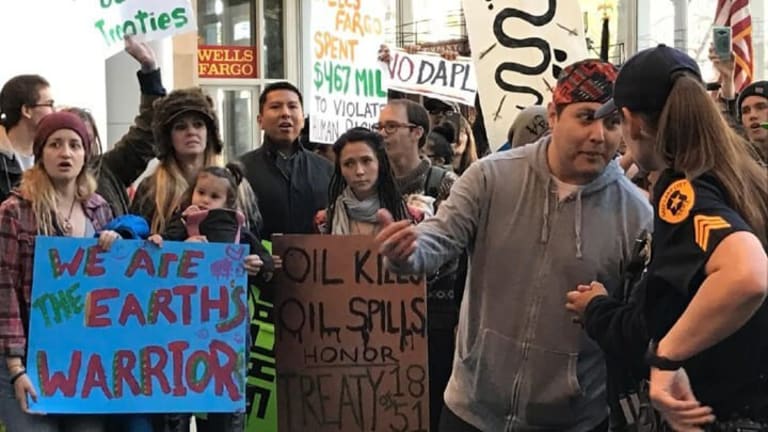 Dakota Access Pipeline: Reroute It or Totally Pull the Plug?
Stephen Fox: The Dakota Access Pipeline struggle is the most vital environmental protection issue and ethnic survival issue to face the United States thus far in the 21st Century.
The Dakota Access Pipeline struggle is the most vital environmental protection issue and ethnic survival issue to face the United States thus far in the 21st Century. Please take the time to comment on this article and let me know your views.
Allow me to begin by referencing an article I published ten days ago: "NYC Council "Stands United" with North Dakota Protesters: Two new videos of police using pepper spray and rubber bullets."
The article broke some personal pageview records (just under 185,000). This clarifies that there is growing impetus and consensus that we MUST come up with a solution in North Dakota before the violence worsens and before the brutal North Dakota winter really sets in. As a nation, we will not tolerate more brutality and violence. Writing about these subjects is like taking the pulse of our nation, while being baffled by the lackadaisical mainstream media coverage and the indifference of both presidential candidates.
I so appreciate the Standing Rock Defenders, as well as both the Unicorn Riot and the Red Lightning at Standing Rock videographers for their gripping footage filmed right in the middle of that horrible conflagration less than two weeks ago., and to the active and compassionate members of the Facebook Bernie Sanders groups, for relentlessly sharing about DAPL.
Some of the most shocking video from North Dakota:
Included in the very moving recent LA Progressive article by Winona LaDuke were scenes from a video from Red Lightning Video of police on the shore of the river shooting rubber bullets and pepper spraying defenseless Natives entirely in the water, to show their defense of the water that gives us live, who point out that 17 million people (at least!) get their water from this river. Here is her article, The Outrageous Dakota Excess Pipeline:
Vital here to point out the Proclamation by the New York City Council standing with the Standing Rock Defenders, a wonderful high level governmental affirmation of the Defenders and a total repudiation of the Governor of North Dakota and his state police.
In contrast, I am reminded of Colorado Governor Evans ordering the Sand Creek Massacre of innocent tribal members in November 1864, solely in order to test out some new weapons, the Hotchkiss cannons, which led to him having to step down. Maybe, in time, that is precisely what the Governor of North Dakota will have to do, especially if the police response becomes more violent at his request, or if he cannot control their excessive response.
All of these defenders are facing an overwhelming, well-equipped, and very costly military/police presence, heavily armed with batons, 50 caliber machine guns, huge pepper spray containers the size of fire extinguishers, rubber bullets, intrusive cell phone monitoring devices, powerful sonic devices, snipers, shooting of horses, and some new weapons we can't describe because they are as yet unidentified.
While watching the videos coming out of North Dakota, I was also reminded of what the South African Police did during Apartheid. Others have mentioned that this makes them think of the Nazis' oppression of the Jews, especially when the ND Police wrote numbers on the forearms of those arrested and put them in dog kennels as a temporary jail.
Further, a very wise 89-year-old friend of mine here in Santa Fe, Maurice Webster said that he recalled his earliest disturbing memories of news coverage of Mussolini's invasion of Ethiopia, when modern weapons and modern well-equipped armies faced down humble people armed only with spears.
The LA Progressive published many important articles by Georgianne Neinaber, but one that really stands out to me, great writing coupled with investigative journalism of the highest caliber: Standing Rock Protesters Attacked.
There will be soon large scale demonstrations all over the United States at branches of the Bank of America, HSBC, UBS, Goldman Sachs, Wells Fargo, JPMorgan Chase and other financial institutions, who have, together, extended a $3.75 billion credit line to Energy Transfer Partners, the parent company of Dakota Access.
This is an important fact, because if we can marshal the combined forces of hundreds of millions of Americans writing to Obama and to their senators to ask them to speak with Obama, maybe Obama could reroute the pipeline, but better yet shut the entire thing down in toto, without having to "buyout" these banks' investments like we witnessed a few years ago. Such a plan would cost a lot less money than that bailout, if that is the way it goes down. In other words, this is the banks' line of credit, which is not at all the same as their outright "investment."
Despite many hours of thought on this subject, I don't have many good or clearly defined answers, as I am a Native American art dealer, not a politician nor a financier nor a pundit nor any kind of fiscal wizard. I do know that some answers will come with or without the Senators and Congressmen and the President. I sadly foresee that the violence will get worse, because of the police's order and their attitude, despite the fact that a few North Dakota State Police turning in their badges and resigning.
The real answers will come, despite an almost total black out by the mainstream media, except for a few left mainstream media journalists who have a sense of compassion and conscience. The alternative media and the social media have taken up the slack and wholeheartedly fired up the information channels, especially on Facebook, and I thank the Board of Directors of Facebook.
All in all, despite those frequent repressive restrictions that activists call Facebook Jail, Facebook has positively transformed American Politics, all for the better, and the explosion of support for the Standing Rock Defenders on Facebook is proof of the fact that it is largely a superb and egalitarian of communication, which runs rings around the sleepy, lazy, and oblivious mainstream media.
One of the worse casualties of this primary season was the loss of credibility of the press, and in particular, that of the New York Times and the Los Angeles Times, with all of their puff pieces and veiled phony obfuscations, clearly in fear of offending any Big Bank or Wall Street corporate sponsors. Where the press has failed, Facebook has taken their place in credibility, through sincere righteous member-driven communication.
To get accurate information faster than through any other venue, these are some of my favorites from the Facebook support groups for Standing Rock:
Standing Rock Protectors - Pipeline Protest (Founded by Jim Graywolf Petruzzi of Drake, Colorado)
Concerned for the people of the Standing Rock Sioux Tribe (SRST) (created by Dustin Thompson
1 With Standing Rock (Created by Janice Brown of Buckeye, Arizona) Unify No DAPL
No Dakota Access Pipeline #NDAPL (created by Carlos Marroquin, Strategist & Grassroots Organizer at Bernie Sanders Brigade, of Los Angeles California)
Solidarity with Standing Rock (created by D. J. Razee, Executive Director at The Rz Foundation, Colorado)
Standing Rock Rideshare (created by Richard A. Martin)
Standing Rock Information (created by Lolly Bee)
The thing that concerns me the most is the deepest question of all: where does all of this go or what does it become after the presidential election? Will there be Standing Rock conflagrations all over the nation? Is this just the first of many violent confrontations? I fear this to be so....
Above all, we must send our gratitude and our financial contributions to the valiant and brave defenders of Standing Rock and other tribes, plus all of the non-Native Americans who are making this into the most meaningful environmental protection and ethnic survival efforts thus far in the 21st Century.
For those who can see the solution coming through withdrawals in the DAPL investing banks, Amy Goodman's conversation from Democracy Now, about which banks are investing in Dakota Access Pipeline?
AMY GOODMAN: Can you tell us that list of 17 banks?
HUGH MACMILLAN: I can. Citibank is the bank that's been running the books on the project, and that's the bank that beat the bushes and got other banks to join in. So, we have Wells Fargo, BNP Paribas, SunTrust, Royal Bank of Scotland, Bank of Tokyo-Mitsubishi, Mizuho Bank, TD Securities, ABN AMRO Capital, DNB First Bank—and that's actually a bank based in Philly; it's not the DNB Bank based in Norway, which is actually provided several hundred million to the Energy Transfer family separately—and ICBC London, SMBC Nikko Securities and Société Générale.
AMY GOODMAN: Now, it's Citibank—is that right?—that's running the books, as the report points out, for Energy Transfer and Sunoco Logistics, which own the Dakota Access pipeline?
HUGH MACMILLAN: That's right, by and large. So they have the largest share, and they've spearheaded the effort. So, what we published in LittleSis was the 30-plus banks that have provided general financing for Sunoco Logistics and Energy Transfer Partners. Through working with Rainforest Action Network, we were able to—who has access to Bloomberg Terminal, we were able to determine these 17 banks that I just listed, who are providing the direct financing for the Dakota Access project and, in addition, for an Energy Transfer Partners project to extend this pipeline on down to Texas. So, collectively, this pipeline would run from near the Canadian border on down to the Gulf Coast of Texas over 1,800 miles.
A gifted proactive writer friend of mine, Shawn Hamilton of Sacramento, wrote a superb letter to United States Senator Dianne Feinstein of California, which I believe warrants sharing with the readers of LA Progressive, to show that solving this mess in North Dakota is going to take a lot of "outside" help from liberal and progressive US Senators (all of them actually), and many other top government officials, like the New York City Council. Shawn's letter will inspire a few to write their own letters to Senators and Congressmen, as this disgrace in North Dakota worsens with more and more violence on the part of the police (both private police and the North Dakota State Police):
Dear Senator Feinstein,
I am writing to urge your immediate attention and action for relief of the water protectors at Standing Rock, North Dakota.
As you know, unarmed representatives of about 200 aboriginal tribes and their supporters are being beaten, maced, and shot with rubber bullets by overzealous police--who are working on behalf of a private energy company to complete a section of the oil pipeline on Indian land, running to (and then under) the Missouri River.
President Obama recently has said that he values native sovereignty and respects indigenous lives. If he's sincere, stopping the shortsighted Dakota Access Pipeline (DAPL) project now is the best way of demonstrating respect for native land, waters, and people. I'm asking you, as my California senator, to please take the following actions:
(1) Call for immediate de-escalation of police harassment of protesters.
(2) Call for a moratorium on further building at the site until the issues can be adequately addressed.
President Obama recently said he has directed the Army Corp of Engineers to look into re-routing the pipeline. Chairman of Standing Rock Sioux Tribe, Dave Archambauld, recently told Democracy Now! Host, Amy Goodman, that Obama has started the very much needed process of recognizing and respecting indigenous people's rights:
"A re-route is something that can require new state permits--new federal permits--to cross waterways; new land owner agreements; and it can also restart the process where proper consultation can take place and environmental studies can happen. So that's a huge step. I think this whole process was flawed from the beginning, but it also has to reflect what we've been saying all along is that indigenous people's rights continue to get violated and it's about time that it stops."
Sincerely,
Shawn E Hamilton
Sacramento, CA
Stephen Fox