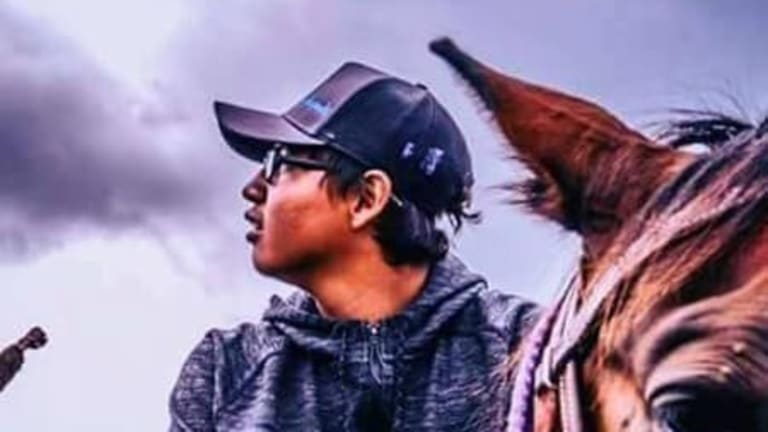 Standing Rock Protesters Attacked
Georgianne Nienaber: The officials of North Dakota have decided that the people of the Sioux Nation who stand against the DAPL are beneath them. In the early days of this historical event I overheard one man say, "they do not think we are human."
President Obama, They Shoot Horses and Teenage Boys on the Dakota Access Pipeline
On a beautiful sunny day in June, 2014 President Barack Obama came to the banks of the Cannonball River on the Standing Rock Sioux Reservation. June is the month of the Strawberry Moon and celebrates the first harvest of wild fruit. The occasion was Cannonball Flag day and Native Americans from Standing Rock and the Cheyenne River Sioux Reservations turned out to welcome the President.
For one day, the hills and buttes and prairies of North and South Dakota were the center of rare media attention, and the people who welcomed the President into their homes and hearts were ecstatic. Michelle Obama was with him, babies were thrust into their arms for photo ops, children danced, and a powwow sealed good will and belief in the promises Obama made to the Sioux nation.
The Washington Post reported that stories of Native children made the president cry in the oval office.
"I love these young people," Obama said shortly after meeting them. "I only spent an hour with them. They feel like my own."

It is a little over two years later and these people whom the president claimed as his own are being arrested on minor charges by a seemingly omnipotent Sheriff in Morton County. They are herded into dog kennels at Fort Rice and the insides of their arms are marked with a number in black ink. Women suffer broken bones from batons wielded by police officers and deputies. Memories of others wearing brown shirts in 1939 Germany, who also marked people with black ink, cause fear and apprehension.
There is testimony that cannot be erased or hidden. Listen to this interview with a young prayer warrior, Trenton Casillas-Bakeberg, who was ripped out of ceremony, arrested, and put in a dog kennel at the jail in Mandan, ND.
The officials of North Dakota have decided that the people of the Sioux Nation who stand against the DAPL are beneath them. In the early days of this historical event I overheard one man say, "they do not think we are human." It is a faded sentence scribbled in a notebook filled with tales of atrocity and stories of prayer.
How do you feel when you watch this Mr. Obama? Do the words of Floris White Bull recalling the traumatic experiences of people violently removed from camp and being caged in dog kennels move you in any way? Does it occur to you to call Attorney General Loretta Lynch into your office and demand that she look into this? Did your staff include the LA Times article in your morning briefing?
Did you cry when you heard a young rider was shot off his beautiful bay quarter horse by more than one of those "non-lethal" rubber bullets?
Members of the horse nation herded around 100 buffalo from the west and southwest of the Cannonball Ranch onto the DAPL easement. One rider was reportedly hit with up to four rubber bullets his horse was reported to be hit in the legs by live rounds. Another horse was shot and did not survive.
Here is a Crow Creek Spirit rider being chased down by DAPL security last Thursday. "You can see the courage and strength both riders and horses have! They escaped and made it home safely," says Greg Grey Cloud. One buckskin horse made it back to camp and his human with a tranquilizer dart stuck in his flank, says Grey Cloud in a video posted on his Facebook page. The horse came back with all of its tack missing.
Did anyone tell you that one horse died? They do shoot horses in North Dakota, Mr. President.
Did Sheriff Kyle Kirchmeier inform you, Mr. President, you who held babies in your arms at Standing Rock, that these are "non-lethal" rubber bullets? In fact in a PubMed article, "Death Following Rubber Bullet Wounds to the Chest," a different story emerges.
Despite the fact that it (rubber bullet) was designed to be safer than live ammunition, several cases of fatalities have been reported from its use. Most of these fatalities were because of abuse of the weapon in terms of range of fire and anatomical area of the body targeted. This is a case report of such a fatality following shotgun rubber bullet injury, including the circumstance surrounding this unusual occurrence, the autopsy findings and reports of the ballistic analysis. Four projectiles penetrated the right chest lodging in the right lung and injuring the right pulmonary artery, causing death. The mechanism of death in this case is rapid massive pulmonary hemorrhage.
Forensic Science presents a case study of the death of a 60-year-old man who was shot using rubber projectiles that were fired by a police officer from a Mossberg smooth-bore shotgun in an enclosed space from a distance of a few meters. "The post-mortem examination revealed that death had been due to gunshot wounds in the chest which had caused heart and lung damage with subsequent massive internal hemorrhaging."
President Obama, you will not find this information in the daily flood of press releases from Sheriff Kirchmeier that read like tales from an alternate universe.
Would you cry if you were on site to witness what is really happening, Mr. President?
In twist of fate, the actions of the young riders on horseback led to an outcome that was spiritually uplifting to thousands of people around the world. The riders opened a fence just east of the new "Treaty" camp, allowing the buffalo to run free across the hills and plains just as police and military forces were surrounding the camp. Water protectors established a spiritual campsite while declaring "Indigenous Eminent Domain" at the yawning mouth of the pipeline. The cheers and singing echoed the ceremonies of the ancestors as stunned police and protectors alike watched the buffalo run down what is now named "Buffalo Hill."
This action of Tatanka, no matter what the genesis, came at the exact time that peaceful water protectors were being dragged from the sweat lodge and slammed into the ground by pumped-up deputies. The sacred buffalo altar was rescued from the red spray paint wielded by the out-of-control and rioting police. In effect, deputies were defacing sacred places of worship. This story will be passed down through generations, providing hope and the knowledge that the animals will come to protect the people even if you will not, Mr. President.
Did you know, Mr. President that a DAPL private security guard was spotted among the water protectors with an automatic rifle heading towards camp? How was he recognized? There are no weapons of any kind allowed at the Oceti Sakowin camp. Bureau of Indian Affairs police arrived on the scene and apprehended him. The man is now in FBI custody after being turned over by the BIA. Morton County Sheriff's Department retracted its statementof the DAPL security person rushing towards Standing Rock camp with the AR-15 "being treated for a gunshot wound to his hand" after this photo evidence emerged.
There is good reason to hold you accountable, Mr.President.
The Cheyenne River Sioux Tribal Chairman Harold Frazier met with you last week in California.
He is expressing outrage at reported violations of his people's civil liberties, which came just two days after you, Mr. Obama, assured him during a face to face meeting that federal monitors were in place to prevent such actions.
Chairman Frazier is now asking that the United Nations intervene. "The U.S. government promised to protect us through treaties, but they have failed us. That's why we are asking the United Nations to send troops to protect our people from the brutalities inflicted on our people by State police and the National Guard." He added, "Native Nations originally came into the United State through treaties and if the United States is not going to honor these treaties the Native Nations need to call on the United Nations for assistance."
If you love these people as your own, Mr. President, please do something. Actions matter more than words or tears embedded in a press release.
Georgianne Nienaber
Republished from Huffington Post with the author's permission.
This was just posted by Standing Rock Rising
In the first 15 seconds, you can see a spirit rider holding the line, and keeping distance between water protectors and police. You will then see the water protector shot off his horse at point blank range with rubber bullets, and then his horse shot at point blank range. The next couple minutes are the commotion afterwards. There was no reason to shoot this brave water protector and his horse, as they were not threatening MCSD or military in any way.