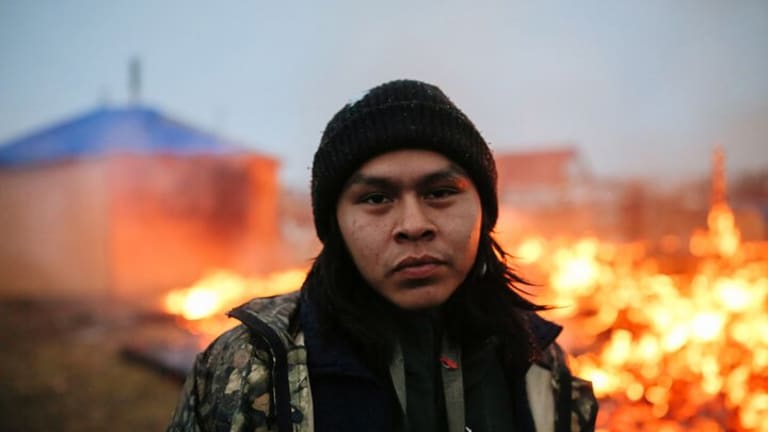 The Filth of North Dakota
Winona LaDuke: An Environmental Protection Agency-led investigation determined 40,000 pounds of Rozol poison had been illegally distributed across more than 5,400 acres on both the Cannonball and the Wilder ranches.
Earlier this month, Governor Burgum and North Dakota authorities peddled a story to the media about the feces and garbage runoff into the river from the Oceti Sakowin Camp, requiring their immediate attention as a public health risk. That's rather ironic, since the state long ago removed all sanitation support to the thousands of people who came to live in the 14th largest city in the state of North Dakota.
With the "Water Protectors" forced out midwinter, thousands of pounds of food was bulldozed and tossed by federal authorities—stores for a winter camp, which might have gone to people. Tents, tipis—the whole is gone. All of this to clean up after "protestors."
The spin continues in North Dakota's corporate-fed media. As Dr. Jumping Eagle explains:
"Racist biased media use this as opportunity to talk smack once again. Some empty tents and cardboard can be recycled, etc... benzene, oil, and other chemicals in the water cannot be removed. So... when it comes to trash and waste, I will take some jacked up tarps any day, over 50 - 100 years of contaminated water from oil pipeline spills and frack waste contamination.
It's too bad that Morton County doesn't look in their own trash. Maybe they would find their integrity, honesty, and humanity buried in there somewhere. They likely burned them while they were busy taking selfies with half-naked freezing water protectors in cages in the background—a la Guantanamo Bay and Auschwitz."
Let's be honest. North Dakota does not care about garbage. Nor pollution. In fact, the state this past year decided that instead of protecting citizens from the radioactive waste from fracking, they would just increase the recommended daily allowance of radiation allowed in the state, from 5 picocuries per gram to 50 picocuries per gram. In Orwellian terms "Technically Enhanced Naturally Occurring Radioactive Materials" is really just a word for fracking wastes.
An Environmental Protection Agency-led investigation determined 40,000 pounds of Rozol poison had been illegally distributed across more than 5,400 acres on both the Cannonball and the Wilder ranches.
Let me remind Governor Burgum that at no point has radiation become safer for your citizens.
That's just the beginning of the garbage insanity. Morton County sprayed a lot of unknown toxins onto the Water Protectors; from antifreeze-laden water cannons, to mace, into the river. David Meyers, a "rancher," purchased 40,000 pounds of Rozol, a prairie dog poison, to use on land including the Cannon Ball Ranch, adjoining the Missouri River.
An Environmental Protection Agency-led investigation determined 40,000 pounds of Rozol poison had been illegally distributed across more than 5,400 acres on both the Cannonball and the Wilder ranches. As the EPA investigation noted, instead of being applied into the prairie dog burrows, the bright blue poison pellets were broadcast on the ground. Dead prairie dogs were left where they died instead of being expeditiously removed to protect other wildlife.
Six dead eagles were found in April, dead bison were also found as recently as August, documents said. The poison causes animals to bleed to death. According to the report, Meyer did not have proper pesticide certification to apply the Rozol. Six months after he poisoned the land, Meyer sold the Cannonball Ranch to Energy Transfer Partners for a reported $18 million.
Nice ranching. And, that's some garbage that will not be easy to clean up.
About Those Pipeline Spills
Since January 2016, more than 100,900 gallons of crude oil, waste oil, bio solids, natural gas, and brine were spilled in North Dakota and surrounding areas, according to the North Dakota Department of Health records. It's almost a weekly fiasco. Approximately 50,000 gallons of slaked lime solids slid into the Missouri River in June, causing unknown impacts.
Few companies are ever fined, in a North Dakota regulatory system which appears controlled by oil companies. In early 2016, the North Dakota Industrial Commission reviewed six outstanding spill cases with fines totaling $600,000, according to the Bismarck Tribune. As journalist Chris Hagen writes, "Additionally, past spills are still being cleaned up around the state, such as the Tesoro Corp. spill of 2013, the XTO Energy, and the Oasis Petroleum Inc. spills of 2014 and 2015, according to Bill Suess, Spill Investigation Program manager of the North Dakota Department of Health. Spills occur on a daily basis, Suess said, the cleanup is costly, and companies are rarely fined."
"Not every one gets fined," Suess said. "Usually we hold off as long as we can on the fines because it is a motivator to get them cleaning it up."
In 2015 and 2016, the Commission proposed a total of $4,525,000 in penalties, collecting a paltry $125,976. So , let us talk about garbage North Dakota.
As North Dakota cheers the completion of the pipeline, the Trump Administration has buried an Interior memorandum that reaffirms the denial of the permit. After all, if the pipeline was not good enough for the water supply of Bismarck, why would it be good enough for the water supply of Standing Rock.
All of this reminds me of the so called Whitestone Massacre of 150 years ago, the same day as this past fall that the Dakota Access Pipeline Security forces turned guard dogs on our people. As LaDonna Brave Bull Allard writes, " On this day, 153 years ago, my great-great-grandmother Nape Hote Win (Mary Big Moccasin) survived the bloodiest conflict between the Sioux Nations and the U.S. Army ever on North Dakota soil. An estimated 300 to 400 of our people were killed in the Inyan Ska (Whitestone) Massacre, far more than at Wounded Knee. But very few know the story." On that day, as well, General Sully, not unlike the National Guard, Morton County, and Bureau of Indian Affairs cops destroyed the food of a people.
According to historical sources, Sully ordered all the Indian property abandoned in the camp to be burned. This included 300 tipis and 400,000 to 500,000 pounds of dried buffalo meat—the winter supplies of the Indians and the product of 1,000 butchered buffalo. Some things don't change much.
I can't say it's water under the bridge at this point. I can say that North Dakota Governor Burgum has a lot of work cut out for him to clean up the garbage of the state—not only the toxins of an oil industry, unregulated, but the toxins of human rights violations. This will be a challenge: A survey by the National Jury Project found that 82% of the potential jury pool in Bismarck thought that the Water Protector defendants should be convicted.
What about David Meyers? I think North Dakota has violated the covenant with the Creator and the Rights of Nature. Filth is everywhere. It is time to come clean.
Winona LaDuke