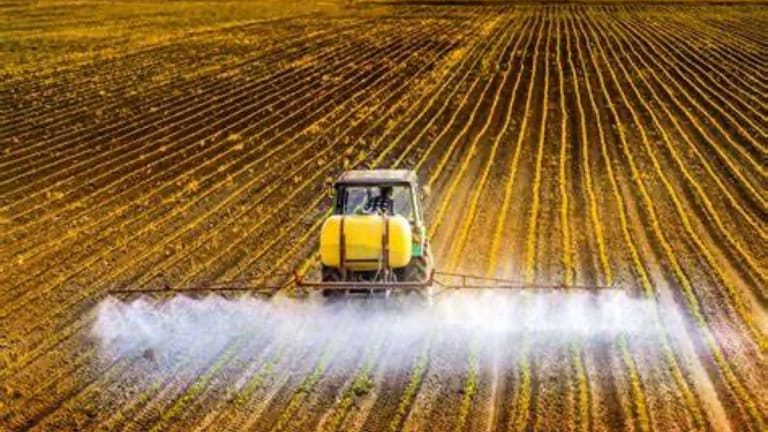 Glyphosate & Industrial Agriculture Must Go
Stephen Frantz: Monsanto colluded with journal editors to limit/retract the publication of articles that were not favorable for glyphosate; nor did such editor disclose their conflicts of interest.
IMPACT STUDY QUESTIONED
Today we find that there is a provision in the Massachusetts state budget calling for a study on the impact of the herbicide glyphosate (the active ingredient in Roundup and other glyphosate-based herbicides), and its most common alternative herbicides, on health and the environment. 
[The reason this is an appropriate discussion for the LA Progressive is that similar budget allocations could be proposed in any state and involve equivalent departments; the court cases took place in CA; and here, the CA Department of Pesticide Regulation (CA-DPR) will be noted where appropriate.] The allocated "not less than $50,000" is to create and fund the operation of a commission to review the impact of glyphosate on endangered or threatened plant and animal species and on significant habitats.
The findings will be shared with the state Pesticide Subcommittee (a part of the Massachusetts Department of Agricultural Resources - MDAR) which is to decide whether "current uses of glyphosate pose unreasonable adverse effects to the environment, and whether current registered uses of glyphosate should be altered or suspended".
Such funding is largely a misuse of public resources since a major, significant review of glyphosate per se with regard to public health has already been completed in the California courts. Internal Monsanto emails, text messages, reports, studies, and other memoranda were deemed by the courts as "not confidential" and were thereafter published as "The Monsanto Papers" and widely distributed by the LA law firm, Baum Hedlund Aristei & Goldman. An overview of the process has been published (05/24/2021) in Elsevier's Science Digest. 
The authors analyzed and cited numerous declassified court documents from the Monsanto Roundup litigation showing that the company corrupted the scientific review process, obfuscated that glyphosate causes non-Hodgkin's lymphoma [among other maladies], and failed to warn of this severe health hazard.
Monsanto colluded with journal editors to limit/retract the publication of articles that were not favorable for glyphosate; nor did such editor disclose their conflicts of interest.
Specifically, Monsanto engaged in research misconduct, including ghostwriting and paying thousands for expert "independent" testimony, to disrupt regulatory oversight in order to protect one of their most profitable products.
While public-science organizations have prohibitions regarding research misconduct, private-science organizations do not (at least one Monsanto employee boasted about research misconduct in email exchanges). Monsanto colluded with journal editors to limit/retract the publication of articles that were not favorable for glyphosate; nor did such editor disclose their conflicts of interest. Such research misconduct has had a major effect on glyphosate regulation, has had ripple effects throughout the scientific peer-review process, and has worked to advance the company's interests, not the interests of public health and the environment.
SETTLEMENTS
Bayer AG (the current owner of all things glyphosate) allocated $10.9 billion in 2020 for settling tens of thousands of Roundup cancer lawsuits; they've already settled 125,000 claims for $9.6 billion and there are still 30,000 cases awaiting resolution. This settlement followed three consecutive CA trial losses for Monsanto in which $2.4 billion was awarded in total damages. Monsanto-Bayer has lost every appeal in the CA courts (as of 08/09/2021); the Court confirmed that Monsanto "acted with a willful and conscious disregard for the safety of others in its efforts to shape the scientific inquiry into glyphosate and Roundup", and that Monsanto's conduct was "reprehensible". 
Bayer has now filed a petition (on 08/17/2021) with the U.S Supreme Court seeking reversal of lower court verdicts that established Bayer is liable for damages from use of Roundup; they challenge the body of literature linking glyphosate to cancer (which the U.S. Environmental Protection Agency [EPA] and pesticide manufacturers have customarily ignored). In a pressure-relief move, Bayer has announced that it would end sales of Roundup to residential consumers in 2023, a move aimed at averting litigation risk, not at protecting residents from its hazardous product. This decision does not affect industrial agricultural uses of glyphosate that contaminate the U.S. food supply and waterways nationally. Hence, industrial farming and other uses of glyphosate will continue to inflict harm on agricultural workers, their families and on everyone else exposed. 
GOVERNMENT SUPPORT OF MONSANTO
According to an 08/18/2021 Beyond Pesticides article, "Over the last four years, The U.S. Environmental Protection Agency and U.S. Department of Agriculture have worked to provide cover for Bayer/Monsanto by reregistering Roundup and other glyphosate-based products, intervening in court cases, and coordinating with the company to stop glyphosate bans in other countries." Our current system of poisoning and contamination must stop. Unfortunately, this system protects the vested economic interests that wrote the laws, amend the laws, and fight to protect the laws, not the people who are adversely affected (e.g., cancer, Parkinson's disease, autism, gut microbial composition), and certainly not people of color who suffer disproportionately from many of the pesticide related illnesses. Similarly, the laws fail to protect the ecosystems and biodiversity which are critical to the existence of life. Glyphosate negatively affects all life forms; it's ubiquitous in the environment.
LAWMAKERS' INQUIRY
It is laudable that in late June 2019 three western MA state lawmakers — Sen. Jo Comerford, Rep. Natalie Blais, and Rep. Mindy Domb — spoke to MDAR employees including Commissioner John Lebeaux about how the state goes about permitting certain herbicides including glyphosate. Essentially, the Subcommittee rubber stamps EPA decisions; and as of August 2019, the United States government maintains that glyphosate "doesn't represent a cancer risk" and "the EPA will not approve labels that warn people that glyphosate may be carcinogenic". However, after concerned citizens in MA raised an awareness of glyphosate's many problems (cancer and other diseases, impact on the human gut microbiome, impact on the soil microbiome, impact on the monarch butterfly, pollinators, etc.), the MA legislature suggested that the MDAR Pesticide Subcommittee re-examine glyphosate safety; hence, the $50K review commission. [NOTE: CA residents may wish to stage a similar protest to the CA legislature in order to prompt regulatory change.] Had the EPA originally done its job (and had MDAR's Pesticide Subcommittee done its job) court cases, litigation, hearings and reviews would never had been necessary. The EPA is responsible for protecting the public from unnecessary and unreasonable harm caused by toxic pesticide exposure. However, the EPA's corruption spans administrations and is independent of political parties.
TOO DANGEROUS TO USE
MA legislators have suggested that MA conduct its own analysis of herbicides, separate from the federal government. This is a reasonable proposal for any state since U.S. law limits EPA toxicity studies to evaluating only the active ingredient, not the full product formulation. Among the world's four leading agricultural producers and exporters, the U.S. lags behind the European Union, Brazil and China in restricting or banning harmful pesticides. Of 1.2 billion pounds of pesticides used in U.S. agriculture in 2016, approximately 322 million pounds were pesticides banned in the EU. Seventy-two pesticides that have been banned or are being phased out in the EU are still approved by the EPA. Among those products deemed by the EU too dangerous to use at any level (updated for MDAR & CA-DPR on 08/27/2021):
■ 2,4-DB, oxytetracycline, and paraquat. MDAR allows one 2,4-DB, three oxytetracycline and six paraquat products. CA-DPR allows fourteen 2,4-DB, four oxytetracycline and three paraquat products.
■Atrazine herbicide, an endocrine disruptor and possible carcinogen. MDAR allows fourteen products. CA-DPR allows seven products.
■Outdoor use of three types of neonicotinoid pesticides, which are high risk to pollinators, including imidacloprid. MDAR allows thirty-nine imidacloprid products. CA-DPR allows five imidacloprid products.
[Note: The MA legislature passed a motion on 03/01/2021 (effective 07/01/2022), that will remove neonic-containing pesticides from retail stores and require that only licensed pesticide applicators use such products for outdoor non-structural uses or outdoor non-agricultural use on lawn care, turf, trees, shrubs and flower and vegetable gardens. While somewhat useful, this motion falls short of eliminating the primary sources of neonics, including a ban on the use of neonic-coated corn and soybean seeds, labeling of nursery plants treated with neonics and a ban on aesthetic-only uses. Hence, pollinators continue to be at great risk from this pesticide that the EU has largely eliminated].
■Organophosphate insecticide chlorpyrifos, which causes neurological harm in children. MDAR allows seven products. CA-DPR allows six.
[Note: this was banned by the EPA from residential use in 2001; and has just been banned (08/19/2021) by the EPA from all food-agricultural uses - effective in 6 months. A review of non-food use will occur in 2022. Canada has announced bans of all registrations of chlorpyrifos; retail sales end in Dec. 2022 and agricultural uses end Dec. 2023 (].
■And lastly, glyphosate herbicide (human carcinogen and endocrine disruptor) is restricted or banned in several countries and in 13 Massachusetts towns, but is still registered by the EPA. MDAR allows  twenty-eight products. CA-DPR allows thirteen products.
GLYPHOSATE STILL ALLOWED?
In summary, we know that for many years Monsanto misled authorities and the public regarding the dangers of glyphosate as a carcinogen and catalyst of other serious maladies. We know that Monsanto colluded with the EPA and others to corrupt science in order to maximize profits from sale of glyphosate. We know that Bayer is currently paying out billions of dollars to settle legal cases where people were sickened or killed through their use of glyphosate. Therefore, how is it at all acceptable to allow glyphosate to continue to be used on our food supply, to risk the health of farm workers and their families, to risk general public health, and to risk environmental damage? Does any of this make sense? The new MA commission to review glyphosate is largely unnecessary, at least for the glyphosate review portion of the proposal, as is this product in its entirety. Using the funds to promote organic regenerative agriculture and help farmers transition in any way would be an excellent application (e.g., promoting healthy soils, organic education & assistance via cooperative extension, loans and grants for materials and supplies and helping farmers establish regenerative practices, including cover cropping).
The Massachusetts Pesticide Board is responsible for advising the MDAR commissioner on administration and implementation of pesticide general laws. The Pesticide Board Subcommittee is responsible for registering all pesticides. Since the latter frequently defaults to "EPA standards," the scientific robustness of their scrutiny of each pesticide as evidenced earlier is questionable, as is the lag period before any new restrictions take effect. In fact, the EPA and MDAR (and CA-DPR) are obligated to alter their registration procedures in order to place people, public health and the environment over the economic interests of the pesticide industry (including Bayer AG and its shareholders) and the perceived needs of industrial agriculture and their lobbyists.
It's worth noting that MDAR has posted a seriously challenged review of glyphosate online. It is incredibly outdated; their process for pesticide review, approval and registration is clearly out of step with current, independent scientific knowledge. Understanding pesticide impacts constantly evolves, especially regarding effects on non-target species, bodies of water and other environmental resources. In MDAR's post, their latest entry cites a "personal communication" with Bill Heydens some 32 years ago. And it is especially worth noting that Monsanto executive William Heydens played a major role in The Monsanto Papers, including admitting to ghostwriting the introductory chapter of an "independent" expert panel report . Heydens appears to be the mastermind behind much of Monsanto's scientific corruption in touting glyphosate's "safety". Essentially, executives were more concerned about preventing follow-up studies than guaranteeing safety; they were focused on avoiding regulatory oversight. The 2021 Research Policy report concludes that Monsanto's efforts to derail regulatory oversight would not have happened without their research misconduct to build a collection of seemingly independent journal publications and reports falsely indicating glyphosate's safety. Monsanto misused the scientific process in propagandist fashion to foster ignorance and doubt within the scientific community. Regulatory reform will be needed and lawmakers should also criminalize private-science misconduct in order to preserve the creation of knowledge and integrity of the scientific process.
TRUE COST ACCOUNTING
It is long overdue that we transition to land and agricultural management practices that do not utilize toxic inputs and other practices that are harmful to health and the environment; we need to transition to regenerative organic practices that sustain life. The 2021 Rockefeller Foundation report (13) has recently concluded that when health care costs, climate crisis/global warming costs, biodiversity loss, air & water pollution, livelihoods of food workers, farmers, ranchers and fishers are all factored-in, the economics of the American food system is not the reported $1.1 trillion/year (includes only production, processing, retailing and wholesaling of food we buy and eat). The actual cost is at least three times as much as the food itself (or $3.2 trillion); and disproportionately burdens communities of color, who face higher rates of diet-related diseases, have reduced access to potable water and sanitation, and often lack livable wages as producers and workers in the food system. 
Our industrial agriculture is a flawed system that survives by externalizing its true costs, or intentionally evading such costs all along their supply chain . Such costs eventually surface as taxpayer-funded subsidies, poor public health outcomes, a degraded environment, and repairs to ecological damage. If industrial agriculture were obligated to internalize their costs and mitigate such risks, they would not be economically competitive with independent food producers. Looking at pesticide impacts alone on illness and deaths, the cost/benefit ratio has likely fallen below 1 if these costs are taken into account (15). In 1990, it was reported that globally as many as one million unintentional severe acute pesticide poisoning incidents occur annually, resulting in 20,000 deaths. Regarding minor poisoning events in Asia, as many as 25 million agricultural workers suffer pesticide poisoning each year.
Internalizing costs would almost appear to be a foreign concept for the Jan/Feb 2021 Food Issue of MIT Technology Review . Lab-grown meat, artificial human breast milk, genetic modification, and robotic farming (from ground preparation to pesticide and fertilizer applications, and harvest) are all discussed as hopeful enterprises. Even Norman Borlaug is praised for ushering in the "Green Revolution"; however, such approaches used to increase food production actually damaged many ecosystems, rendering them more vulnerable to pests. My village friends in Bangladesh (circa 1973) said the Green Revolution ruined their soil with synthetic pesticides and fertilizers, making it "claylike". It is noted by MIT that supply chains have continued to be optimized for speed, reduced costs, and increased returns on investment, which produces a lot of calorie-dense, nutrient-poor foods. 
MIT Tech Review has articles regarding tree shakers for walnut growers, mechanical sweepers, sorters, scanners, packers and processors, genetically modified pigs, genetically modified salmon, CRISPR applications and the National Agricultural Statistics Service (that appears to serve mostly industrial agriculture). But, we are told, all is not lost if we make choices that take factors other than profit into account. However, little print is devoted to the externalities that come with non-profit thinking (e.g., replacing field workers with robotic weeders; quality of life for different species traditionally used for food; quality and nutrient density of our food; impacts on our gut microbiome and soil microbiome). How to justify the chief scientific officer [formerly , 18 years at Monsanto, and now at the British firm, Genus] who employs CRISPER's inaccurate technology to produce the perfect pig even though 70-80% of the piglets produced don't meet the exacting standards and "end up in a compost heap"? What are the ethical boundaries necessary for life-sustaining biological processes of our ecosystem? An article on why people starve makes an interesting self-reflective statement, "It may be hard to reckon with, but our spectacular global food system isn't what will stop people from starving — it's exactly why they starve in the first place."
Poor nutrition is the leading cause of poor health in the U.S. today; this manifests itself as obesity, hypertension, diabetes and heart failure. Glyphosate and other agricultural pesticides play roles in all of this (e.g., Black Americans shoulder 1.3X the proportional burden/cost of exposure to pesticides and fertilizer; glyphosate quietly and egregiously contributes to all four areas of poor human health and simultaneously exacerbates poor environmental health).
TRANSITIONING TO SANITY & SUSTAINABILITY
While true cost accounting (TCA) is necessary to unravel the true cost of our food system, we must succeed in doing this without increasing consumer prices that would exacerbate the existing inequalities in the food system. Let's review and dispel some of industrial agriculture's myths & propaganda:
Industrial agriculture is the only way to feed the world. FALSE - The world does not need industrial agriculture, especially not from the U.S.; the food needs of 70% to 80% of the world's population depend on small, "subsistence" farms. And these small farmers could greatly increase their production without adopting industrial farming methods.
Industrial agriculture is the only way to keep retail food prices affordable. FALSE - Large industrial agrifood corporations are legally loyal to actions that are best for the corporation, not food affordability or security. Claims about the efficiency of large-scale, centralized production are practices actually designed to maximize profits for the industrial agricultural corporations and their interests.
Industrial agriculture is necessary to support rural communities and economies. FALSE: Seventy years of academic research documenting the impacts of industrial agriculture on rural economies and quality of life, found that 82% of communities experience detrimental economic, civic, and environmental effects due to industrial agriculture.
Industrial agriculture poses no significant risks to public health. FALSE: Public health issues are widely recognized by the scientific community and communities experiencing industrial agriculture, including: antibiotic resistance, asthma, hypertension, and other respiratory complications. Spray drift, surface runoff, and evapotranspiration from agricultural fields threaten drinking water safety by leaching well and groundwater sources, and even contaminate some organic crops.
Industrial agriculture is sustainable, climate-friendly, and renewable. FALSE: Industrial agricultural exhausts and degrades soils, requiring continued synthetic inputs that are sourced from fossil fuels. Highly- degraded soil and nutrients run-off into waterways that render both drinking water and recreational waters unsafe. Years of pesticide use, including glyphosate herbicide, result in nearby areas with reduced biodiversity.
Industrial agriculture is inevitable. FALSE: Industrial agriculture is a manufactured concept resulting from years of ill-informed political choices. Consolidation across the agrifood industry has made farmers increasingly reliant on a handful of suppliers and buyers, further squeezing their incomes and eroding their ability to choose what to grow, how to grow it, and for whom. Economically viable alternatives exist; however, they run counter to the interests of industrial agriculture's well-funded lobbyists. Industrial agriculture owes its existence to the USDA, various financial sectors, and policymakers who have promoted it financially and programmatically as the 'future of agriculture'.
There are no alternatives to the industrial agrifood system. FALSE: In the recent crisis situation with Covid-19, vulnerabilities were revealed that also presented opportunities for fundamental change. With concentrated supply chain failure, reliance on alternative markets, processing facilities, and distribution centers arose that had built-in resilience and redundancy (e.g., farmers markets, cooperative groceries, CSA shares with local farmers and roadside stands).
Inevitably, we must re-center our food system and promote the health of people, the planet and society. A resilient agricultural system controlled by independent farmers, workers, and consumers is possible given the political will to implement existing policy tools. These tools include: passing legislation that incentivizes transitioning from industrial agriculture's interests to independent farmer autonomy; creating bright-line antitrust and financial regulations that require internalizing supply chain costs; and making sure agricultural policy is democratically created across regions and scales. For national guidance (much of this can be applied at the state level), there is a very useful "Toolkit for Congress to Tackle the Food Monopoly Crisis": The Toolkit provides too much to unpack here, but it is designed to implement change based on six key points:
Curbing Globalized Concentration: We must ensure the power to make decisions about the agrifood system lies in the hands of those who produce and consume food directly. [We must be aware of, and resist, "regulatory capture" as has occurred with the Organic Trade Association that now includes influential multibillion-dollar agribusinesses that primarily sell conventional foods.]
Implementing Anti-Racist Food and Farm Policy: Historic discrimination and exploitation of BIPOC farmers, ranchers, and workers must be actively addressed and remedied. 
Prioritizing Resilience, Not Efficiency: Policy to increase competition, independence, social justice, and success of smaller entities will ensure a long-lasting, resilient agrifood system.
Redefining the Status Quo: Everything from property rights, to feeding livestock, to rural development must be rethought in ways that acknowledge social and ecological consequences. [e .g., Currently, the federal government supports and grants loans for construction and finance of CAFO operations and provides disaster payments - all of which come from taxpayers.]
Supporting Local and Regional Food Systems: As we rein in the power held by industrial agricultural corporations, we must simultaneously build a support system for farmers, ranchers, workers, and communities.
Transitioning to a Just and Resilient Agrifood System: As we transition to a brighter food system, we must not pull out the rug beneath farmers and other food producers stuck in the endless cycles of contracting and debt imposed by industrial agricultural interests.[Grants and loans for education, materials and supplies must be provided for transitioning farmers to become regenerative organic farmers.]
These 'Toolkit' remedies are complicated and require due diligence, but meanwhile, why not get rid of some of the major public health and community costs. As discussed earlier, synthetic pesticide inputs are known to cause cancer and many other illnesses from direct and indirect exposure; in fact, glyphosate is a poisonous substance that negatively affects all life forms, and the propagated ripple effect is great. Still, large agribusiness corporations dismiss product safety concerns until absolutely forced to settle in court or discontinue a brand, as has been happening with Bayer/Monsanto and glyphosate. Why do we give subsidies, tax breaks and relaxed regulations to companies that literally poison our food system? Why aren't we taxing the polluters and giving tax breaks to people and companies that are making organic efforts? Elimination of glyphosate and similar toxic pesticides would be a start for leveling the playing field for economic, health, and social and environmental justice.
The 08/09/2021 report of the United Nations' Intergovernmental Panel on Climate Change makes it abundantly clear that human-sourced CO2 and other greenhouse gas emissions are causing severe climate impacts in every region of the planet. Taken in its totality, industrial agriculture accounts for ⅓ to ½ of all greenhouse gases. Surprisingly, organic regenerative agriculture would largely eliminate such emissions, would have an all-pervasive effect on reducing the global climate crisis while also preserving human and environmental health. In essence, we should extend the limited idea of organic farms and incorporate the greater concept of "organic communities" as the more sustaining and resilient overall objective.