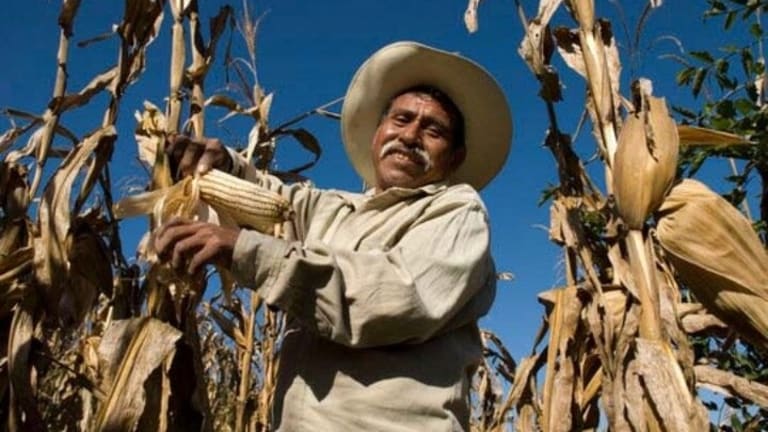 Mexico Rescinds Monsanto's Permit to Grow GMO Soybeans
Stephen Fox: The company has long wanted to grow corn in the country that invented corn over millennia of genetic experimentation by indigenous farmers working long before even the Spanish came.
Mexican Judiciary and Agriculture Sanitation officials are listening to the protests and to the farmers who don't want Monsanto, and ruling accordingly. Monsanto, the GMO giant agrochemical megacorporation, said Mexico's agriculture sanitation authority SENASICA had rescinded its permit to commercialize genetically modified soy in seven states of Tamaulipas, San Luis Potosi, Veracruz, Chiapas, Campeche, Yucatan and Quintana Roo.
The company sharply criticized the decision as unjustified, most sharply in the St. Louis newspapers, where their journalistic clout might seem paramount.
According to Monsanto, the permit had been withdrawn on unwarranted legal and technical grounds, and threatened that it would take all of the necessary steps to protect its rights and those of farmers using the technology, but did not elaborate.
Mexican newspaper Reforma cited a SENASICA document saying the permit was revoked due to the detection of transgenic Monsanto soya in areas where it was not authorized, but Monsanto rejected the argument, claiming the authorities had not analyzed how the soy on which their decision was based was sown.
As the largest producer of genetically modified seeds, Monsanto has for decades wanted to grow corn in the birthplace of corn/maize Mexico. It seems to this author that this must be to Monsanto's Board of Directors some kind of symbolic badge of accomplishment to bring GMO corn growing to the birthplace of corn, but the Mexican farmers and now the Mexican Judiciary are having none of it!
Several years ago, the company submitted two applications for the commercial planting of GMO corn in Mexico. Both sought 700,000 hectares (1.7 million acres) in the northwestern state of Sinaloa, the country's largest corn-producing area.
Legal Background and Recent History
Monsanto's presence in Mexico has a troubled and disturbing history, especially regarding corn, the country's staple crop. The company has long wanted to grow corn in the country that invented corn over millennia of genetic experimentation by indigenous farmers working long before even the Spanish came.
The company has long wanted to grow corn in the country that invented corn over millennia of genetic experimentation by indigenous farmers working long before even the Spanish came.
However, in November 2015, a Mexican court upheld a 2013 ruling that halted all pilot plots of GMO corn over deep concerns about how they could affect the environment, as Reuters reported. (This judicial decision also affects the marketing efforts of DuPont/Pioneer, another GMO seed company.
According to a detailed article two years ago, November 9, 2015, from Mexico News Daily, the earlier ruling on favored an injunction filed by Maya beekeepers on the Yucatan peninsula, where honey production and collection is its main industry.
"The decision suspends a permit granted to the agrichemical firm Monsanto to farm genetically modified soybeans on over 250,000 hectares in the region and instructs a federal agency it must first consult with indigenous communities before granting any future permits for transgenic soy farming," the report said.
"We do not accept accusations that put us as responsible for deforestation and illegal logging in the municipality of Hopelchen, Campeche, or any place of the Republic, because our work is rigidly attached to the guidelines provided by law," the company said in a statement.
As for GMO corn, Sustainable Pulse reported back in November 2015 that federal judge Benjamin Soto Sanchez, head of the second Unitarian Court in Civil and Administrative Matters of the First Circuit, "upheld a provisional suspension prohibiting pertinent federal agencies from processing and granting the privilege of sowing or releasing into the environment of transgenic maize in the country."
This decision came despite 100 challenges by transnational agribusiness interests and the federal government, according to Sustainable Pulse.
According to Al Jazeera, "Fewer than 30 percent of Mexican farmers even use conventional hybrid maize—high-yielding, single-use seeds, which need to be purchased every year," and prefer "to stick with seeds they can save year to year, often varieties of the native 'landraces' of maize the injunction is intended to protect." Still, Monsanto "has the Mexican market for yellow maize seeds; 90 percent of U.S. maize is in GM seeds, and that is the source for Mexico's imports of yellow maize."
Mexico's initial ban of GMO corn in September 2013 was overturned in August 2015, which opened the door for more business opportunities for Monsanto pending favorable later court decisions, as Telesurtv noted. The multinational company announced that it was seeking to double its sales in the country over the next five years.
However, this latest ruling from the appellate court will certainly result in driving Monsanto's nefarious corporate ambitions to the ground, permanently in Mexico, but will force them to try other nations and other markets, in particular in Africa and in South America, even more than they have developed their already!
A staunch anti-GMO movement has swelled in the country in order to preserve the country's unique biodiversity of its staple crop. Lawyer Bernardo Batiz, advisor to the lead plaintiffs' organization, Demanda Colectiva, spoke about the significance of the two separate cases.
He said that Mexico is "a country of great biological, cultural, agricultural diversity and [therefore the courts should consider the impact of] planting GMO corn, soybeans or other crops." He added, "in a country like ours, among other negative effects that would result, is that Mexican honey would be difficult to keep organic."
What's the Impact
For consumer protectionists, this is really good news. If only American judges at all levels would do the same, we might stand a chance, but the message gets through loud and clear to all nations, once Reuters and Al-Jazeera and Russian Television pick up the story. It will be interesting to see how it plays in American mainstream press (if at all, I hesitate to add). This story may go much further because of Reuters' coverage, and I am personally grateful to this agency for getting the word out so vigorously.
Why in the world would Bayer want to proceed with buying out Monsanto is beyond my comprehension. These kinds of losses will keep piling up, if farmers and if judges and agricultural officials in nations like Zambia and Bolivia, for example, are moved to display the same kind of courage exhibited by their compadres in Mexico!
Stephen Fox