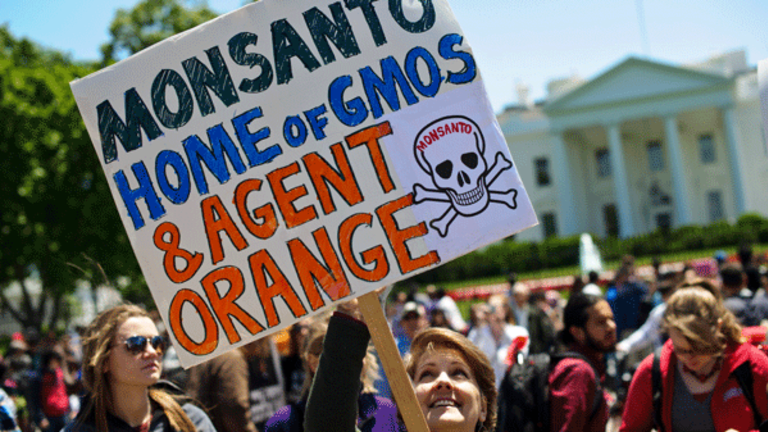 Back to the Fight Against GMOs
Lisa Goldwag Kassner: We have another chance to get labeling of GMOs for retail sale passed in California this year with an improved, simpler version of Prop. 37. It is called SB 1381, and it's currently being considered by the State Senate.
If you think this country is run by corporations rather than the will of the people, here's a great opportunity to take some of our power back!
Despite the fact that U.S. polls consistently show that over 90% of Americans want labeling of genetically engineered foods (GMOs), neither the federal government nor any state government has been able to enact required labeling. So far Connecticut and Maine passed GMO labeling bills that would only take effect when other states passed them.
You will remember Proposition 37, the California grassroots ballot initiative to label GMOs sold to us by retail sale, failed in November 2012 with 48.6%. It was David vs. Goliath. Monsanto, other herbicide and seed manufacturers, the Grocery Manufacturers Association and junk food manufacturers ran a $46 million disinformation campaign to oppose our right to know what is in our food. They even broke state campaign laws to trounce the Washington State's labeling proposition last year. They are afraid we'll stop buying their products.
Even after the opposition campaign played on consumer fears, exit polls showed that 67% of Californians wanted GMO labeling, including the majority of women, Latinos, Asians and African-Americans. Polls indicated voters wished the proposition's text was better.
Great news! We have another chance to get labeling of GMOs for retail sale passed in California this year with an improved, simpler version of Prop. 37. It is called SB 1381, and it's currently being considered by the State Senate.
What Concerns You Most?
Some worry labeling will cost them a lot of money. But Europeans had the same concern before labeling was instituted years ago in the European Union, and their fears never materialized. Companies change their labels all the time. It is estimated GMO labeling will cost your family about $2.00 per year.
When you consider the following facts, you will realize $2.00 is a bargain for getting to choose non-GMO foods:
GMOs have been linked to many serious diseases – such as infertility, serious intestinal disorders, and tumors. GMOs are correlated with steep increases in autism, diabetes, liver and thyroid cancer, kidney failure and more. (Studies by Seralini, Carman, Swanson)
Since 1995, Monsanto and other biotechnology seed companies have been sneaking GMOs into the foods we eat daily. (Examples: most corn, soy and canola products. 
GMOs have not been proven safe to eat or adequately tested. The FDA approved them anyway.
Many GMOs require large chemical applications and increasingly toxic chemicals that harm our health and environment (including Round-upand now pending approval, "2, 4-D", an ingredient of Agent Orange. 
Corporations make huge profits on food, seed, and herbicide sales. Then they plow the profits into spin campaigns, manipulation of the political process, and manipulation of the scientific review process. They claim there is "no proof of harm", but they masterminded this.
Some say these corporations want to control the world food supply with their patented and unproven seeds. This would give them control over the world's population and put us at greater risk of world famine. If the forces running our government are not concerned with such things, maybe we need to ask why. (See "The Future of Food," "The World According to Monsanto.")
To avoid GMOs today, you either have to buy more costly organic food or a limited number of foods certified by the Non-GMO Project.
This is not fair. Everyone, well-off or not, has the right to make an informed choice and not be a lab rat for the biotech industry. Labeling should be strict, mandatory and enforced, not voluntary. These companies have shown a propensity to weasel out of their responsibility to the public. Since they have not proven this food is safe, labeling is the least they should do.
What You Can Do
SBYour participation is needed in the 1000 Phone Calls Per Senator campaign, in which every concerned citizen calls all the state senators representing Los Angeles County to tell them that we live in L.A. and that the majority in L.A. Co. actually voted Yes on 37. We want them to do the will of the voters in this county and co-author SB 1381, vote for it in any committees they are on and in the full Senate vote, and to make this the one bill that the Latino Caucus supports this year, since 61% of Latino voters in California voted Yes on Prop. 37.
The massive number of phone calls (preferably at their Sacramento offices, see phone list), will have a huge impact, especially if they hear from citizens before they return from the Spring Recess on April 21. The most important people to call are, in this order:
Key committee members: Ricardo Lara, Alex Padilla (he needs your vote to be elected California Secretary of State this year), Kevin De Leon.
Active Senate Democrats: Ed Hernandez, Ron Calderon, Carol Liu, Holly Mitchell, Ted Lieu, co-author Fran Pavley.
Steve Knight, Rod Wright.
Right now, SB 1381 is in the State Senate, and after May 30, it will hopefully go to the Assembly, and then the Governor. You'd think passing this bill should be easy, considering Prop. 37's broad support included most of the major health, faith, labor, environmental and consumer groups in California, including the California Nurses Association, California Democratic Party, California Labor Federation, United Farm Workers, American Public Health Association, Consumers Union, California Council of Churches IMPACT, and Sierra Club.
But SB 1381 will not pass without our speaking up. The opposition's lobbyists visit our legislators daily to exert pressure. We need to be louder. We must call, write, even show up at their offices to make our point.
Let's not allow the biotech companies to continue to steal our rights from us. This is our state, our health, our environment, our future, and our right to know.
For more information, updates, to Like this bill on Facebook or Tweet about it, or to provide your personal, organizational or business endorsement, go here.
Lisa Goldwag Kassner
San Fernando Valley Co-Coordinator of LabelGMOs.org.
Subscribe to LA Progressive's daily newsletter
* indicates required
Email Address *


First Name

Last Name

Email Format
Powered by MailChimp