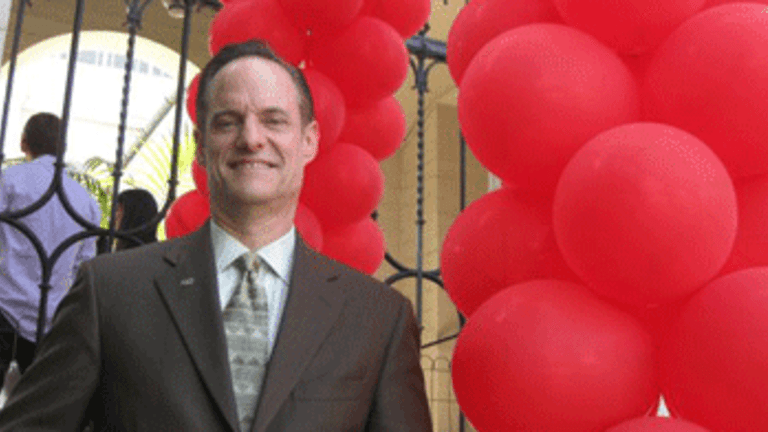 AIDS Healthcare Foundation Turns 25
Carl Matthes: Highlight of the evening was a film directed by Ryan James Yezak and produced by Dana Miller which capsulized the history of the HIV/AIDS epidemic and AHF's crusade to fight the disease around the world.
On Sunday, April 28, AIDS Healthcare Foundation (AHF), the nation's largest HIV/AIDS medical provider, celebrated it's 25th anniversary in Los Angeles at the Wilshire Ebell. Headed by Michael Weinstein, AHF is a formidable force within the HIV/AIDS world community due to his vision, intelligence and tenacity. As an advocate, Michael is a pit bull. As an experienced and savvy community activist, able to work with luminaries from Magic Johnson and Elizabeth Taylor to community activists like Chris Brownlie and minority HIV/AIDS activists, Michael is unique. He has also forged realistic and fruitful relationships at all levels of government. No from-the-boot-straps-up leader has enjoyed the longevity and respect Michael has earned while leading AHF.
Those with a sense of HIV/AIDS in Los Angeles will remember when patients were dying on the streets. At that time, 1987, a small group of activists committed themselves to "fight for the living and care for the dying." Soon after, legislation sponsored by AIDS Hospice Foundation, the original name of AIDS Healthcare Foundation, enabled the creation of the first licensed HIV/AIDS facility for the terminally ill in California. The hospice, founded and operated in Elysian Park, is named after Chris Brownlie, a gay political activist, person living with AIDS and co-founder of AHF.
Highlight of the evening was a film directed by Ryan James Yezak and produced by Dana Miller which capsulized the history of the HIV/AIDS epidemic and AHF's crusade to fight the disease around the world. (AHF is currently operating in the following countries: United States, Cambodia, China, Costa Rica, Ecuador, Estonia, Ethiopia, Guatemala, Guyana, Haiti, India, Kenya, Lithuania, Mexico, Nepal, Nigeria, Russia, Rwanda, Sierra Leone, South Africa, Swaziland, Uganda, Ukraine and Zambia.)
In addition to the film, the evening included 25 cameo appearances by community and HIV/AIDS activists (including Senator Art Torres and California Assemblymember Anthony Portantino) in a narrative covering AHF's first 25 years.
Afterwards, I was impressed with a note Art Torres sent to those who participated in the cameos:
"Dear AHF Friends,
I am closing two annual reports of the CIRM.** Some exciting research is occurring thanks to the taxpayers support of Proposition 71 in 2004! We currently have a number of clinical trials but one especially is to find the cure for AIDS which is now taking place at the City of Hope with USC in replicating the gene marker that helped the "Berlin patient" recovery after a bone marrow transplant from a donor. Potential cures are on the horizon in a number of diseases including sickle cell, diabetes, stroke, breast cancer, dry macullar degeneration and heart disease, all at California institutions. All the best and thanks to all for your hard work!"
AHF is currently promoting The California Music Festival and AIDS Walk which is set for Sunday, May 20 from 2-9 pm in Griffith Park and the Greek Theater. According to organizers, "K-EARTH 101 radio is on board to help AHF celebrate it's 25th anniversary. So together we plan on pulling out all the stops on this party for a cause! The family-fun and free carnival games and rides, great performers in the park and plenty of food trucks will kick off the party in Griffith Park. Then it's a memorial AIDS Walk thru America's largest urban park ending at the Greek Theater with a mega-superstar concert hosted by Magic Johnson." For full info visit here.
From it's inception, AHF, guided by Michael's vision, has been at the forefront of fighting HIV/AIDS. Whether it was in the corridors of hospitals, on the streets of Los Angeles, establishing hospices, fighting for funding, demanding the distribution of condoms in bars and clubs, calling-out politicians or the porn industry, or fighting to make medications available around the world, AHF continues to be on the cutting-edge of the fight against HIV/AIDS.
Congrats to Michael and AHF.
HIV has a disproportionate impact on certain populations. Though Blacks and Latinos make up about 27% of the U.S. population, they account for 62% of new HIV infections. Women – particularly women of color – make up an increasingly larger share of positive people. In 2007, black women accounted for 65% of new AIDS cases among women. In 2006, gay and bisexual men accounted for 53% of new HIV infections and are the only group for whom new infections are rising.
Carl Matthes
**The California Institute for Regenerative Medicine ("The Institute" or "CIRM") is a state agency that was established through the passage of Proposition 71, the California Stem Cell Research and Cures Initiative. The statewide ballot measure, which provided $3 billion in funding for stem cell research at California universities and research institutions, was approved by California voters on November 2, 2004, and called for the establishment of a new state agency to make grants and provide loans for stem cell research, research facilities and other vital research opportunities.