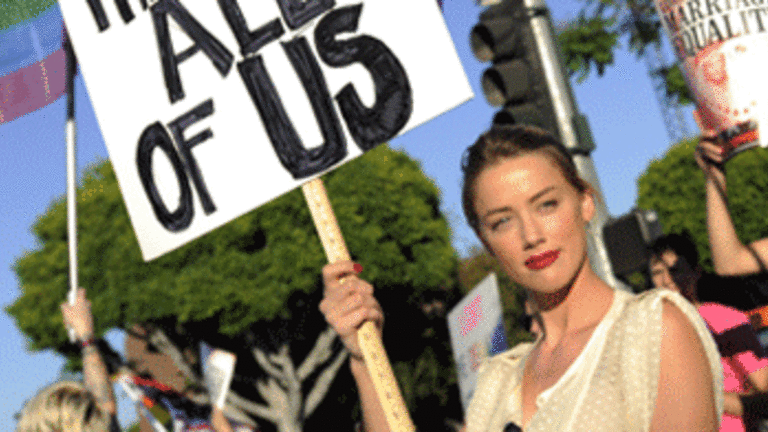 Another California Knightmare
Carl Matthes: Steve Knight comes by his prejudice naturally as the youngest son of William "Pete" Knight, the man who, in 2000, successfully brought Proposition 22 to stop same-sex marriage.
In July 2011, SB 48, The FAIR Education Act (Fair, Accurate, Inclusive and Respectful) was signed into law by Governor Jerry Brown. The bill compels "the inclusion of the political, economic, and social contributions of persons with disabilities and lesbian, gay, bisexual and transgender people into educational textbooks and the social studies curricula in California public schools." It also amends an existing law by adding sexual orientation and religion into a list of characteristics that schools are prohibited from sponsoring negative activities about or teaching students about in an adverse way.
LGBT folk and persons with disabilities have always been part of California's history; millions are presently contributing and will continue to do so. Their inclusion is FAIR.
Unsurprisingly, SB 48 was fiercely opposed by the state Republican Party and social conservative organizations and, in October 2011, a conservative group called "Stop SB 48" tried to collect enough signatures for the issue to be placed on a referendum in June 2012. They failed.
In November 2011, Stop SB 48 notified supporters that they plan to pursue a ballot initiative to repeal SB 48. Currently, with even those efforts sputtering, a Knight on a White Horse has appeared on the horizon. FAIR is being attacked in the California Assembly by Steve Knight (R-Palmdale).
Steve has introduced legislation which would allow school districts to opt-out of SB 48. Said Knight, "The concern is that sexual orientation, which has nothing to do with historical contribution, will be taught and promoted in the classroom. California students continually have low ranking averages in national exams, so why would we want to complicate their already struggling education process with infused political agendas beginning in the first grade? Our bill allows school districts that do not wish to adopt the textbooks required by this mandate to 'opt-out.'"
Steve comes by his prejudice naturally. It's in his genes. Steve is the youngest son of William "Pete" Knight the man who, in 2000, successfully brought Proposition 22, the "California Defense of Marriage Act" before voters to stop same-sex marriage. That successful campaign changed Section 308.5 of the California Family Code to read: "Only marriage between a man and a woman is valid or recognized in California."
Steve has been following in his father's footsteps as if they were cast in cement in front of Grauman's Chinese Theater: For instance:
Pete joined the Palmdale City Council, 1984 - Steve: Palmdale City Council, 2005
Pete ran successfully for California State Assembly, 1992 - Steve: California State Assembly, 2008
But, he isn't finished. According to the Los Angeles Times, he has taken out papers to run for the 21st District Senate seat. His father began serving in the Senate in 1996. Like his father, Steve has found that one of the best ways to raise money and fire-up religious conservative is to fan the flames of hatred and fear against the LGBT community.
And, like father, like son, Steve is also a strong supporter of banning same-sex marriage. Amazingly, his older brother, David, married Joseph Lazzaro, his partner of 10 years, at San Francisco's City Hall in March 2004, two days before the California Supreme Court halted gay weddings pending its decision on the merits of the challenges against Prop 22. Two months later, Pete died of acute myelogenous leukemia. (In 2008, Prop 22 was struck down by the California Supreme Court which led religious conservatives to bring forward Prop 8 which changed California's constitution. Prop 8 has now been declared unconstitutional by a Federal District Court.)
It's ironic that the fight for LGBT equality will be played out with the Knight family dynamics in the background. Pete Knight was an Air Force pilot who served in the Vietnam War. He flew experimental planes, earning astronaut's wings in a craft that soared above 280,000 feet. He also set a speed record in the rocket-powered X-15-2A, flying 4,520 miles an hour, nearly seven times the speed of sound, retiring with the rank of colonel.
As new educational textbooks are produced for California's public schools, Pete's remarkable achievements will no doubt be overshadowed by his attempts to deny gay men and lesbians the freedom to marry. Likewise, Steve's attempt to allow school districts to opt-out of giving LGBT folk and persons with disabilities "fair, accurate, inclusive and respectful" treatment, will expose his role in trying to stop California from being a leader in civil and human rights in the 21st century.
Steve, you're just a chip off the old block. But, California doesn't need another Knightmare.
Carl Matthes