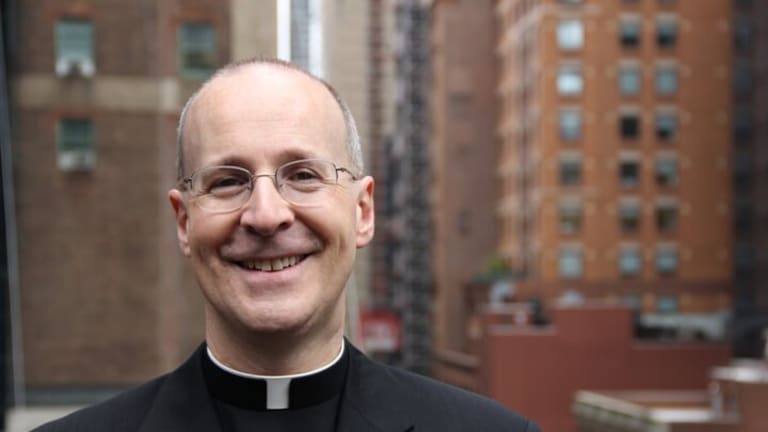 Leading Catholic Voice Supports Marriage Equality Decision
Frank McAlpin: "Love First" is a simple, but radical statement. Thank you for reminding us all to "Love First".
An Open Letter of Gratitude to Father James Martin SJ
Dear Father Martin,
Thank you.
The statement that you posted on Facebook after the recent landmark Supreme Court decision, ensuring equal marriage rights for gay and lesbian Americans, was deeply powerful and healing. After reading it tears filled my eyes. And I was overwhelmed with emotion.
As a Jesuit Priest and leading voice of Catholic thought, your words and sentiment elevate the highest ideals of not just the Catholic Church but of God: compassion and love. Ideals, that are often minimized or completely non-existent when talking about the issues of sexual orientation within the Catholic Church and other Christian institutions. This lack of compassion and love for gays and lesbians has a deep and harmful impact on individuals, families and communities. It leads to prejudice, discrimination and isolation. And pushes Lesbian Gay Bisexual and Transgender folks further to the margins of our faith communities as well as our society. Something, I'm certain that God would not want.
However, your words weren't all that of a surprise to me, Father Martin. For to me, what you described was exactly what I have come to understand the Catholic Church's ideals to be. I was raised in a Catholic family that prescribed more to the ideals of compassion and love than to the divisive and intolerant dogma that often plagues the Catholic Church. And I grew into my adulthood, being educated at two of the finest Jesuit Universities (Marquette and Fordham), where I experienced the transformative nature of compassion and love in action. To me this is the Catholic Church. This is what God represents.
But unfortunately what I have also come to realize is that for many Catholics and possibly the Church, itself, your statement came as quite a surprise.
Father Martin, it is my hope that your words will touch all those of the Catholic faith, both the hierarchy as well as those who go to mass each Sunday, especially those who might have gay children. As you might know, an estimated 40 percent of homeless youth identify as Lesbian, Gay, Bisexual or Transgender. It has been reported that the number one reason they become homeless is because of family rejection, often due to religious beliefs.
Your message, the Catholic Church's message, God's message, of love is needed now more than ever. "Love First" is a simple, but radical statement. Thank you for reminding us all to "Love First".
Peace,
Frank McAlpin
Jesuit Educated, social worker and social justice activist @frankmctalk