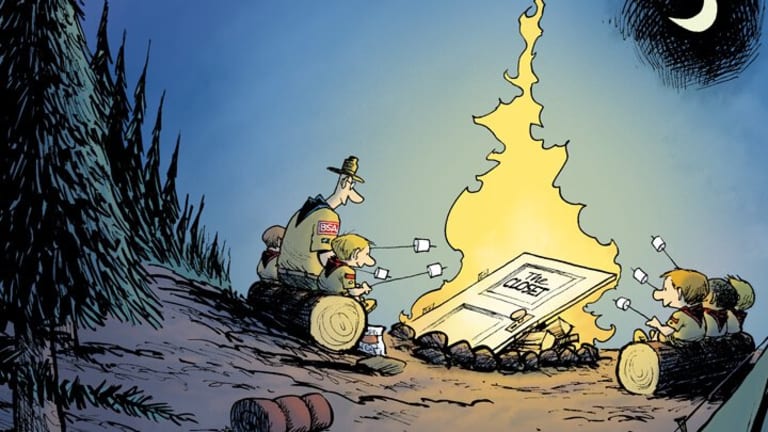 Church Dogma Adds No Value to Scouts
On July 27 the national executive board of the Boy Scouts of America (BSA) ratified a resolution removing the national restriction on openly gay leaders and employees.
An important step forward.
It took BSA President Robert Gates one year, after the ban was lifted on openly gay boys participating as scouts, to get the national board to end the ban on gay men serving as scout leaders or volunteers.
So, what's the problem? Religious dogma raised its ugly head - again
The action by the BSA board allows "religious-backed scout groups to deny leadership and volunteer positions based on sexual orientation." Churches and religious groups, many of them conservative, account for 70% of the nation's Scout troops. In explaining the inclusion of the exemption, Gates said, "The best way for the Boy Scouts organization to press ahead while maintaining its 'core values' was to address the issue and set our own course. And that's what we've done." Translation: If we didn't give into religious intolerance and discrimination the measure may not have passed.
We know, however, that intolerance and discrimination are not scouting's core values?
Scouting's core values are found in the Scout Oath:
"On my honor I will do my best
To do my duty to God and my country
and to obey the Scout Law;
To help other people at all times;
To keep myself physically strong,
mentally awake, and morally straight.
There's no reference to any church dogma unless, of course, the over 30,000 Protestant denominations and the Catholic and Mormon churches can construe that mentioning God could be part of an intolerant and discriminatory dogma!
The Mormon Church can't differentiate between the doctrine of their church and the values of the Boy Scouts. Do the Mormons only see Scouting as an extension of their Sunday service?
Responding quickly, the Church of Jesus Christ of Latter-day Saints – one of the Boy Scouts' biggest sponsors – said, "(It was) deeply troubled by the decision and its century-long association with Scouting will need to be examined. The church has always welcomed all boys to its scouting units regardless of sexual orientation. However, the admission of openly gay leaders is inconsistent with the doctrines of the church and what have traditionally been the values of the Boy Scouts of America."
Obviously, the Mormon Church can't differentiate between the doctrine of their church and the values of the Boy Scouts. Do the Mormons only see Scouting as an extension of their Sunday service?
Fortunately, those not connected to a church or religion are voicing support for the change and, like Chuck Keathley, chief executive of the Scouts' Greater Los Angeles Area Council, support a logical and intelligent path forward. "Our board has long felt that Scouting should be inclusive and that behavior is what should determine whether you can be a member, not orientation," said Keathley.
The Scout Oath ends with the words "morally straight." Morals are "a person's standards of behavior or beliefs concerning what is and is not acceptable for them to do." Young girls and boys learn morals from their families, at school, from friends, media and their churches. Boy Scout Law is that a Scout is: Trustworthy, Loyal, Helpful, Friendly, Courteous, Kind, Obedient, Cheerful, Thrifty, Brave, Clean and Reverent.
Once again, the churches lose out as going to church or being a church member is not part of Scout Law.
Adult Scout leaders and volunteers need to be honest. If their sexual orientation is gay, that needs to be out in the open. My own personal experience includes being molested, starting at age 11, by three different men all of whom were pedophiles masquerading as straight married men. While none of them were Scout leaders (I was a proud and happy Scout for six years), one was a teacher (married with four children), a church choir director (married, no children), and my mother's boy friend (divorced and, it was later discovered, that he had also molested girls).
Haven't we advanced enough to know that honesty about sexual orientation is important? Gay men are not automatically pedophiles, no more than straight men are. But, there are pedophiles who will go to great lengths to hide their attraction to young children and adolescents. Do I need to drag priests of the Catholic Church into this?
Human Rights Campaign President Chad Griffin said, "The vote by the Boy Scouts of America to allow gay, lesbian and bisexual adults to work and volunteer is a welcome step toward erasing a stain on this important organization. But including an exemption for...religious organizations undermines...the decision. Discrimination should have no place in the Boy Scouts, period."
To its credit, the Mormon Church welcomed a 2013 decision to admit openly gay boys as Scouts, an important statement because close to 40% of Boy Scout troops are based in Mormon churches.
But, what happens to these openly gay boys once they reach the age of 18 and cannot be considered as a volunteer or leader in their troop?
The Los Angeles Times reported on soon-to-be 18 years old Jordan Montgomery of Bakersfield. He has been in the Scouts for nine years and is on track to attain Eagle Scout. Jordan is openly gay and is supported and loved by his family. Because his troop is sponsored by the Mormon Church, the church in which he was raised, he could be banned from Scouting.
Wendy Montgomery, Jordan's mother and an active Mormon, criticized the religious exemption, "Apparently it's OK for my son to be a Scout at 17 3/4 years old, and then it becomes unacceptable for him to become a leader. "He's the same person."
When Jordan came out as gay at 13, troop leaders began calling him "sissy" and "fruitcake." On camping trips, Jordan's father would have to come along "so no one would have to sleep in the tent with the gay kid," Montgomery said.
The Times also interviewed Janel Hastings whose 11-year-old son belongs to Troop 407 in Claremont, which is sponsored by the Claremont United Church of Christ. When her son was 9, Hastings said, he told her that if the Scouts didn't allow gay members, he would quit. "My kids have come to understand that this is the civil rights issue of our time," said Hastings.
Support for the new Scout policy was voiced by Brian Peffly, 35, who said he was dismissed as an assistant scoutmaster because he was gay. He called the vote "a huge step forward." Local scout leaders are now encouraging him to rejoin the Scouts and apply for a leadership position.
Having churches or religious organizations involved is no guarantee that children - boys and girls - are going to be safe and protected. We are all aware of the tragic circumstances when, too many times, trusting parents left their adolescent children in the care of churches.
For instance, leaders of the National Catholic Committee on Scouting have written to Catholic Scout members that they were concerned about the practical applications of the policy change. National Chairman Edward P. Martin and national Chaplain Michael P. Hanifin added, "It appears that the resolution respects the needs of Catholic-chartered organizations in the right to choose leaders whose character and conduct are consistent with those of Catholic teaching." You would think, of all groups, Catholics would realize that being under the wing of Catholic leaders doesn't stop pedophiles from operating.
There is a big and difficult job ahead to educate and restructure peoples' belief systems. One of the best ways is to acknowledge that gay men and lesbians are not condemned by our Maker and that we want to be judged and accepted by the content of our character and the quality of our actions.
Carl Matthes