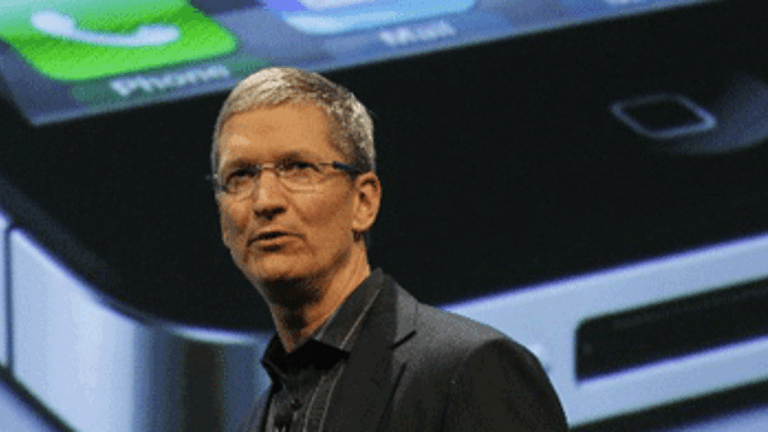 Cook for President!
Carl Matthes: Is Tim Cook, now head of Apple, qualified to be President of the United States? Check! Oh, and did I mention that he's gay?
Experienced executive? Check!
Innovative businessman? Check!
Able to create and sustain new technologies? Check!
Admired and respected around the world? Check!
Building a new headquarters, during the current economic turndown, which will be "just a shade smaller than the Pentagon?" Check!
Is now head of Apple, the darling of Wall Street, Main Street and China? Check!
Oversees a cash stockpile and marketable securities amounting to over $65,000,000,000? Check!
Is Tim Cook, now head of Apple, qualified to be President of the United States? Check!
Oh, and did I mention that he's gay?
No? Well, he is! Big check!
Filling the leadership breech created by the death of Steve Jobs is Tim Cook. Cook is known as a "private person" and an "operational genius" who stepped in for Jobs on previous occasions, is known for "improving profit margins and for being strong with supply chain management." According to The Atlantic, a national news magazine, "The laser-like focus of the tech-blogging community was not turned to Tim Cook until Jobs, Apple's iconic figurehead, announced his most recent medical leave in January of this year. It was the that Valleywag, a Gawker property that covers Silicon Valley, outed Cook. Some bloggers write that they have their "Fingers crossed for a Tim Cook + Ben Ling Silicon-Valley-Gay-Power-Couple Pairing!"
Out magazine then bumped Ellen Degeneres from atop its annual LGBT Power 50 index, a list that ranks the most influential gay and lesbian individuals of the time, and replaced her with Cook.
So, who is Tim Cook? Tim grew up in Robertsdale, Alabama. He earned a Bachelor's degree in industrial engineering from Auburn University in 1982 and an MBA from Duke University in 1988. Before Apple, he did a stint at a computer reseller called Intelligent Electronics, worked in PC logistics at IBM and as VP for Corporate Materials at Compaq. He joined Apple in 1998 as senior vice president of operations. Cook was later promoted to chief of worldwide sales and of the Macintosh division.
Cook has never publicly commented on his sexuality, but Gawker reports that it's generally known within Apple and Silicon Valley circles that he's gay.
Cook is not officially out of the closet. Reports indicate that "people know he's gay without him having to come out and say it." "Tim's just not a real social person," Gina Glosk, a classmate of Cook's at Auburn, told CNN Money." Out magazine wrote, "Although Tim Cook has chosen to be discreet about his sexuality, just knowing that Apple's heir apparent is gay sends a compelling message of the opportunity to thrive in the workplace. That's a big deal."
All agree, Cook, who is 50, has done an admirable job of steering Apple in Jobs's absence. But as he assumes the CEO role on a more permanent basis, Cook will have to prove that he can succeed without Jobs at his side. We learn about Jobs' acceptance of gay men, not just because of Tim Cook, but through Ronald Hayden, a successful Oracle-employed gay man, who was hired by Jobs as a manager at NeXT. According to Hayden's Google profile: "When I was a child, I had few heroes. I didn't follow sports...only one person in 'the real world' held a fascination for me, and that was Steve Jobs. It was impossible to imagine that early in my career I would end up working for Steve...that would be a ridiculous dream. Yet it happened."
"On my first day, Steve called me. Clearly he wanted to connect with a new manager at the company, and set his stamp. But what sticks with me most is what happened next…I discovered that NeXT provided domestic partners insurance coverage only to straight couples, not to gays. Not because of ideology — they had started the program with coverage for same-sex couples — but because their insurance company scared them out of it with doom-saying projections of how their costs would quintuple or some such nonsense...I realized I had to immediately quit...'Hold on,' the head of Human Resources (HR) said, 'Let me see what I can do."
"He worked with Steve, and they contacted the insurance company. After a couple of bizarre weeks...they talked the insurance company into providing special coverage. Just for me...A couple of months later they turned that into coverage for all gay employees."
For 2012, Republicans are trumpeting the business experience of Mitt Romney and Herman Cain as candidates for President. However, Romney can't excite the conservatives and Cain is looking more and more unelectable.
But, looking to the future, since Cook is only 50 and if he can hold Apple together, what about the U.S. Presidency?
Hmmm, Dems, Cook in 2016?
Carl Matthes