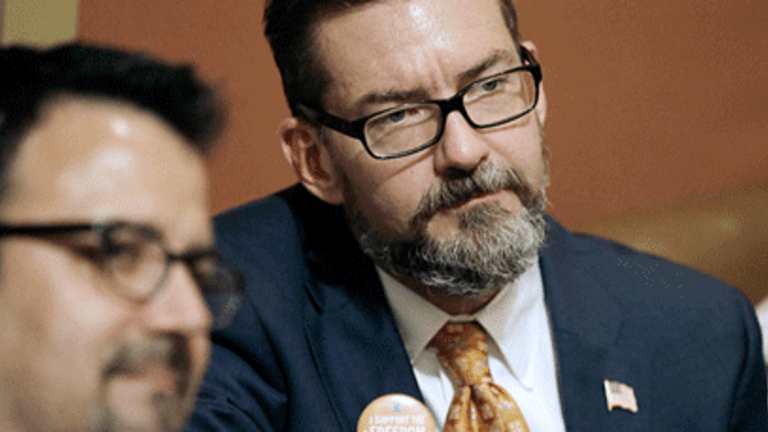 It's June! Pride Is Bustin' Out All Over
Carl Matthes: With the Supreme Court serving as the "800-pound gorilla in the room," over 200 LGBT Pride events - from Maine to California and Alaska to Florida - will take place. And, 2013 is not without it's controversy.
All across the nation, during June, the Lesbian, Gay, Bisexual and Transgendered (LGBT) community celebrates Gay Pride. With the Supreme Court of the United States (SCOTUS) serving as the "800-pound gorilla in the room," over 200 LGBT Pride events - from Maine to California and Alaska to Florida - will take place.
And, 2013 is not without it's controversy.
In San Francisco, home to one of America's premier LGBT Pride Festivals, the Pride Celebration Committee withdrew it's invitation for Army Pfc. Bradley Manning to serve as Grand Marshall. (Manning, an Army service member charged with giving WikiLeaks thousands of classified documents exposing U.S. atrocities in Iraq, happens to be gay.) Lisa L. Williams, president of the Board of SF Pride, said, "Manning will not be a grand marshal in this year's San Francisco Pride celebration," terming his selection "a mistake."
According to Glenn Greenwald of the UK's The Guardian, "When the predictable backlash (against Manning being invited) instantly ensued, Williams quickly capitulated, issuing a cowardly, imperious statement ...blaming it all on a 'staff person'...then assuring everyone that the culprit 'has been disciplined.'" (Manning goes on trial June 3. He pled guilty to misusing classified material but has denied the top charge of aiding the enemy. WikiLeaks founder Julian Assange calls Manning's case "a show trial ... to terrorize people from communicating with journalists and communicating with the public.")
Meanwhile, in his personal capacity, Sean Kirkpatrick, an Air Traffic Controller, Second-Class Petty Officer serving overseas in the United States Navy, wrote, "As an active duty, openly gay Sailor, I take great pride in my country's extension of equality to her LGBT Sailors. I had the honor to serve aboard the aircraft carrier USS John C. Stennis from 2008-2011, where I was awarded Blue Jacket Sailor of the Year, 2009...While other Pride and History months are actively celebrated by the fleet, LGBT Pride Month, while officially recognized on paper, is not. Perhaps this year that can change." (Sean currently serves overseas in Italy where he lives with his fiance.)
On the flip side, however, two governmental actions occurred just in time to bolster this year's Gay Pride. The U.S. Peace Corps announced it would begin accepting "joint assignment applications from same-sex couples." (The difficulty? Over 80 countries criminalize homosexuality.) Shira Kramer, Peace Corps press director, reassured the LGBT community that, "The Peace Corps will foster safe and productive assignments for same-sex couples and provide them with guidance for maintaining their safety and well-being." (Countries that may legally kill homosexuals: Mauritania, Sudan, Saudi Arabia, Yemen, Iran, Somalia, United Arab Emirates, Somalia, parts of Nigeria and parts of Malaysia.)
The second action occurred in the U. S. House of Representative where House Sergeant at Arms Paul D. Irving has approved a spousal ID for the husband of Rep. Mark Pocan (D-WI). This marks the first time that privilege has been granted to a same-sex partner of a member of Congress. Said Mark, "I think it's an important step toward recognizing equality, and we're very proud of receiving it. We also realize there's still a lot more work to do for same-sex couples that work for the federal government."
Meanwhile, in the battle for marriage equality, retired Supreme Court Justice John Paul Stevens said that he believes SCOTUS "will strike down the Defense of Marriage Act as unfair tax policy, and dismiss the California Proposition 8 case for lack of jurisdiction."
In Delaware, Democratic governor Jack Markel signed a bill ensuring same-sex marriage equality which will commence on July 1. Delaware becomes the 11th state to offer marriage to same-sex couples. During the run-up to the Legislature's marriage equality vote, state Sen. Karen Peterson "came-out" mentioning her longtime partner. "If my happiness somehow demeans or diminishes your marriage, then you need to work on your marriage," Peterson said.
A similar scenario played out in the Minnesota Senate where Sen. Scott Dibble, the chamber's only openly gay member, said before the vote, "Today, we have the power, the awesome, humbling power, to make dreams come true." Same-sex marriages may begin in Minnesota, the 12th state to legalize such marriages, on August 1, 2013.
Not to be left out of this year's June Pride celebration has to be first-term Assemblyman James Healey (D-NV) and his fight to help pass a constitutional amendment that would repeal a ban on same-sex marriages. The amendment, which would remove references to gender in the state's marriage law, passed in the Nevada Assembly. Healey, who is openly gay, told his colleagues about his partner who was killed in a motorcycle accident three years ago. "I stood up at Eddie's funeral and I promised his mother and his family that I wouldn't stop fighting until we had this."
And, just in time for 2013's Gay Pride celebrations, are the twin May 21 Los Angeles election victories of two openly gay Angelenos, Ron Galperin as city controller and Mitch O'Farrell as City Councilmember from District 13. Ron becomes the first openly gay person to be elected citywide in Los Angeles while Mitch won the council seat vacated by Eric Garectti, who was elected Mayor of Los Angeles. District 13 was previously represented by the trailblazing Jackie Goldberg who, in 1993, was the first openly gay or lesbian person elected to the Los Angeles City Council.
SCOTUS are you watching and listening?
Carl Matthes
Thursday, 31 May 2013