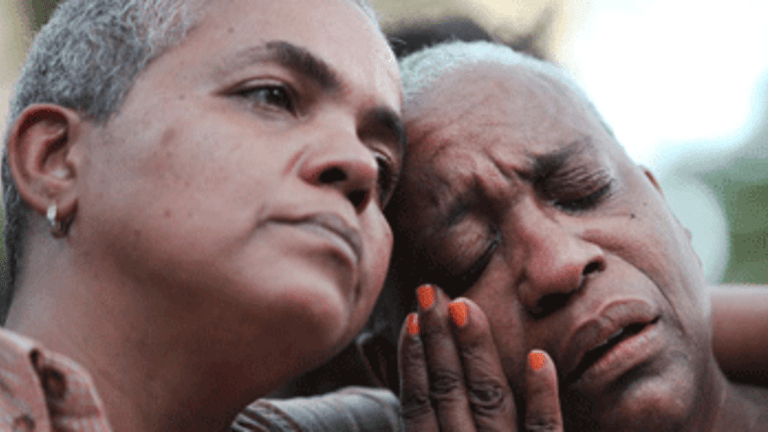 Harlem Wrestles with Homophobia
Rev. Irene Monroe: Harlem still remains as both a complicated open and closeted queer social hot spot. Harlem's transgender community wrestles more than any of us LGBQs with Harlem's homophobia.
Gentrification of neighborhoods always disrupts existing communities within them.
Sometimes the disruption brought on by gentrification is expressed in anger and violence toward not only the transitional group ushering in the change, but also toward its existing denizens of the community.
In the pre-dawn hours of a Saturday in August, Islan Nettle, 21, who also went by the names Vaughn Nettles and Alon Nettles, was strolling and lollygagging with a group of her sister-friends on Frederick Douglas Boulevard between 147th and 148th Streets in Harlem. When she and the girls were recognized as transgender women, Paris Wilson, 20, began spewing homophobic epithets. Enraged by the sight of the women, Wilson crossed the street to where the women were and savagely pummeled Nettles, resulting in her death, for allegedly being teased for flirting with a transgender woman.
Nettles' death has shaken parts of Harlem, especially the Hamilton Heights community where Nettles was killed. Hamilton Heights in the last decade has gradually emerged as an LGBTQ community. A clear example of a new queer Harlem was in April 2010 when the Harlem Stage premiered the new documentary short film, "Marriage Equality: Byron Rushing and the Fight for Fairness," allowing the largest public dialogue on same-sex marriage by LGBTQ people of color in the country. New York native and award-winning African American gay filmmaker Thomas Allen Harris directed the film, sponsored by the Human Rights Campaign.
In June 2010, Harlem saw its first Pride. But Harlem still remains as both a complicated open and closeted queer social hot spot. Harlem's transgender community wrestles more than any of us LGBQs with Harlem's homophobia.
"In Harlem, it can be dangerous for transgenders to approach men. Some of the men are very aggressive and close-minded. You have to be careful who you approach, " Ms. Jennifer told DNAinfo New York.
The struggle of Harlem's transgender community dates back, at least on record, to the early 1900's.
By the time of the Harlem Renaissance, roughly from 1920—1935, LGBTQ African Americans carved out for themselves a queer space of self-expression. Its transgender community during this era was notoriously cheered and despised for their drag ball extravaganzas. Langston Hughes depicted the balls as "spectacles of color." George Chauncey, author of Gay New York, wrote that during this period, "perhaps nowhere were more men willing to venture out in public in drag than in Harlem." But the visibility of Harlem's entire LGBTQ communities for the most part was forced to be on the "down low."
With a new black and visible LGBTQ face emerging in Harlem in the last decade so too is a white one.
When rents became prohibitive — especially in Greenwich Village—NYC's gay meccamany Manhattan LGBTQs took either a bridge over to Brooklyn or a train up to Harlem.
"Gays have often been at the forefront of gentrification in New York City and elsewhere in the nation, said Charles Kaiser, author of The Gay Metropolis, a History of Gay Life in New York who's quoted in "Harlem Journal: Gay White Pioneers, on New Ground." And the number of whites in Harlem in the last decade has nearly doubled from 9.9 percent to 16.6 percent.
These new LGBTQ residents in predominately poor communities and communities of color have brought unimaginable improved services to the area the city has long forgotten, like police protection, Starbucks, Wholefoods, and boutique shops, to name a few. But their presence has also created great resentment by those who were not forced to relocate from these communities, but rather are left to see the uncomfortable changes.
I'm told the resentment of white queers taking up residence in Harlem has oddly been expressed more openly toward black LGBTQs in the form of homophobic and transphobic slurs and attacks.
Asha Greene, a trans woman, and Maureen Ryan, a lesbian, are recent graduates from NYU. While attending NYU they lived in one of school's leased apartments, but moved uptown when they realized they couldn't afford the rents in the area.
"My neighbor who has lived in this building for over 20 years never speaks to Maureen and barely speaks to me. When she, on this rare occasion, spoke to me, it was because I helped her with her groceries. Expecting a thank you she said instead that she hated seeing the sight of me and my partner move in. She said to me 'see what you bringing up in here ' referring to my girlfriend being white. And she'll be bringing more of her kind," Asha said.
Transphobia in black communities leave members of our community especially vulnerable, like Nettles. And our communities must be held accountable.
While Harlem has always had a transgender community, it has never had to take seriously public charges of a hate crime perpetrated against one of its transgender residents. Nettle's mother along with several Harlem LGBTQ groups are contesting Wilson's low bail set at $2,000. Such a low bail sends no meaningful message about the crime and the value of the lives of its transgender residents.
In 2013 Harlem is unquestionably a community in transition—and not only with its new residents.
The uptick of insults and assaults on Harlem's predominately black LGBTQ communities, some contest, is largely because of gentrification—a community's feelings and frustrations wrongly expressed in both homophobic and transphobic ways.
Homo and trans phobia are forms of bigotry. Long-term residents of Harlem know bigotry all too well as recipients. Hopefully they won't become experts on the other side, too.
Irene Monroe
Thursday, 5 September 2013