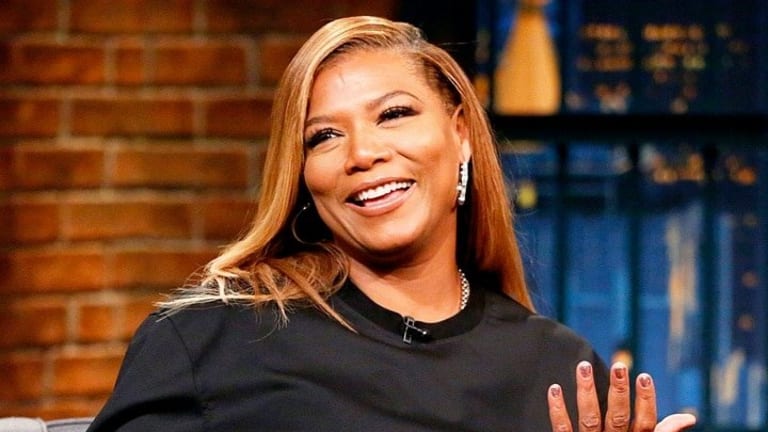 Stop Reporting Queen Latifah's Sexuality!
Rev. Irene Monroe: A failure to contextualize the different social and cultural spheres in which Latifah orbits will always render a misread like the media has done, again.
Do the media's cat and mouse game of chase with Queen Latifah leads many of us -especially in the LGBTQ+ community -to another "Gotcha!" moment of her coming out- that ain't!?
A recent Zoom version of "Red Table Talk," an online talk show hosted by actress Jada Pinkett Smith, had a raucously funny reunion episode with the dynamic Flossy Posse of the 2017 blockbuster hit "Girls Trip." When actresses Jada Pinkett Smith, Regina Hall, Tiffany Haddish, and Queen Latifah discussed their celebrity crushes, the Queen's remarks about Brazilian supermodel Adriana Lima were, in my opinion, ambiguously suggestive and exacerbated by being taken out of context:
A failure to contextualize the different social and cultural spheres in which Latifah orbits will always render a misread like the media has done, again.
"Oh yeah, that's my crush. She's mmm, that kinda mmm! Yeah, she got fire. I like her. That's my girl right there."
There have been several incidents for decades now where the media has tried to out the Queen. For example, in the September 2011 issue of Sister 2 Sister (S2S) magazine, which featured Latifah on the cover, the Queen in an in-depth interview revealed to S2S the type of women she likes:
"I just like ladies who have class. Period. And if it's "T and A" you're sellin', that's fine, as long as that's what you're selling. But you don't have to show everything, you know? You can hold some back and just be yourself and let your personality shine and let your individuality show. To me, that's sexier. A confident woman is a sexy woman, in my opinion. And I think guys find that to be the same way."
While there is a willingness of both the media and the public to believe that Latifah came out to S2S, those quotes, too, were taken wildly out of context. Sadly, the blogosphere ran with plucked quotes from Latifah's interview, and news of her "coming out" proliferated personal blogs and respected news outlets like "ABC.com," all heralding that the Queen is out.
Long before the hubbub African-American celebrity gossip, news, popular culture, and entertainment blog "Bossip.com" outed Latifah in September 2010 with photos of her gal pal and "personal trainer" Jeanette Jenkins in a tender embrace not intended for public viewing, the century-long reliable "chitlin' circuit" told us our closeted Queen was "in the life." For years it has been rumored that Queen Latifah held private same-sex parties with all in attendance understanding they had to be on the "down-low" about it.
Part of what fuels the on-going flurry of queries concerning Queen Latifah's sexual orientation was her spot-on portrayal of a butch lesbian in the 1996 movie "Set It Off." In 2011, Latifah's character on the show Single Ladies — which she executive produces —was accidentally outed, and it worked out positively for the role. Viewers and the blogosphere began to speculate that Latifah was channeling her personal life through her small-screen character. Queen Latifah, however, empathically refuted the rumors as scurrilous attacks.
Latifah would never publicly out herself verbally. And, that's important. Queen Latifah's 1999 autobiography, "Ladies First: Revelations of a Strong Woman," she wrote that "it's insulting when someone asks, "Are you gay?' A woman cannot be strong, outspoken, competent at running her own business, handle herself physically, play a compelling role in a movie, know what she wants—and go for it—without being gay? Come on."
In 1989, at age 19, Queen Latifah changed the way many of us viewed hip-hop with her hit single "Ladies First" from her first album, "All Hail the Queen," rebuking misogynistic lyrics, and bringing an uplifting message of self-respect and empowerment to young women.
Latifah's sexual orientation is queried continuously, like so many African American sisters — straight or gay — because she is also gender non-conforming to the white feminine aesthetic. The cultural indicators of how far afield Latifah, and sisters like her and me, are from the white feminine aesthetic paradigm is measured by our language, size, and hair length, to name a few.
Latifah's size makes her less feminine to the white feminine aesthetic paradigm, but she has, nonetheless, starred in blockbuster romantic comedies like "Last Holiday" and "Just Wright."
Depending on who the Queen's talking to her vernacular will range from Standard English to Hip-hop. Sister 2 Sister magazine caters to an urban Hip-hop readership, and her language in the interview was colorful and fitting as in the "Red Table Talk."
A failure to contextualize the different social and cultural spheres in which Latifah orbits will always render a misread like the media has done, again. And, as far the media pondering how long it will be before the Queen comes out, this is what she said in a November 2007 interview with People magazine: "My private life is my private life. Whomever I might be with, I don't feel the need to share it. I don't think I ever will."
Rev. Irene Monroe
Did you find this article useful? Please consider supporting our work by donating or subscribing.