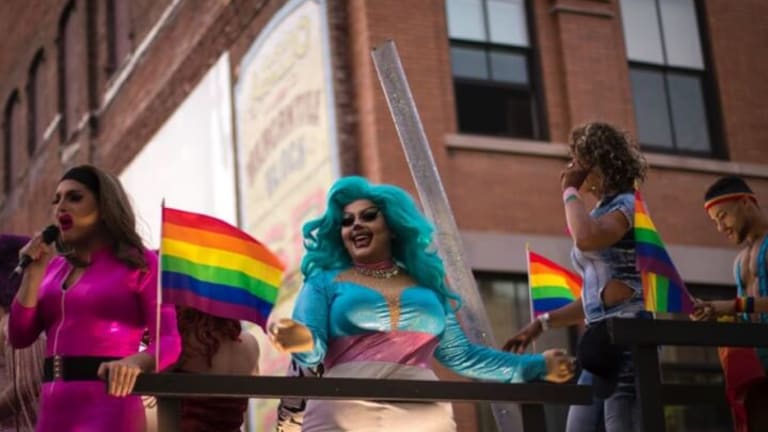 LA Is the Home of the LGBT Community – and Here's Why
With the LGBT community often seen as 'other' by certain groups, activists and business owners in LA are helping to foster a more inclusive culture in the mainstream.
On June 10th, 2018, thousands of people gathered on Santa Monica Boulevard in West Hollywood to watch Michaela Ivri Mendelsohn kick-start LA Pride. The event has been held every year in LA since 1970, when the City of Angels hosted the world's first Pride march. The intervening 50 years have seen LA residents become key to the LGBT community and the fight for equality.
While the community has had a lot to celebrate in recent years – with gay marriage legalised and transgender rights recognised across the world – it's clear that there's still more work to do to ensure LGBT rights, as Mendelsohn said at the march.
Let's explore how the LGBT community has become part of the fabric of LA life.
6 LGBT venues and activities in LA
We're all familiar with the flag-bearing role LA has played in pushing for LGBT rights and equality. One of the biggest challenges facing the LGBT community is social segregation. With the LGBT community often seen as 'other' by certain groups, activists and business owners in LA are helping to foster a more inclusive culture in the mainstream.
With the LGBT community often seen as 'other' by certain groups, activists and business owners in LA are helping to foster a more inclusive culture in the mainstream.
That's why today's activists are making just as much of a difference as the 1970 pioneers, with a huge selection of groundbreaking LGBT venues and activities. Here are just a few:
ONE National Gay & Lesbian Archive
The University of Southern California is home to the ONE National Gay & Lesbian archive – the world's largest LGBT research library. The center documents the journey of queer culture in the country and LA, as well as hosting regular exhibitions and art shows for the community.
Millennium Biltmore Hotel
For most of its near-100 years of existence, the Millennium Biltmore Hotel has been gay friendly. During both World Wars, the hotel was open to the gay community at a time when it faced persecution from the rest of society. However, its most prominent part in LGBT history came in 1971.
It was hosting the International Psychologists & Psychiatrists conference, which was about to announce electroshock therapy as a "cure for homosexuality". The meeting was disrupted by the Gay Liberation Front – and within two years homosexuality was removed as a mental disorder in the medical world. The Millennium Biltmore Hotel remains a testament to just how far the LGBT community has come.
Drag Queen Bingo
<
A brief look at an average Drag Queen Bingo night at Hamburger Mary's
Firstly, what is drag queen bingo? Well quite simply it's your average bingo evening with a twist. The host(s) are popular, entertaining and sassy drag queens – injecting a dose of humour into a well-known and well-loved game.
Hamburger Mary's Bar & Grille in West Hollywood is the best place to catch some drag queen bingo action in LA. With five shows a week there are plenty of opportunities to go and see famous names such as William Belli, Roxy Wood, Raja and even Paris Hilton.
Drag queen bingo attracts a melting pot of groups across LA society – with inclusivity the name of the game.
If you want to get some practice in – or just get more of an understanding about how drag queen bingo works – there are plenty of options online. Virtual gambling has really taken off in recent years. It's predicted to soon become a $525 billion industry, and its popularity is mainly due to the quality of its games, which are more engaging and immersive than ever. You'll see this for yourself by playing drag queen bingo at Wink Bingo, where you'll also find out more about the game's history and get tips for hosting your own event.
Craft Night @ Akbars
Akbars is the place to go for all kinds of LGBT events – from exhilarating club nights over the weekends to cultural evenings on Wednesday nights. Every week the main theme of the craft night varies, but one thing always remains the same: it's full of some of the most creative and innovative minds in LA showcasing various forms of art.
If you're a beginner to arts & crafts then fear not as there are regular workshops at these events to get you into the action. The art on show has a distinctly LGBT theme but the evenings are open to everyone and provide the rest of the community with a useful look into queer culture.
The Abbey
This former coffee house was recently crowned 'Best Gay Bar in the World' by LOGO and is a must visit for anyone new to LA. The Abbey is the perfect blend between LGBT and Hipster culture with chic fireplaces, luxurious cabanas and a wide range of exotic cocktails.
FUBAR
A background to the history of FUBAR
The name FUBAR should give you a quick idea of the crazy party vibe of this world famous nightclub. Walk in on any given night and you will be greeted by an eclectic crowd of gay men, lesbians, drag queens and transgender folk.
The nightclub has a reputation as a 'true dive' and it thrives on that, offering cheap drinks and the very best debauchery. If you're into music then you'll be impressed by FUBAR's regular schedule of world famous DJs.
Summary
If you live in LA, or another progressive American city, it can be easy to forget that prejudice attitudes prevail in many other places across the country. Identifying as gay or transgender in many towns and cities throughout America can leave many people feeling marginalised. In LA, however, LGBT culture has flourished.
That's what makes LA more than just a city – but an inclusive community that prides itself on welcoming all kinds of groups.