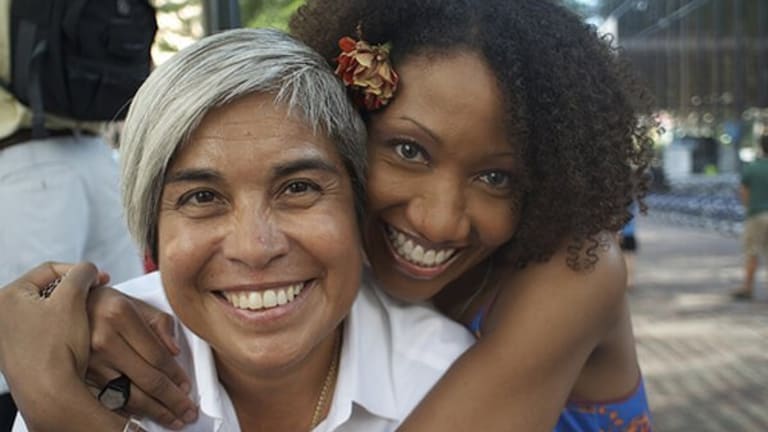 LGBT Folk Look to 2015
Carl Mathes: I predict that Pope Francis will continue to challenge all in the Catholic Church to accept his view "that homosexuals have gifts to offer the Church," repeating Catholic teaching that "every sign of unjust discrimination in their regard should be avoided."
With amazing help from President Barack Obama, the federal court system, gay organizations and voters, the LGBT community experienced impressive progress towards equality under the law in 2014, a "super banner year." In 2015, I predict that lesbians, gay men, bisexuals and transgendered Americans will continue working towards equality in many important areas. For example:
Marriage Equality
My prediction is that the Justices will advance into the 21st century and rule in favor of marriage equality!
It's hard to believe that it was only in 2003 when Massachusetts became the first state to same-sex marriage. By last year, gay men and lesbians could marry legally in 18 states and Washington, D.C. and, entering 2015, that number is now 35 states. As Kate Kendall, executive director of the San Francisco-based National Center for Lesbian Rights, said, "This moment that we are in is nothing any of us could have predicted. Just barely 10 years ago, there was not a jurisdiction in this country where a same-sex couple could legally marry, and now, just a little over 10 years — 35 states!"
Eyes are turned to the Supreme Court of the United Sates where, this past October, the court rejected petitions to review lower court rulings banning same-sex marriage. This opened the door for marriage equality to take effect in the five petitioning states, plus six other non-marriage states within those circuits.
On January 9, the next phase of court decisions will be made when five marriage equality cases are scheduled for SCOTUS conference.
Four Justices must vote for certiorari in order for a case to receive review. (A document which a losing party files with the Supreme Court asking the Supreme Court to review the decision of a lower court.) If certiorari is granted in one or more of the marriage petitions, the case will likely be scheduled for an oral argument in the spring of 2015, with a decision expected by late June.
Local Elections
I predict that as California goes, so goes the nation, with qualified and exciting openly LGBT candidates emerging and becoming victorious.
2014 was also a banner year in local elections. Married lesbian Toni G. Atkins, an American Democratic politician from San Diego, was unanimously elected Speaker of the California Assembly. Openly gay Mike Bonin and Mitch O'Farrell were both elected to the Los Angeles City Council. While lesbian Sheila Kuehl, was elected as a Los Angeles County Supervisor and Jeffrey Prang, a gay man, was elected Los Angeles County Assessor.
Professional Sports
I predict that the visionary words of Martin Luther King: "I have a dream that my four little children will one day live in a nation where they will not be judged by the color of their skin but by the content of their character," will continue to live and grow in all of our lives in 2015.
Very few in the LGBT community will ever forget last spring when Michael Sam became the first openly gay player drafted into the NFL. Cameras were in his home during the draft broadcast to capture Michael's reaction to being chosen. He was a seventh-round pick by the St. Louis Rams and his family was jubilant as Michael victory-kissed his gay lover on camera.
Michael was interviewed by Oprah Winfrey and he revealed that other gay players in the league called to "thank him for doing what they could not." No names or actual numbers were cited. "A very few reached out to me and pretty much just told me their gratitude and how thankful they were that I had the courage (to come out)," said Michael in the interview. "They wished that they had the courage to come out."
And, according to "Outsports," a LGBT sports publication, 109 athletes, coaches, officials, sports administrators and sports media members Came Out to the world in 2014. All told, 34 sports saw at least one person Come Out publicly.
However, Minnesota Republican Rep. Joyce Peppin is suggesting "closer legislative oversight" of Minnesota school's sports teams after an approval in December 2014 of a policy letting transgender athletes play on teams that best align with their gender identity.
Healthcare
I predict that universal healthcare - the expansion of the Affordable Care Act, i.e., Obamacare - will become the demand of more and more Americans and become a reality.
AIDS Healthcare Foundation (AHF), under the exemplary leadership of founder and long-time president Michael Weinstein, has added Ebola to health issues it is fighting.
To call attention to the emergency, AHF's 2015 Rose Parade float proclaimed: "Protecting Global Health: Ebola First Responders." This action followed the Ebola deaths of two physicians working with AHF in West Africa. The four surviving siblings of Dr. Sheik Humarr Khan, one of the AHF doctors who died of Ebola, rode on AHF's Rose Parade float in honor of, and tribute to, their fallen brother.
On another front, Washington, D.C., Mayor Vincent Gray signed a bill prohibiting the practice of LGBT "conversion therapy" on minors. The legislation, which unanimously passed the District's Council imposes fines and other penalties on any licensed mental health professionals who attempt to change the sexual orientation of a patient under the age of 18.
I predict that Pope Francis will continue to challenge all in the Catholic Church to accept his view "that homosexuals have gifts to offer the Church," repeating Catholic teaching that "every sign of unjust discrimination in their regard should be avoided."
In 2014, SCOTUS allowed Hobby Lobby to deny specific health coverage for employees under the company's health plan by citing the owner's religion. LGBT legal activists called the decision a "dangerous and radical departure from existing law," saying it could provide a means for employers to discriminate against LGBT people by denying coverage for such things as reproductive insemination, gender reassignment treatments or HIV prevention efforts.
Pope Francis
I predict that Pope Francis will continue to challenge all in the Catholic Church to accept his view "that homosexuals have gifts to offer the Church," repeating Catholic teaching that "every sign of unjust discrimination in their regard should be avoided."
The Vatican under Pope Francis continues to challenge the status quo of Church teachings, her hierarchy and administrators. He began by saying it wasn't his duty to judge a gay person who was seeking to follow Christ's word. In June, the Vatican released a document calling on the church to treat LGBT people with more respect followed by another document noting that the support gay partners provide each other is worthy of respect. And finally, in one Christmas message, the Pope said, "We come across this reality all the time in the confessional: a father and a mother whose son or daughter is in that situation. This happened to me several times in Buenos Aires...We have to find a way to help that father or that mother to stand by their son or daughter."
The Pope, in a second Christmas message, addressed the Catholic Church's "seven deadly sins," adding the "15 ailments of the Curia." Francis issued a blistering indictment of the Vatican bureaucracy, which in some LGBT circles are referred to as "The Belles of St. Mary," (so many are gay), accusing the cardinals, bishops and priests who serve him of using their Vatican careers to grab power and wealth, of living "hypocritical" double lives and forgetting that they're supposed to be joyful men of God.
International Relations
I predict that we will continue to be very proud of President Obama's leadership.
This president has appointed more openly gay ambassadors than all other presidents combined. Currently serving are James "Wally" Brewster to the Dominican Republic, Rufus Gifford to Denmark, John Berry to Australia, Ted Osius to Vietnam, James Costos to Spain and Daniel Baer to the Organization for Security and Cooperation in Austria. Secretary of State John Kerry said that the advancement of LGBT rights around the world would be a priority, "No matter where you are, and no matter who you love, we stand with you."
"For the first time the gay community really is coming together to get equal consideration in U.S. foreign policy," said Mark Bromley of the Council for Global Equality, which lobbies for LGBT rights in international affairs.
For instance, the U.S. dropped Gambia from a free trade agreement, a move that officials said was in response to a recent crackdown on the country's LGBT community.
The interior minister of Taiwan announced that residents will soon be able to change their gender on legal documents without proof of gender reassignment surgery. Taiwanese LGBT advocates praised the change in policy, with one trans activist calling it "a great Christmas present."
The Winter Olympics, held in Russia, drew international attention to that country's newly passed and harsh laws aimed at silencing LGBT people. The laws made it a crime to "promote LGBT equality in public." The U.S. conveyed its more positive message for LGBT people: President Obama named openly gay athletes as three out of his ten-member official delegation to the event, and he canceled a one-on-one with Russian President Vladimir Putin.
In closing, I further predict that Uganda and Nigeria, which have passed archaic laws making same-sex relationships and activities punishable by death, will come under greater scrutiny and pressure regarding their actions. No longer will Americans tolerate gay men being dragged out of their beds, into the streets and beaten.
Carl Matthes