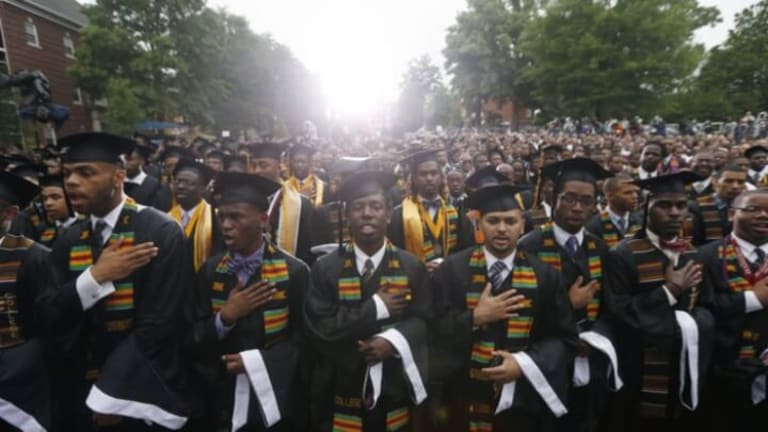 Morehouse Will Admit Trans Male Students
Rev. Irene Monroe: Morehouse, however, has come a long way on GBTQ issues, because the college has had its share of GBTQ-phobic incidents.
Morehouse College—the jewel of black academia and male leadership—will admit transgender male students in 2020. According to its new "Gender Identity Admissions and Matriculation Policy," any student who self-identify as male, regardless of his gender assigned at birth, will be considered for admission with other applicants. And, in keeping with the Morehouse mission and ethos of brotherhood the college will continue to use masculine pronouns.
This is great news as Morehouse will now join the list with other HBCUs with transgender policies. And, of the only standalone all-male colleges in the country—Hamden-Sydney College in Virginia and Wabash College in Indiana—Morehouse is light years ahead.
"In a rapidly changing world that includes a better understanding of gender identity, we're proud to expand our admissions policy to consider trans men who want to be part of an institution that has produced some of the greatest leaders in social justice, politics, business, and the arts for more than 150 years," said Terrance Dixon, Morehouse's Vice President for Enrollment Management. "The ratification of this policy affirms the College's commitment to develop men with disciplined minds who will lead lives of leadership and service."
Morehouse, however, has come a long way on GBTQ issues, because the college has had its share of GBTQ-phobic incidents.
Morehouse, however, has come a long way on GBTQ issues, because the college has had its share of GBTQ-phobic incidents.
In the 1980s and 1990s, it was more dangerous to be openly GBTQ on Morehouse's campus than it was on the streets in gang-ridden black neighborhoods. And, throughout the 1990s Morehouse was listed on the Princeton Review's top 20 homophobic campuses.
For example, Jafari Sinclaire Allen, a professor at the University of Texas was an openly gay student at Morehouse in the late 1980s and early 1990s. He recalls fleeing campus one evening after a forum to address homophobia turned violently homophobic.
Morehouse's most highly publicized gay-bashing incident occurred in 2002 where a student sustained a fractured skull from his classmate, sophomore Aaron Price, not surprisingly the son of an ultra-conservative minister. Price uncontrollably beat his victim on the head with a baseball bat for allegedly looking at him in the shower.
Many on Morehouse's campus felt then that peering in a student's shower was an act that not only transgressed Price's privacy as a man, but it also warranted some form of brute retaliation as an indication of his manhood. "A lot of people believe that he deserved to get beaten up if he was looking in the shower stall. Students are very wary of any action that could be misconstrued as a gay overture," sophomore Mubarak Guy, who was a friend of Price's, told The Atlanta Journal-Constitution in 2002.
During the arguments for and against convicting Price of the state's first hate crime, Assistant Fulton County District Attorney Holly Hughes asked the jury to remember the words Price allegedly uttered "when he beat his victim with a baseball bat: 'Faggot, you're gay, gay…I hate these Morehouse faggots.'
Devrin Lindsay, a junior, stated in the May 2008 Los Angeles Times article "Morehouse College faces its own bias—against gays" that an effeminate man who "swishes down the campus like he's on a runway" damages Morehouse's image for both parents with students looking to attend the college.
In 2019 being openly LGBTQ in our black communities have improved a tad, albeit black transwomen are still subjected to higher incidents of violence, frequently resulting in death.
With GBTQ-phobia once running as rampant in historically black colleges and universities as it still is in black churches, there were no safe places to engage the subject of black sexuality openly. And with Black gay sexuality within African-American and African diasporic cultures perceived to further threaten not only black male heterosexuality, but also the ontology of blackness itself, it wasn't safe to be openly GBTQ anywhere.
However, in 2007, the president of Morehouse, Rev. Robert Franklin firmly expressed his views on tolerance and discrimination. He said, "As an all-male institution with the explicit mission of educating men with disciplined minds, the great challenge of this moment in history is our diversity of sexual orientation."
Morehouse continues to confer degrees on more men of African descent than any institution of higher education in this country. Since its inception in 1867 Morehouse College is noted as the bastion of black male leadership and masculinity. Embodying W. E.B. Dubois's theory of " The Talented Tenth," where " exceptional black men" would be the ones to lead the race, Morehouse College has produced unquestionably a pantheon of noted black men: civil rights activist Andrew Jackson, former Atlanta Mayor Maynard Jackson, filmmaker Spike Lee, actor Samuel L. Jackson, former Homeland Security Secretary Jeh Johnson, and its most famous alumnus Rev. Martin Luther King, Jr. And, its alums maintain the "Morehouse mystique" the college is renowned for—"images of strong black men."
In a culture that is now moving away from toxic masculinity, Morehouse's admission of transgender male students will be continuing its tradition of nurturing the talents and gifts of its exceptional black men.

Rev. Irene Monroe