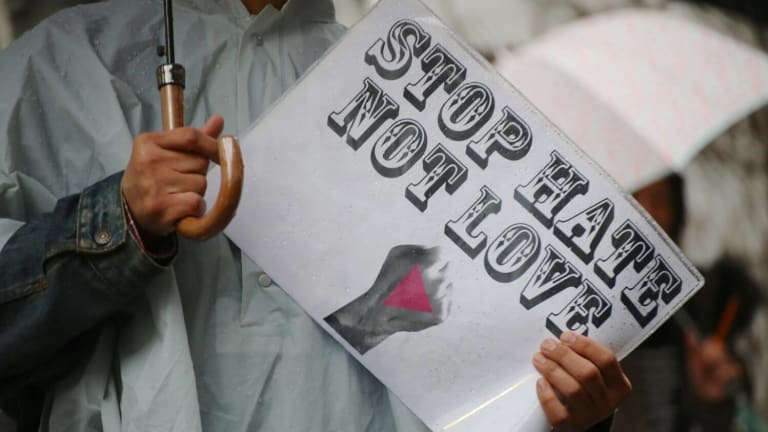 North Carolina & Georgia Embrace Civil Rights Discrimination, Lose Billions
Larry Wines: It took no time for North Carolina to immediately lose business with cancellation of conventions and removal of North Carolina from lists of states under consideration to host a vast variety of events.[
The Cost of Gratifying Ideological Absolutists
Thursday, North Carolina enacted a law that doesn't simply discriminate against LGBT persons. The new law, House Bill 2, endangers their safety, and maybe their lives. It looks simple enough: all persons must use the public restroom corresponding to the sex recorded on their birth certificates. Yet that's anything but simple.
From Matthew Sheppard, the young gay man found crucified and murdered on a Wyoming barbed-wire fence, to dozens of hate crimes every year in America's cities and small towns, America's LGBT citizens are at risk. The new North Carolina law is being compared to Jim Crow-era regimentation, wherein black citizens were forced to use "the correct" restroom — and every other specified public facility — or risk arrest, beating, lynching, or any combination of possibly deadly abrogation of their civil rights.
North Carolina's new anti-LGBT law has plenty of critics all agreeing that it is the most sweeping in the nation. And every aspect of it fails the smell test.
First, there was a specially called Wednesday legislative session in Raleigh, the state capital, to facilitate the bill's speedy passage by the Republican-controlled General Assembly.
Second, it came about as the most reactionary kind of response to a city ordinance in Charlotte, one of the state's most important cities for global commerce. The ordinance guaranteed no restriction on use of public restrooms by transgender individuals. It broadened Charlotte's prior city ordinances specifically including LGBT persons in civil rights protections. But conservatives in the rest of the state rushed to show Charlotte it couldn't get away with somethin' like that. The result was House Bill 2.
It took no time for North Carolina to immediately lose business with cancellation of conventions and removal of North Carolina from lists of states under consideration to host a vast variety of events.
It took no time for North Carolina to immediately lose business with cancellation of conventions and removal of North Carolina from lists of states under consideration to host a vast variety of events. Europe prominently featured the story, just after the latest on the Belgian bombings, in its newscasts.
In Charlotte, a campaign was launched to hand-deliver restroom door signs to any business that wants them. The signs, designed to symbolically sabotage the new state law, read "Non Gender Designated Restroom."
A Thursday evening protest in Raleigh — known as a Southern city with a prominent gay community — began with an open-air performance by iconic local singer-songwriter Kat Williams. Williams was recently un-invited to play a festival where a sponsor is the Catholic archdiocese, ostensibly because she has been married to a woman. While the demonstration drew between 250 and 300 people, it happened after the bill's nearly clandestine sudden passage. The local NAACP took part, and has steadfastly supported equality for LGBT individuals.
If we are honest as a society, we must recognize that we live in rapidly changing times where awkwardness and confusion are to be expected. But that doesn't allow room for forgetting the hard won struggle for civil rights, or selectively applying protections of anti-discrimination to some, but not to all.
We are on the cusp of a regressive trend. Because it isn't just North Carolina or what's heard from overt racists and bigots of all sorts in the crowd at Donald Trump rallies. There's a far broader bill sitting on the governor's desk in Georgia. And other states with repressive urges — where evangelical voters comprise politically sizeable blocks — are watching both these states to see what happens.
The Christian admonition to "Love one another" does not apply in practice to evangelical advocacy for laws to clamp-down what's allowed out there in their vision of the real 'Murica. And with the US Supreme Court in a limbo of eight-member-tie territory, possibly for two calendar years or more, a lot of civil rights matters presumed settled for decades could begin to come unraveled.
The wheels can come off, economically, too. Thursday's passage of the North Carolina law brought prompt action from both college and professional basketball. Both sports organizations have reopened consideration of host sites for events worth millions. For the NCAA, it's a full series of 2017 and 2018 championship games currently scheduled there. The NBA may move next year's All-Star Game out of the state.
Even more pro and college sports leagues are poised to flee Georgia, should a much farther reaching law pass there. It would give special legal protections to anyone engaging in discrimination against another persons' civil rights. They could neither be charged nor sued for damages for discrimination.
Marching Out of Georgia
For the past two decades, Hollywood has found Georgia just peachy. In 2015 alone, a record 158 runaway productions, film and tv, went there. The business is becoming entrenched. Leaving Georgia would cost Hollywood millions. But the South's old specter — civil rights discrimination — has resurfaced in its new form, and is imminently on the verge of being signed into law. If that happens, Hollywood invokes an industry-wide boycott.
The film and tv studios and production companies have a love affair with the state and its locations and ever-growing production infrastructure. That's because state laws in Georgia grant lucrative tax credits and more direct financial benefits than any other state. And it's a region where various businesses, industries, and large numbers of retirees settle because many costs are already lower.
Of course, Hollywood's location spending is worth more than the millions it gains in savings and subsidies. Georgia's economy gained $6 billion in 2015 alone, according to the state's own published figures.
The state has even seen a flurry of development of huge sound stages and vast backlots, complete with manicured forests and rivers and streams with controlled flows. An entire closed army base is in the process of being transformed into a fully-equipped studio facility.
But all of it can end with the stroke of a pen.
Georgia's pending law, protecting anyone who discriminates against LGBT persons, has reached the desk of Governor Nathan Deal. Now it's up to him to sign or veto it.
Hollywood wasn't prepared to stand-up for principle before, gleefully embracing financial savings from Georgia's ban on accepting established union contracts. That state, under that old misleading banner of "right-to-work laws," effectively bans unions — and with them, the wages, health and pension benefits that unions have won for workers.
But now, essentially all of Hollywood has found its soul, declaring it will invoke a total boycott on working in Georgia if the law is signed that allows discrimination.
For Governor Deal, it's the will of the most ideological "absolutist" of his state's voters vs. billions of dollars in damage to an economy for which he is responsible. There's already buzz in business circles that convention and large-scale conference business would go elsewhere. The NFL has also indicated it will not consider Georgia to host a Superbowl if the governor signs the law.
Gov. Deal doesn't need to look far to see how these things produce push-back. In North Carolina, the largest corporations with a major presence in the state have rushed to condemn the new law there.
A growing number of music stars are signing a pledge not to perform in North Carolina, and similarly, not to play in Georgia if the discrimination law is adopted there.
More on the Georgia situation, with some sobering financials, is explored today in a piece at Indiewire.
Larry Wines