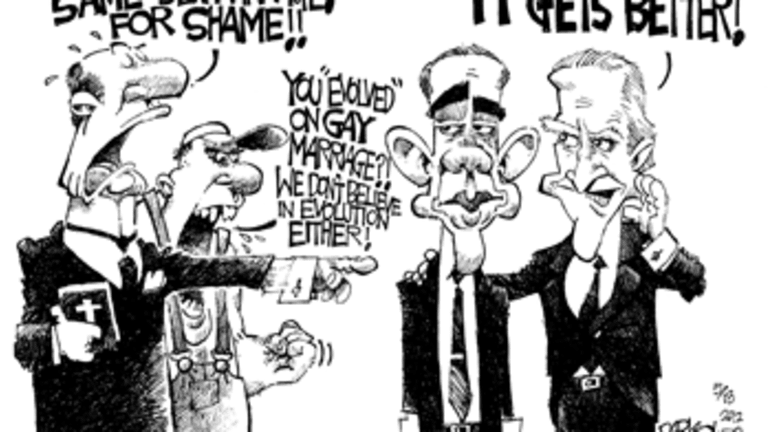 Obama Forced Out on Gay Marriage
Rev. Irene Monroe: There's one thing that has always irked me about Obama's evolutionary narrative on same-sex marriage—and that's not his position on it per se so much as the insincerity of his homophobia.
While President Obama's views were still "evolving" on marriage equality, it's apparent they had already evolved for two of his top officials.
For Vice President Joe Biden the issue is a no-brainer.
"I am absolutely comfortable with the fact that men marrying men, women marrying women and heterosexual men and women marrying one another are entitled to the same exact rights, all the civil rights, all the civil liberties," Biden said in a Sunday morning interview on NBC's "Meet the Press,"
And for Education Secretary Arne Duncan, his unequivocal endorsement of same-sex marriage came on the heels of Biden's when, in a Monday interview on MSNBC's "Morning Joe," Duncan was asked if he believed LGBTQ Americans should be allowed to marry. "Yes, I do," he replied. (Biden and Duncan now join Housing and Urban Development Secretary Shaun Donovan in favor of marriage equality.)
With a president fence-sitting on the issue the Democratic damage control machine had to go into operation playing down a perceived in-house rift.
Obama's clean-up man, David Axelrod, a senior adviser to Obama's re-election campaign, said Biden's gaffes were "entirely consistent with the president's position."
But not everybody's buying Axelrod's Orwellian remark.
NBC's Chuck Todd said with a grin, "So help me out here. He opposes bans on gay marriage, but he doesn't yet support gay marriage?"
CNN's Jessica Yellin asked whether Obama was trying to "have it both ways before an election" and whether he should "stop dancing around the issue."
ABC's Jake Tapper said that "it seems cynical to hide this prior to the election" and that "I don't want to hear the same talking points 15 times in a row."
But Obama had to come out and stop hiding from the American voter on this issue. The president's "evolving" rumination on same-sex marriage had little to do with the moral issue of an American disenfranchised group's struggle for civil rights. It did have, however, everything to do with whether the issue is a political liability to his re-election bid.
Or "simply put: The political upside of coming out in support of gay marriage is simply not as high as the political downside of coming out in support of gay marriage'" Washington Post columnist Chris Cillizza wrote.
And the poll numbers suggest it. According to three Post-ABC News polls taken between March 2011 and March 2012, 52 percent of Americans say same-sex marriage should be legal whereas 44 percent say same-sex marriage should remain illegal.
Within subgroups like black and white Americans, not surprisingly, more white Americans favor same-sex marriage at 53 percent whereas 42 percent of African Americans, one of Obama's large voter blocks, support same-sex marriage. And the generational divide reveal that a younger population overwhelmingly support same-sex marriage where as those 60 and over don't.
But according to a recent Pew Research Center poll, 50 percent of American voters prefer Romney's opposition to same-sex marriage to Obama's 43 percent who support it.
In many ways Obama had repeatedly demonstrated that he had lesbian, gay, bisexual, transgender and queer (LGBTQ) voters in his back pocket, similar in ways he has African American voters. An overwhelming number of us are not Republicans and are less likely to vote for Mitt Romney as our 2012 presidential choice, especially those of us in Massachusetts who remember when he was governor.
In his Washington Post column "No comparison between Obama and Romney on same-sex marriage, Jonathan Capehart wrote "make no mistake: There is no comparison between Obama and Mitt Romney when it comes to respecting the dignity of gay men and lesbians and their families...last summer, Romney signed NOM's noxious pledge to "support marriage." Among the things Romney promised to do is enshrine discrimination into our nation's Constitution through an amendment and to defend the so-called Defense of Marriage Act (DOMA) in court. These are all actions Obama opposes."
And Obama could boast that his administration had been the best friend LGBTQ Americans has ever had. And with the repeal of the military's "Don't Ask, Don't Tell," signing the Matthew Shepard and James Byrd, Jr. Hate Crimes Prevention Act, and his refusal to argue in court for the Defense of Marriage Act, to name a few, many Obama supporters suggest these are significant accomplishments that could only happen with a LGBTQ activist and ally in the White House
But to some in the LGBTQ community and our allies Obama came across as a slippery pol.
There's one thing that has always irked me about Obama's evolutionary narrative on same-sex marriage—and that's not his position on it per se so much as the insincerity of his homophobia. To take Obama at his word, same-sex marriage is something he "wrestles" with, something he thinks a lot about and might support but for a deep conflict with his Christian faith. I'm not privy to what goes on in the president's head, but frankly, this smells like bullshit," Richard Kim wrote in "Obama's 'Evolving' Position on Gay Marriage—Oh, Puhleeze!"
In this election bid , Obama was attempting to shrewdly fence-sit on the issue while winking a stealth nod our way. And he was playing a game of "go away closer" giving some us LGBTQ voters the hope that he's merely holding support on marriage equality until after his re-election.
But this was one time, perhaps too many, that Obama's gamble with us LGBTQ voters- albeit carefully calculated- would very well be costly.
Rev. Irene Monroe