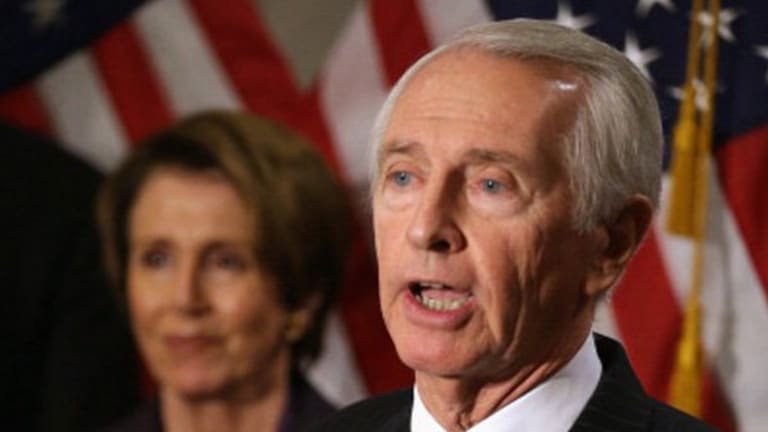 Kentucky Governor's Lawyers Claim Gay Marriage Is Bad for Business
Berry Craig: Beshear's defense of the state's anti-gay marriage amendment reminds me yet again of Mark Twain's evidently apocryphal comment about my native state: "When the end of the world comes, I want to be in Kentucky because it's always 20 years behind the times."
[dc]"D[/dc]ad, isn't Steve Beshear a Democrat?" my college student son phoned home to ask me. "You know he is," I said.
"He sounds like a Republican," my son replied.
He had just heard that Beshear's lawyers have appealed a federal judge's ruling that said Kentucky must recognize same sex marriages from other states.
In their appeal, the attorneys argue that the state's gay marriage ban should be kept because only "man-woman" couples can procreate naturally and that Kentucky has an economic interest to make sure that they do, wrote Andrew Wolfson in the Louisville Courier-Journal, Kentucky's largest paper.
In other words, fewer babies means fewer buyers of products and services and that's not good for the economy, according to the appeal.
Wolfson also reported that the appeal does not "explain how allowing gays to marry would reduce the birth rate among heterosexual couples." Nor does the governor's counsel "address gay couples who give birth through surrogates or other alternatives."
A lawyer for the plaintiffs said the state's position that wedlock "is designed to perpetuate the species is offensive," according to Wolfson. She added: "Most Kentuckians — on both sides of the issue — view marriage as a social partnership, a spiritual bond, a commitment to navigate life together. Children are often a part of that shared journey, but the relationship extends beyond that."
The governor's office declined comment for Wolfson's story.
Wolfson also wrote that in another part of their appeal, Beshear's lawyers maintain that "the institution of the man-woman marriage is deeply rooted in the history and traditions of our country. A right to same-sex marriage is not."
Supporters of slavery and Jim Crow segregation and opponents of gender equality, notably a woman's right to vote, believed that human bondage, white supremacy and a male- dominated society were "deeply rooted in the history and traditions of our country."
Anyway, I grimaced at what my offspring said. I gave him my stock reply: "Son, beyond Louisville and parts of Lexington, there are few real Democrats in Kentucky."
On "social issues" like gay rights, many, if not most, Kentucky Democrats are indistinguishable from Kentucky Republicans.
Though we have lived in deeply conservative western Kentucky all of our lives, my wife and I fully support gay rights, including the right to marry. Admittedly, Kentuckians like us – we voted for President Obama both times, too – are about as common as May blizzards.
We are sorely disappointed in the governor, who we also voted for twice. We voted for him for attorney general, lieutenant governor and US senator, as well.
We're still proud of Beshear in other ways. He has admirably stuck up for the Affordable Care Act and played a big role in making its implementation a big success in our state.
We're Presbyterians who firmly believe in separation of church and state. So in 1981, we applauded then attorney general Beshear when he "withstood pressure from the religious right and advised officials to stop trying to post the Ten Commandments in public classrooms in violation of a U.S. Supreme Court ruling," as a Courier-Journal editorial recalled.
Beshear's term ends next year and he apparently is retiring from politics. But his son, Andy Beshear, is running for attorney general, leading the C-J editorialist to suspect the governor "let politics prevail over principle" in appealing the judge's ruling against the state's same sex marriage ban.
The Bible Belt loops around the Red State Bluegrass State.
Too, the C-J editorial pointed out that going on 10 years ago, 74 percent of Kentucky voters approved a constitutional amendment outlawing same-sex marriage. My wife and I support gay marriage. We were in the 26 percent who voted against the amendment.
While the C-J panned Beshear on the gay marriage issue, it also praised our current attorney general, Democrat Jack Conway, for breaking with the governor and refusing on principle to defend the state's gay marriage ban. (Conway's stand forced Beshear to hire outside counsel.)
"At a time of growing recognition of marriage equality, this is a decision Kentucky can be proud of as well," the editorial said.
I'll add a Presbyterian "amen" to that.
Conway's term is also up next year. Hence, he had nothing to lose politically by sticking up for gay rights because he's also bowing out of politics, right?
Wrong, he just announced he's running for governor in 2015.
"If you think about it, in the long arc of history of this country, at one time we discriminated against women, at one time we discriminated against African-Americans and people of color, we discriminated against those with disabilities," Time magazine's Michael Lindenberger quoted Conway after he said he wouldn't challenge the court ruling. "Where we are as a country now, this really seems to be the only minority group that a significant portion of our society thinks it's still okay to discriminate against."
"Amen."
The C-J editorial also said Conway teared up for a moment when he declared, "As attorney general, I must draw the line when it comes to discrimination" and talked about "his devotion to his wife, their young daughters, to the commonwealth and his desire to ensure equal rights to citizens." The attorney general also said, "My wife told me 'You stink when you're not authentic.' I just decided I had to make a decision I was proud of."
"Amen."
No doubt, a whopping majority of my fellow Kentuckians – even Democrats, make that "Democrats" – are rooting for Beshear and his lawyers.
At any rate, Beshear's defense of the state's anti-gay marriage amendment (and an equally odious anti-gay marriage law) reminds me yet again of Mark Twain's evidently apocryphal comment about my native state: "When the end of the world comes, I want to be in Kentucky because it's always 20 years behind the times."
On the other hand, Conway's stand makes me mindful of what President John F. Kennedy wrote in Profiles in Courage: "The true democracy, living and growing and inspiring, puts its faith in the people – faith that the people will not simply elect men who will represent their views ably and faithfully, but also elect men who will exercise their conscientious judgment – faith that the people will not condemn those whose devotion to principle leads them to unpopular courses, but will reward courage, respect honor and ultimately recognize right."
I'd change that to "men and women" and toss in another Presbyterian "amen" to boot.
Berry Craig