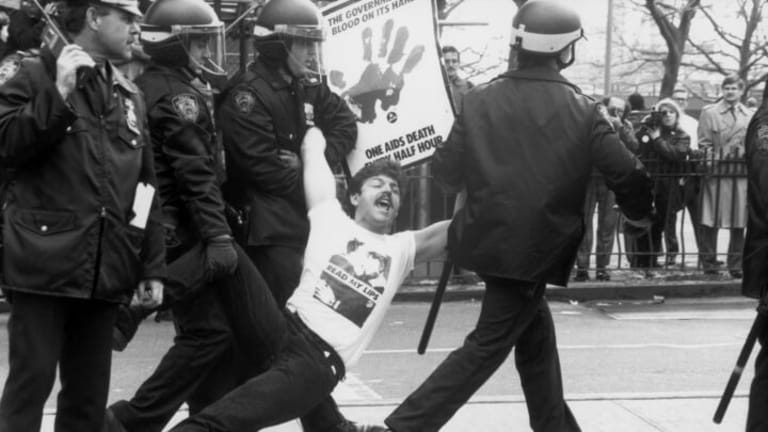 Pride Parades, Police, & Black Lives Matter
Dahlia Ferlito: I find myself wondering why our community has been so quick to welcome LAPD's participation in our events while it's repressive tactics continue, unabated, toward other vulnerable groups in our city, primarily LA's Black and Brown communities.
I am a white, queer, non-binary, and masculine of center anti-racist activist living in Los Angeles, and part of a large and growing community with intersectional identities and political interests.
During this year's Pride month I find myself reflecting on intersectionality. While our annual Pride events commemorate the 1969 Stonewall Riots in Manhattan's Greenwich Village, we need not take a very deep dive into the Los Angeles Police Department's past to find similar policies, practices and tactics as those used to instill fear and oppress LGBTQ+ communities in New York. LAPD's historical raids on gay bars, unprovoked beatings of "homosexuals," and arrests were brutal and commonplace, leading to the first uprising in Los Angeles, at the Black Cat, in 1959. The LAPD remained notorious for its brutality against LGBTQ+ communities throughout the dawn of the modern Gay Rights Movement and beyond, with harassment complaints continuing well into the mid 1990s.
I find myself wondering why our community has been so quick to welcome LAPD's participation in our events while it's repressive tactics continue, unabated, toward other vulnerable groups in our city, primarily LA's Black and Brown communities.
Fast forward to today when the LAPD hosts LGBTQ+ community policing programs, recruits LGBTQ+ cadets, attends Pride parades with rainbow cars, and walks along with us. I find myself wondering why our community has been so quick to welcome LAPD's participation in our events while it's repressive tactics continue, unabated, toward other vulnerable groups in our city, primarily LA's Black and Brown communities. Have we forgotten our own recent history with the LAPD? While the LAPD's increasing LGBTQ+ cultural competence creates the appearance of a kinder and gentler agency, this is, in fact, not the case. Why during Pride do we try so hard to embrace law enforcement when people of color, even from our own community, are still targeted and abused? Trans women of color in particular are routinely harassed by law enforcement, presumed to be sex workers and are arrested merely for survival sex.
The Police in L.A. are also known for routinely harassing houseless people, especially in Skid Row, where they are overwhelmingly people of color dealing with mental health, physical health, trauma, and substance abuse issues. The police throw away their belongings, beat and sometimes kill them when they are unable to follow commands. How the LAPD treats people with multiple, compounding issues and living in squalid conditions is appalling. One incident that illustrates such treatment is the killing of Charly "Africa" Keunang, who was living in Skid Row, already known by officers to have mental health issues. Nevertheless, in 2015 officers confronted Keunang, who was unarmed, escalated their engagement, and ultimately shot him at point blank range multiple times. Body camera footage captured this "excessive force," and earlier this year two officers were found liable for civil rights violations. This is not an anomaly; police harass homeless mentally ill people everyday all over the City.
Tragically, we also hear about frequent police killings of civilians in Black and Brown neighborhoods. Putting rainbow window dressing on a persistent socially repressive institution will not disguise the fact that the LAPD (second only to the LA County Sheriff) is the deadliest law enforcement agency in the United States, killing people of color at alarming rates. Moreover, LAPD also "shoots to kill" children in these neighborhoods, as in the case of 14 year old Jesse Romero and 16 year old Jose Mendez. It seems to me that attempts to distance ourselves from past acts of brutality toward LGBTQ+ communities, as if they were mere mistakes of yesteryear, perhaps rectified by training, LGBTQ+ recruitment, and participation in annual Pride festivals, are naïve and misguided.
Now, decades since Stonewall, LGBTQ+ life and rights have become almost mainstream. Marriage equality is the law, Hollywood celebrities are constantly "coming out" and celebrated by LGBTQ+ organizations, and it has become a career accomplishment to preside as Grand Marshal over a Pride parade. With increasing equality and greater socio-cultural-political representation, many in the LGBTQ+ community--particularly white liberals—have begun to look askance at ground-level protests and disruptive actions in the fight for justice, trading them in for respectability politics.
When many in our community critique the Black Lives Matter Movement for its strategies and tactics, it seems like we're suffering from historical amnesia. These are the same strategies and tactics we used not so long ago. We must not forget how gay men and their allies shut down bridges, doused the White House lawn with ashes of their dead brothers, held a "die in" during mass at St. Patrick's cathedral, unrolled a condom over the Washington Monument, shut down the FDA, and used other disruptive tactics to draw attention to and create discomfort in the lives of those who could not care less about gay men dying from AIDS complications. It took these disruptive tactics to force the conversation, a culture shift, and eventually the political will for change that saved lives of the sick and dying.
It appears these memories have faded and, as a result, a shift in our community's relationship to the police has occurred. Have we truly forgotten that it was the same institution that raided gay bars? And brought the news media with them, to publicly expose individuals arrested for "homosexual" acts, and how this led to community shunning, loss of employment, and sometimes death from suicide? Forgotten, again it seems, are the beatings and of physical violence inflicted on LGBTQ+ communities by the especially brutal LAPD. Also forgotten is the fact that the annual Pride event was organized to commemorate an uprising which was led, in fact, by trans women of color. We must not forget that, bottom line, law enforcement has a long history and continuing practice of protecting property and upholding the interests of wealthy, white, heterosexual cisgender men.
When LGBTQ+ communities actively rail against the disruptive tactics of Black Lives Matter during Pride, and at other times, that says we don't feel the cause is justified. If we agree the cause is justified but disagree with the tactics, we're saying the same thing that was said about our community when we protested for our lives and liberation, and when we "shut it down" to demand the federal government address AIDS. When we turn out in greater numbers for Pride than we do for Black Lives, or for victims of police violence, we are saying implicitly and explicitly that Black Lives don't matter to us. When LGBTQ+ community members in Columbus OH go so far as to testify for the prosecution, against Black queer and transgender activists who disrupted a Pride event, they choose to ignore the long and brutal history of law enforcement against our LGBTQ+ communities. They are saying that solidarity need not be extended to communities who still suffer under the weight of police repression.
It is time we recognize that our LGBTQ+ communities are also Black, Brown, Indigenous, People of Color and poor and working class, and that privileges given to some because of legislative gains are not yet extended equally to all. Our community is intersectional in identities; it is time that we become intersectional in our politics and solidarity efforts.
Dahlia Ferlito
Dahlia Ferlito is a co-founder of White People 4 Black Lives (WP4BL). Special thanks to Karen Hilfman for editing. WP4BL is a white anti-racist collective and activist project of the Alliance of White Anti-Racists Everywhere (AWARE-LA) and operates within a national network of white anti-racists called Showing Up for Racial Justice (SURJ). WP4BL is rooted in acting in solidarity with Black Lives Matter: Los Angeles. For more information, visit www.awarela.org