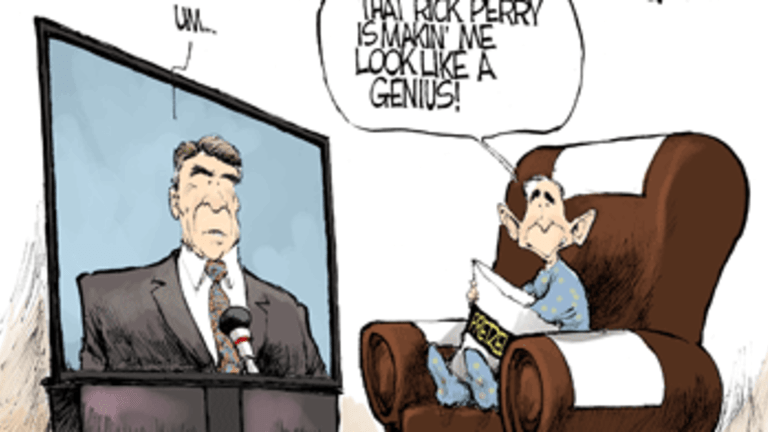 Perry Pandering
Carl Matthes: I understand that a remake of "Dumb and Dumber" ("Dumb and Dumber 2") is in the works. I suggest that the producers contact two governors of Texas who might be perfect for the starring roles!
Republican presidential candidate Rick Perry, trailing in the polls, has become the lead GOP bully of gay men and lesbians. In Iowa, the site of the nation's first primary, Perry's ads are shameful. The ads proclaim, "I'm not ashamed to admit I'm a Christian. But you don't need to be in the pews every Sunday to know that there's something wrong in this country when gays can serve openly in the military but our kids can't openly celebrate Christmas or pray in school."
While in New Hampshire, Perry praised right-wing legislators for working to repeal the state's same-sex marriage law. Wrapping himself even more tightly in the swaddling cloth of fake christian theology, Perry said, "As conservatives we believe in the sanctity of life. We believe in the sanctity of traditional marriage. And I applaud those legislators in New Hampshire who are working to defend marriage as an institution between one man and one woman, realizing that children need to be raised in a loving home by a mother and a father."
This past August Perry signed a pledge to support a constitutional amendment against gay marriage.
Perry is trying to capitalize on a vote taken recently by the New Hampshire House Judiciary Committee in favor of repealing the Granite State's 15-month old marriage-equality law. The 11 to 6 vote, approved House Bill 437 by State Rep. David Bates (R-Windham). The bill would ban same-sex marriage and instead offer a form of civil unions for any unmarried adults. To its credit, the committee rejected a second proposed bill that would just repeal gay marriage without offering any legal benefits for unmarried couples. Further, the committee decided that HB437 would not apply to currently married gay couples, which number over 1,500. Interestingly, with these two concessions it shows, that even among Conservatives, a shift has occurred towards legal protection for lesbians and gay men.
"Standing Up for New Hampshire Families," which, despite its name is a pro-marriage-equality coalition, stated, "The Bates proposal is bad for freedom and bad for families. We did not send lawmakers to Concord to revisit the marriage law. But a fringe group of lawmakers are squarely focused on taking away freedom and liberty from their constituents and fellow Granite Staters."
The proposed legislation reads like a poorly written movie script: "The vast majority of children are conceived by acts of passion between men and women – sometimes unintentionally. Because of this biological reality, New Hampshire has a unique, distinct, and compelling interest in promoting stable and committed marital unions between opposite-sex couples so as to increase the likelihood that children will be born to and raised by both of their natural parents. No other domestic relationship presents the same level of state interest."
Further, you need a Rubik's Cube mentality to understand the bill's wording: "No man shall marry his mother, father's sister, mother's sister, daughter, sister, son's daughter, daughter's daughter, brother's daughter, sister's daughter, father's brother's daughter, mother's brother's daughter, father's sister's daughter, mother's sister's daughter, or any other man." The same rule would apply (genders reversed) to women. Got that? New Hampshire Gov. John Lynch has promised to veto the bill.
I understand that a remake of "Dumb and Dumber" ("Dumb and Dumber 2") is in the works. I suggest that the producers contact two governors of Texas who might be perfect for the starring roles!
Carl Matthes