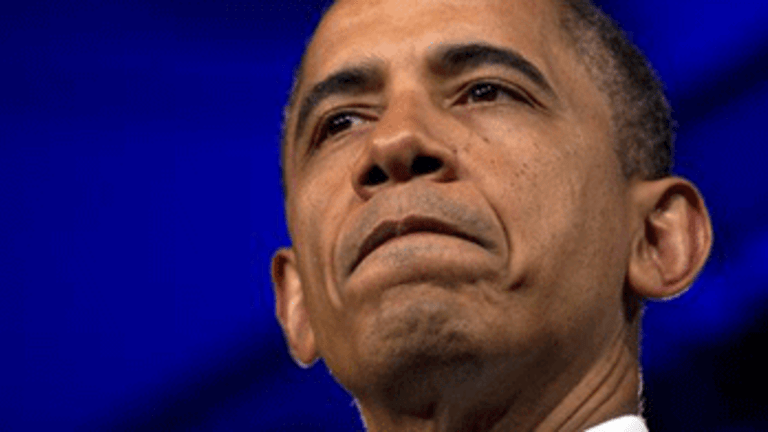 "I Think Same Sex Couples Should Be Able To Get Married..."
Carl Matthes: "I've just concluded that for me personally it is important for me to go ahead and affirm that I think same sex couples should be able to get married."
So said President Barack Obama on May 9, to ABC Television's Robin Roberts. "I've always been adamant that gay and lesbian Americans should be treated fairly," Obama told Roberts, in an interview that will air in full on ABC's "Good Morning America" on Thursday, May 10.
"I have hesitated on gay marriage in part because I thought that civil unions would be sufficient. I was sensitive to the fact that for a lot of people the word 'marriage' was something that invokes very powerful traditions, religious beliefs and so forth," said Obama.
Continuing, the President said, "I have to tell you that over the course of several years as I have talked to friends and family and neighbors when I think about members of my own staff who are in incredibly committed monogamous relationships, same-sex relationships, who are raising kids together, when I think about those soldiers or airmen or marines or sailors who are out there fighting on my behalf and yet feel constrained, even now that Don't Ask Don't Tell is gone, because they are not able to commit themselves in a marriage, at a certain point I've just concluded that for me personally it is important for me to go ahead and affirm that I think same sex couples should be able to get married."
The President showed immense political courage in making his statement.
What may have helped the President to accelerate the announcement of his support for same-sex marriage was the result of voting yesterday in North Carolina and comments this past weekend by Vice-President Joseph Biden and Secretary of Education Arne Duncan. A North Carolina state constitutional amendment banning same-sex marriage along with civil unions and potentially other types of domestic partnerships was passed with almost 60% of the vote. Obviously, hate and discrimination was spreading even to civil unions and domestic partnerships. The President needed to act. "Let's stop this nonsense," I'm sure he thought!
With his statement, Barack Obama became the first sitting president to announce his support for same-sex marriage.
On May 6, Vice President Joe Biden said on NBC's Meet the Press that he was "absolutely comfortable" with the right of same-sex couples to marry. The next day, Secretary of Education Arne Duncan said that he supported marriage equality. Responded, Evan Wolfson, president of Freedom to Marry, a national organization whose goal is to end the exclusion of same-sex couples from marriage said, "Secretary of Education Arne Duncan's announcement this morning adds him to the drumbeat of Obama Administration members coming out in support of the freedom to marry for same-sex couples."
On May 9, in stark contrast, Mitt Romney told KDVR-TV in Denver that "I do not favor marriage between people of the same gender, and I do not favor civil unions if they are identical to marriage other than by name. My view is the domestic partnership benefits, hospital visitation rights, and the like are appropriate but that the others are not."
On Monday, May 7, Mitt told an Ohio television station that he believes "marriage is between a man and a woman, and that's a position I've had for some time and I don't intend to make any adjustments at this point — or ever, by the way." What? Etch-a-sketch pads are not available in Ohio?
Earlier this year, Mitt said, "This is a president (Obama) who is attempting to pave the way for same-sex marriage in our nation by refusing through his attorney general to defend the Defense of Marriage Act (DOMA). I will defend that Act and I will also defend marriage as a relationship between a man and a woman."
Mitt and the Mormon Church are substantial supporters of efforts nationwide to deny the LGBT community civil and human rights.
Those of us who are part of the fight against Prop 8, the California constitutional amendment which bans same-sex marriage, remember when Gavin Newsom, then Mayor of San Francisco, began performing same-sex marriages in the City of San Francisco. This was in direct violation to California state law. His actions brought a firestorm of criticism and helped forge an alliance between Evangelicals, Catholics and Mormons which resulted in Prop 8 passing during the 2008 presidential election.
In 2008, candidate Obama said, "I've stated my opposition to this. I think [Prop 8 is] unnecessary. I believe marriage is between a man and a woman. I am not in favor of gay marriage. But when you start playing around with constitutions, just to prohibit somebody who cares about another person, it just seems to me that's not what America's about. Usually, our constitutions expand liberties, they don't contract them." (President Obama carried California with a whopping 61% of the vote. Prop 8 passed with just 52%.)
And the result of all that? The fight against Prop 8 is now slowly winding it's way through the judicial system towards a rendezvous with the United States Supreme Court.
I salute President Obama for his acts of personal integrity and political courage.
Carl Matthes