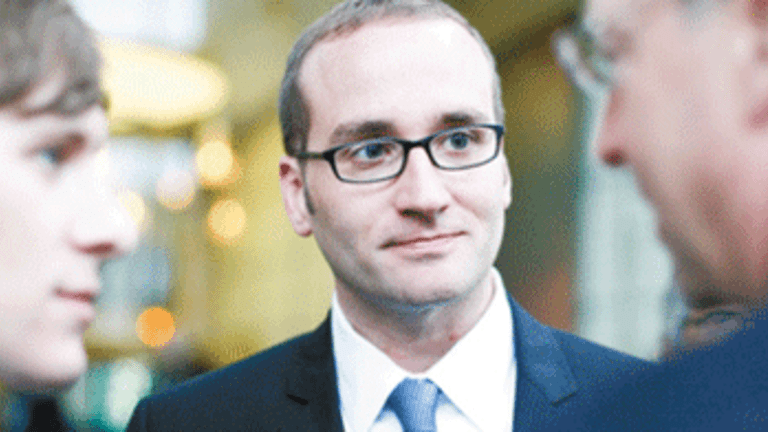 Justice Scalia: Gay Marriage "Inevitable"
Carl Matthes: Scalia's gauntlet throw-down was immediately accepted by Chad Griffin, president of the Human Rights Campaign (HRC), the nation's largest LGBT advocate, who pledged to "bring marriage equality to all 50 states within five years."
In his dissent to the overturning of the Defense of Marriage Act (DOMA), Supreme Court Justice Antonin Scalia laid bare the animus behind DOMA's 1996 genesis, "The real rationale of today's opinion, is that DOMA is motivated by a 'bare...desire to harm' couples in same-sex marriages." And then, with a real sense of foreboding, Scalia prophesied, "How easy it is, indeed how inevitable, to reach the same conclusion with regards to state laws denying same-sex couples marital status."
Scalia's gauntlet throw-down was immediately accepted by Chad Griffin, president of the Human Rights Campaign (HRC), the nation's largest LGBT advocate, who pledged to "bring marriage equality to all 50 states within five years."
Chad now occupies an even higher legal ground on which to make good his pledge when Chief Justice Roberts explained his Prop 8 opinion: "We have never before upheld the standing of a private party to defend the constitutionality of a state statute when state officials have chosen not to. We decline to do so for the first time here."
Chad observed that the decisions "created the foundation to remove dozens of state marriage bans. We can't tolerate the persistence of two Americas when it comes to equality."
Joining Chad was Evan Wolfson, founder of Freedom to Marry, a pro-gay-marriage group, who outlined, "The answer is to win more states, win a critical mass of states, and a critical mass of public support, which creates a climate that encourages the court to do its job."
With the power of both grassroot and institutional support, same-sex couples across the nation are mounting numerous challenges to a state-rights approach to marriage equality.
Arizona: Activists are collecting signatures to put gay marriage on the 2014 ballot. They have until July 2014 to collect the almost 260,000 signatures needed to overturn Arizona's 2008 constitutional amendment banning same-sex marriage. Arizona is among 38 states where gay marriage is not sanctioned.
Equal Marriage Arizona, co-chaired by libertarian blogger and business owner Warren Meyer and Arizona Log Cabin Republican caucus chair Erin Ogletree Simpson, says the initative will redefine marriage as "a union of two persons." It also acknowledges that religious organizations or individuals cannot be required to officiate a same-sex marriage. The Libertarian Our America Initiative, led by former New Mexico Gov. Gary Johnson, has joined the effort.
Arkansas: A group of 11 same-sex couples in Arkansas asked a judge to overturn the state's ban on gay marriage. "Gays and lesbians are a distinct group, singled out due to their sexual orientation to be denied rights enjoyed by all other adult groups," exclaims a lawsuit filed by attorney Cheryl Maples in Pulaski County, Arkansas. The lawsuit seeks to strike down the constitutional amendment that defines marriage as between a man and a woman as well as barring recognition same-sex marriages from other states. At least 78,133 signatures from registered voters must be obtained to get the measure on the ballot in 2014.
In 2011, the state Supreme Court struck down an initiated act approved by voters that banned unmarried couples living together from adopting or fostering children. "I think that enough change has taken place in the last 10 years that it's time for this to be heard," Maples said.
Colorado: Gay rights advocates are eager to overturn the state's 2006 constitutional ban on gay marriage, but Speaker of the state House Mark Ferrandino, who is openly gay, suggests not moving too fast. Polls taken in April 2013 found 53 percent of Coloradans support gay marriage. Civil unions, no substitute for full marriage equality, have now been sanctioned for almost three months. Voters in Colorado appear ready to upgrade from civil unions. Among voters under 30 that support is at an amazing 74 percent.
Florida: In 2008, a constitutional amendment was passed that excluded same-sex couples from marriage as well as prohibiting any form of legal family status. Recently, however, 75% of voters in Florida say they support either marriage or civil union for same-sex couples. Last month, Equal Marriage Florida and others announced their petition drive to reverse the state's marriage ban by putting an amendment vote on the 2014 ballot. Equality Florida has established a website called "Imengaged.org" to recruit gay and lesbian couples to possibly go to court to sue the state over its ban on gay marriages.
Hawaii: Fear that the Aloha State would become the first to allow gay marriage led Republicans to write the Defense of Marriage Act, which was signed by President Bill Clinton and stood from 1996 until the Supreme Court struck it down last week. Now, same-sex marriage in Hawaii seems inevitable! More than half the public - 55 percent - supports it, as does Gov. Neil Abercrombie (D). A Hawaii case, two women suing for the right to marry rather than enter into a civil union, is pending at the Ninth Circuit Court of Appeals. Last year a federal district judge ruled that Hawaii's lack of same-sex marriage rights violated the US Constitution's guarantees of due process and equal protection under the 14th Amendment.
In January 2013, legislators introduced bills establishing gay marriage rights, but a procedural hurdle blocked action. Freedom to Marry's website says, "...as the bills remain 'alive' through 2014, state advocates...are now working to encourage supportive legislators to take affirmative steps to move marriage forward."
Illinois: Gay marriage passed the state Senate in February, with the support of Gov. Pat Quinn (D). But on May 31, the bill was pulled from the Illinois House of Representatives in the face of opposition from Roman Catholic and African-American church groups. Advocates say the next try may come in October, during a special short session. They believe the Supreme Court recent rulings could make the difference.
A six-month-old Crain/Ipsos poll shows 50% of Illinois residents support gay marriage versus 29 percent who oppose it. "It's one thing to be against the marriage bill ideologically," Randy Hannig, director of public policy at Equality Illinois, told NBC News. "It's another thing to stand in the way of people receiving benefits."
Michigan: Gay rights advocates are working on a state referendum. U.S. District Judge Bernard Friedman, citing the Supreme Court DOMA ruling, is allowing a challenge to the state's marriage ban, which included a prohibition on same-sex couples jointly adopting children, to move ahead. State officials tried to get the lawsuit dismissed. "The plaintiffs are entitled to their day in court and they shall have it," said Judge Friedman. Michigan voters passed a constitutional ban on gay marriage, but by November 2012, 56 percent of the state's residents said they supported gay marriage, according to Michigan State University's State of the Union Survey.
Meanwhile, Democrats have introduced pro-gay marriage legislation in the state legislature aimed at setting up a referendum. Separately, on scotusblog, Georgetown University law professor Marty Lederman wrote that a separate case in Michigan also "might cast a large shadow over a state law limiting marriage to opposite-sex couples."
Mississippi: The Campaign for Southern Equality (CSE) - an organization dedicated to winning equal rights for LGBT people in southern states - is focusing on Mississippi, a state with the highest percentage of same-sex couples raising children. (26% of same-sex couples in the state have children.) During July, CSE will take action in Gulfport, Hattiesburg, Jackson, Poplarville and Tupelo, by having couples apply for marriage licenses to provoke denials.
The organization's Executive Director, Rev. Jasmine Beach-Ferrara, says, "Sometimes, when you're looking at bigotry and discrimination, you have to scratch at the surface a little bit and shine some light on it - the way you do an infection. let it breathe to cure it. LGBT folks live literally in every town across the South. And the solution to the discrimination we face is not for us to move. ... What happens when real people say, 'Enough'? 'I'm not leaving. But I will stand up.'"
Nevada: On May 23, 2013, the Nevada Assembly voted in favor of a legislative measure that begins the multi-year process of repealing Nevada's anti-gay-marriage constitutional amendment. The earliest gay marriage can get on the ballot is November 2016.
A Nevada same-sex marriage case is pending in the Ninth Circuit Court of Appeals. The case challenges Nevada's ban on gay marriage on the grounds that it violates the 14th Amendment's guarantee of equal protection.
New Jersey: In February 2012, with polls showing a solid majority of voters in favor, the legislature passed a freedom to marry bill. Governor Chris Christie vetoed the bill and blasted the DOMA decision, while saying he's fine with a ballot measure and "Let's let people decide." The latest survey shows solid support for gay marriage in New Jersey: Some 59 percent favor it, according to a Rutgers University poll.
A hearing is scheduled for Aug. 15 in state Superior Court. Garden State Equality and Freedom to Marry, arguing on behalf of seven gay couples, plan to ask Judge Mary Jacobson to immediately allow gay marriage in light of the DOMA ruling and that New Jersey's civil unions "don't comply with a 2006 state Supreme Court ruling that gay and straight couples should have equal rights."
New Mexico: In 2004, marriage licenses were issued to 64 same-sex couples before the clerk was ordered to stop by the state attorney general. Since then, county clerks have not issued marriage licenses to same-sex couples and the fight for marriage equality continues in the courts and Legislature.
In March, 2013, Santa Fe Mayor David Coss and City Councilor Patti Bushee announced that they would sponsor a resolution calling on county clerks across the state to begin issuing marriage licenses to same-sex couples. Attorney General Gary King announced that he could not definitively say that gay couples could marry. Since the striking down of DOMA, the National Center for Lesbian Rights and American Civil Liberties Union have asked New Mexico's supreme court to allow same-sex couples to marry. Gov. Susana Martinez (R) opposes gay marriage.
North Carolina: Last month, the ACLU filed a federal lawsuit on behalf of six North Carolina same-sex couples seeking second-parent adoption in North Carolina. On July 9, 2013, the case was amended to seek the freedom to marry for these couples.
The ACLU explained, "In light of the Supreme Court's focus...on how children are harmed by the exclusion of same-sex couples from federal recognition of their parents' marriages, it's clear that the harms at the center of our North Carolina case will resonate with the Court."
Ohio: In 2004, Ohio voters approved a constitutional ban on gay marriage with 62 percent of the vote. Today, a slight majority of Ohioans support gay marriage. FreedomOhio is collecting the 385,245 valid signatures needed by July 2014 to get on the ballot in November. They hope to repeal the constitutional ban. Some advocates want to wait for 2016, a presidential election year, when turnout will be higher.
Ian James, co-founder of FreedomOhio, a Columbus-based group bent on overturning the ban on same-sex marriage, remembers, "I started a little group about a year ago with some really good friends because we got just sick and tired of waiting for marriage equality to come organically. You can wait organically if you want. You can wait and wait, and wait, and wait, and wait," James says, intoning Dr. Martin Luther King Jr.'s famous "Letter from the Birmingham Jail," in which he equated "wait" with "never."
Oregon: Oregon's constitution bans same-sex marriage, but gay-rights advocates have submitted paperwork for a referendum in November 2014. They need 116,000 signatures to get on the ballot. If Oregon overturns its constitutional gay marriage ban, in place since 2004, it would be the first state to do so. "This has unfolded exactly as it should," said Jeana Frazzini, executive director of Basic Rights Oregon. "I am more confident than ever that we will be the first state to overturn a constitutional ban on marriage" for same-sex couples, she said.
Oregon, like many states, has a mixed record on how it treats same-gender couples. In 2007, the state Legislature approved domestic partnerships that allow many of the same rights and benefits as married couples. "It's not full equality," said Oregon House Speaker Tina Kotek(D), who is openly gay. "Full equality is the ability to marry." Kotek is the first openly lesbian speaker in the country.
Pennsylvania: The ACLU and a private law firm have filed a federal suit on behalf of 10 same-sex Pennsylvania couples, some of whom are already legally married in other states, seeking the freedom to marry. James Esseks of the ACLU told The Washington Post, "Pennsylvania recognizes straight people's marriages from Maine and New York, but it doesn't recognize gay people's marriages from Maine and New York. The question is, why?"
Pennsylvania has a state statute which defines marriage as between one man and one woman, but is one of only a handful of states that does not allow same-sex marriage or has a state constitutional amendment prohibiting it. Proponents have introduced a bill to make same-sex marriage legal in Pennsylvania.
Virginia: The ACLU of Virginia announced that it will challenge in federal court Virginia's 2006 constitutional amendment banning same-sex marriage. "Thousands of Virginia couples are already living the deep commitment associated with marriage, without legal recognition of their relationships. They and their children deserve the legal protections that come with state-recognized marriage," said ACLU Executive Director Claire G. Gastanaga.
State advocacy groups are working toward fairness for all of Virginia's families by overturning a constitutional amendment that prohibits relationship recognition for same-sex couples in the state. 56% of Virginians say they support marriage for same-sex couples. (The Washington Post, May 2013)
Wisconsin: In 2006, anti-gay forces in Wisconsin pushed through a constitutional amendment that excludes same-sex couples from marriage and prohibits same-sex couples from attaining any other form of legal family status. In 2009, Governor Jim Doyle signed into law a domestic partnership allowance for same-sex couples. The domestic partnership law provides limited access to some of the protections that the freedom to marry affords.
Wisconsin is also seeing a shift on marriage perspectives. In a June 2011 survey from Public Policy Polling 42 percent of the public supported the freedom to marry.
Carl Matthes
Friday, 12 July 2013