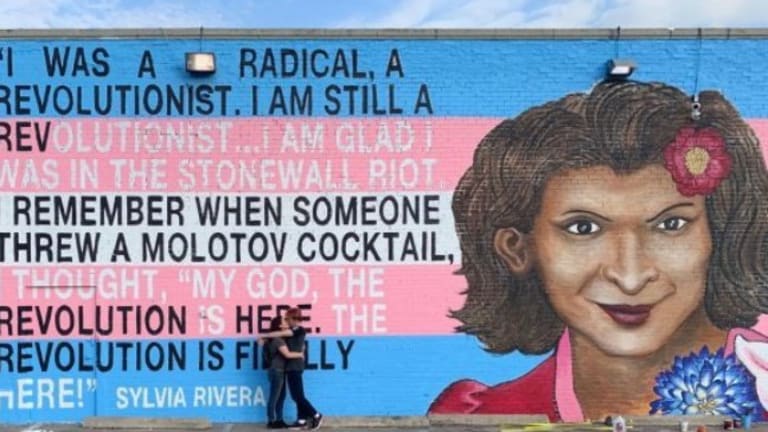 Trans Deaths Are Real Deaths
Rev. Irene Monroe: For this 50th anniversary of Stonewall I hope images of Marsha P. Johnson and Sylvia Rivera will be on display.
In a suburb just outside of Dallas, and to the disbelief of many—straight and LGBTQ—across the country, a transgender mural is painted on the side of a tattoo and piercing shop. The mural commemorates the 50th anniversary of Stonewall, displaying an image of Marsha P. Johnson and Sylvia Rivera (our foresisters) of the Stonewall Riots. They are the catalysts of our 1969-to-present day LGBTQ movement. Their images are against the backdrop of the colors of the transgender pride flag.
Brian Kenny, the muralist behind the painting, explained his objective:
"This mural represents the trans women of color who were key figures in that riot and also key figures in the start of the queer liberation movement," Kenny told KXAS-TV. "This mural is to honor them and to give more visibility, love, and attention to the transgender community. I wanted this mural to be a positive reinforcement that we are all a human family. We have a lot more in common than our differences. I'm hoping the mural can be a bridge."
For this 50th anniversary of Stonewall I hope images of Marsha P. Johnson and Sylvia Rivera will be on display.
For this 50th anniversary of Stonewall I hope images of Marsha P. Johnson and Sylvia Rivera will be on display. I hope as they will be honored in many LGBTQ communities across the country this Pride session Americans get to learn of the difficult day-to-day struggle it took them to stay alive, too. And, I hope we all will do more to stem the violence acted upon our transgender community, especially our trans black and Latinx sisters of color.
In one week this May, three transwomen of African descent were murdered—Michelle Washington, 40, Claire Legato, 21, and Muhlaysia Booker, 23. As I draw attention to these sisters, several this year in 2019 have been murdered, and, sadly, many more will be murdered after.
Washington (also known as Michelle Simone and Tameka) was found dead with gunshot wounds to her head, body, and buttocks.
"It's time that we say this is happening to transwomen; it's happening to black transwomen, it's happening to transwomen of color." Deja Lynn Alvarez, a candidate for Philadelphia City Council, told "Philadelphia Gay News."
Legato was shot in the head after an argument erupted between her mother and the shooter. Legato's Cleveland community took to social media to express their grief and outrage.
"Love you, cousin," wrote a friend on Facebook. "I'm hurt, sad, angry all in one. Fly high."
Booker was found shot dead on a quiet street in Dallas. In April, Booker was beaten by a crowd that shouted " That's what your faggot ass gets," "Get that faggot out of our hood," and "Shoot that punk ass." The mob scene was caught on cell phone footage that went viral on social media.
Texas's black trans female community has been subject to a steady stream of assaults since gentrification evicted them out of city's once LGBTQ neighborhood. Like Booker, they congregate on a strip on the outskirts of town, and many engage in transactional sex to survive.
Texas's hate crime laws include sexual orientation but not gender identity, which makes Kenny's mural a protest statement, and an act of healing.
I'll always remember Rita Hester's vigil because the words of Hester's mother haunts me.
Rita Hester, 34, an African American transwoman from Allston, Massachusetts. was mysteriously found dead inside her first-floor apartment with multiple stab wounds to her chest in1998. Her death kicked off the "Remembering Our Dead" web project and is the catalyst for what's now our annual International Day of Remembrance.
When Hester's mother came up to the microphone during the Speak Out portion of the vigil at the Model Cafe where Rita was known, she repeatedly said in a heartbroken voice that brought most of us to tears, including myself " I would have gladly died for you, Rita. I would have taken the stabs and told you to run. I loved you!" As the vigil processed from the Model Cafe to 21 Park Vale Avenue where Rita lived and died, Hester's mother again brought me to tears as she and her surviving children kneeled in front of the doorway of Rita's apartment building and recited "The Lord's Prayer." Many of us joined in unison.
For decades HRC has reported the violence and murders of our transgender community. In a reported titled "Violence Against the Transgender Community in 2018" on HRC's website it states the following: " While the details of these cases differ, it is clear that fatal violence disproportionately affects transgender women of color, and that the intersections of racism, sexism, homophobia, and transphobia conspire to deprive them of employment, housing, healthcare and other necessities, barriers that make them vulnerable."
During the "Trans Catholic Voices" breakout season at the DignityUSA conference in Boston in 2017, I heard the vulnerability of an African American transwoman who pointed out that Pope Francis statements about transpeople deny them of basic human dignity and perpetuates violence against them.
In her closing remarks, the African American transwoman "asked for help from advocates and allies in the room that brought me to tears.
[dc]"T[/dc]rans lives are real lives. Trans deaths are real deaths. God works through other people. Maybe you can be those other people."
We are those other people.
Rev. Irene Monroe