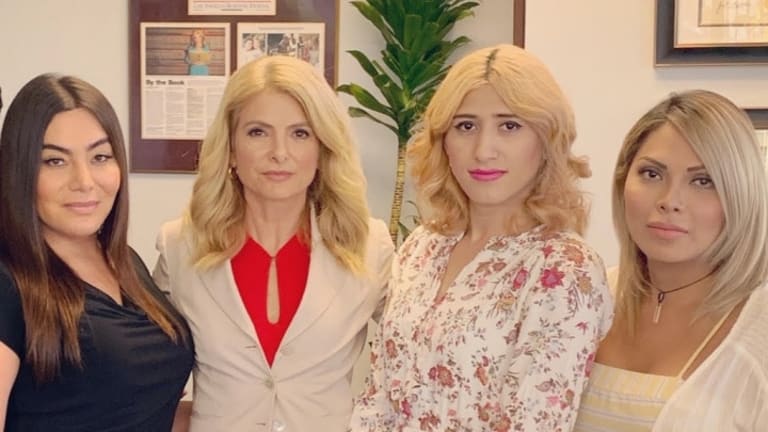 L.A. Trans Women Turn Tables
Dick Price & Sharon Kyle: video taken by bystanders shows that the drunken couple was escorted out largely untouched, while the three women and their coworkers were roughly tossed out
n a novel move in the battle against transphobia, noted Los Angeles civil rights attorney Lisa Bloom is representing three trans women who were victims of a nasty verbal and physical assault late last August. Bloom is hitting the offenders in the pocketbook. The three women—Khloe Rios, Jennifer Bianchi, and Fernanda Celarie—are working with Bloom to revoke the liquor license of Las Perlas, a popular downtown Los Angeles bar where the altercation took place.
Video taken by bystanders shows that the drunken couple was escorted out largely untouched, while the three women and their coworkers were roughly tossed out.
"With the quarantine, the courts are closed," said Bloom. "And once they open, criminal cases will go ahead of civil cases like ours. So this may take many months."
Ironically, liquor laws and "public morals" clauses were often used in past decades to shut down LGBTQ bars and clubs. Indeed, the famous Stonewall uprising in New York City 50 years ago began in response to repeated police raids at the Stonewall Inn, a Greenwich Village bar frequented by gender-nonconforming people of color and transgender women like Bloom's three clients. Together, Bloom, Rios, Bianchi, and Celarie are looking to turn the tables on the "morals clause."
"Because we're going after their liquor license, the women won't get any kind of compensation," continued Bloom. "What we're after is vindication, justice, recognition."
According to the Washington Post, eight friends—colleagues at a nearby LA-based nonprofit working on health issues facing LatinX LGBTQ communities—had gone to Las Perlas, a downtown Los Angeles mezcal bar, for a Friday night week-ending celebration. As they were finishing their drinks, the eight—including four transgender women, two gay men, and one gender-nonconforming person—were assaulted by a drunken heterosexual couple, who hurled the nastiest transphobic insults imaginable at them.
As the insults got uglier and uglier, the club's night manager and bouncers interceded, forcing both parties to depart. But video taken by bystanders shows that the drunken couple was escorted out largely untouched, while the three women and their coworkers were roughly tossed out—with Rios dragged out and Bianchi grabbed by her neck and thrown down the stairs. Then outside on the sidewalk, the transgender women were forced to stand next to their attackers, who kept insulting them, as they waited for police to arrive.
"I've been active in the trans community since I was 17," said Jennifer Bianchi, a former foster child who spent part of her childhood being raised by a trans woman. "This was traumatizing, hurtful. You lose your faith, your person, who you are. It reminds you that you're not free, not equal."
Fortunately, the video of the altercation went viral on social media, which led to calls for a Los Perlas boycott and a large-scale protest in front of the bar the next night. This exposure and public support energized the women and ultimately led them to Lisa Bloom and The Bloom Firm.
"I was raised not to be angry, to be the spiritual person I am," Bianchi continued. "But I want the world to know that I'm angry now, angry about this treatment."
Just like we have a virus pandemic, there's also a trans murder epidemic, according to the women. "In 2019, there were more than 30 trans women murdered around the country," attorney Bloom added. "And already there have been 20 in 2020."
Bianchi, Celarie, and Rios are hardly strangers to the kind of attacks they suffered at Las Perlas.
Rios, who is happily married and comes from a supportive family, transitioned while in college. While in school, she was subjected to name calling, ostrasization, discrimination and rejection—especially hurtful when it came from members of her own LatinX community.
"I was subjected to name calling. Religion was used as a weapon against me. Going to public restrooms was especially challenging," said Rios. "Even the administrative staff at my college went out of their way to make me feel uncomfortable, questioning why I felt it necessary to change my name."
Five months into her first job in marketing after graduation, Rios was called into HR, along with the manager who hired her.
"I was being terminated. No reason. No explanation," says Rios, adding that she had been doing well at the job. "Not all of my documents matched, which could have alerted HR. I'm pretty sure that I was fired because I'm trans."
"I didn't always have the backbone to fight back," said Rios. "Now I do."
Fernanda Celarie said through a translator that she feels discriminated against and insulted by the way the Las Perlas staff handled the assault. "All human beings should be treated with dignity and respect regardless of gender identity."
"El Salvador does not have the rights we have here," said Celarie, who is in Los Angeles on political asylum. "Now that I live here, I realize we are still a vulnerable society."
Like Bianchi and Celare, Rios is an LGBTQ activist, and is particularly active in the trans community. After she lost her job in marketing, members of the trans community helped her to find a new job working in their community.
"The pressure on these trans women is immense, just for getting through the day," said Bloom. "The attackers at the club yelled 'come back and I'll kill you' and 'kill all faggots'."
'Faggots' is an old English term for a bundle of sticks used to make a fire, explained Bloom. "There was a time when gender nonconforming people were burned at the stake."
The women dream of having the kind of lives where they could be confident that they'd be treated just like anyone else. Both Bianchi and Rios want to be mothers, but worry about exposing children to the negative encounters they regularly face as trans women.
Earning a living as a trans woman is also hard, according to Bianchi. "Making it day to day is not easy."
Unlike Rios, Bianchi hasn't always had a network of support.
"I've been homeless. Anything you can name, I've been through it," said Bianchi, who made her transition at 14 at Children's Hospital, where she served as a model for the hospital's Center for Transyouth Health and Development. Later, she trained as a hair stylist and also served as a case manager for another trans Latina program. "I want to find ways to give back."
Since there's no big paycheck at the end of this road for Bianchi, Rios, and Celarie, they want their battle with Las Perlas to open eyes—and hearts.
"I'm hoping new generations coming up will have more open minds—more understanding, more open to diversity," said Rios. "When I made my transition, my young niece immediately started calling me her aunt. But it took my mom a year before she would use my new female pronouns."
"I never intended to have a spotlight put on me. But I see that this action against Las Perlas can send a message—that the kind of treatment we suffered isn't right," agreed Bianchi. "This is for the movement".
"It is beautiful to find your true identity," said Celarie, who now works for a nonprofit organization that advocates for the trans Latina community. "We accept that we are women regardless of the discrimination against us. Today's society does not accept us, but we are willing to suffer for it."
[dc]"E[/dc]very June, we honor Pride Month but hate crimes committed against the LGBTQ community are still with us," reminded Bloom
Society has a long way to go to respect the rights of trans women like Khloe Rios, Jennifer Bianchi, and Fernanda Celarie. But their bravery is what fuels this movement.
Dick Price & Sharon Kyle
Did you find this article useful? Please consider supporting our work by donating or subscribing.