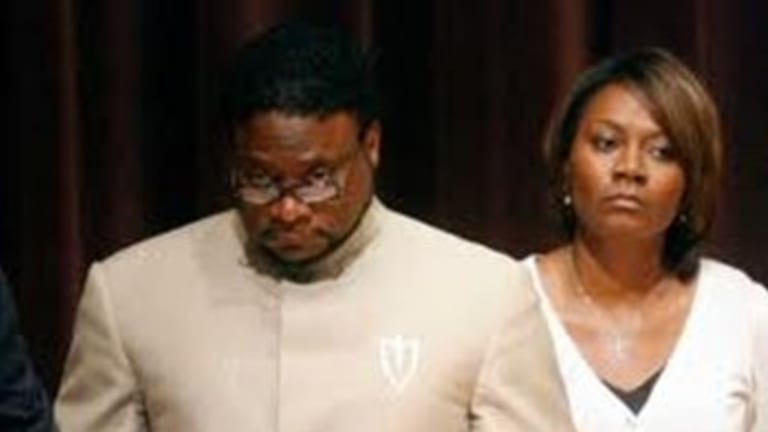 Wife of Bishop Eddie Long Does Not File for Divorce
Bishop Eddie Long -- described as "one of the most virulently homophobic black leaders in the religiously based anti-gay movement" -- has gone through a year of scandal, starting with allegations of sexual relations with several members of his ministry for teen boys. (Specifically, it was alleged that Long had sex with four boys in his congregation.) After the allegations were made public, Long went on a very public campaign to deny the allegations and to clear his name. The matter was subsequently settled out of court.
The news sent seismic shock waves through the African American church community as one of the Black Church's most prominent pastors of "prosperity gospel" was lambasted in the media. Conspicuously displaying his own prosperity to bolster his prosperity message with bling-bling that included Gucci sunglasses, gold necklaces, Rolex watches, and a $350,000 Bentley, Long was as famous for preaching "prosperity" as he was for denouncing gays, even holding anti-gay

rallies against same-sex marriage. Although the church has stood beside the pastor, many outside of the church felt the allegations of sexual misconduct had merit.
Now his own marriage may be in trouble.
Today, Vanessa Long, wife of Bishop Eddie Long, announced that she had filed for divorce on yesterday. Then, within hours and on the same day, she made a second announcement that she had reversed her decision.
In a very unusual turn of events, Vanessa Long who has been married to Long since 1990, went from saying, "After a great deal of deliberation and prayer, I have decided to terminate my marriage to Bishop Eddie L. Long", to saying, "Upon prayerful reflection, I have reconsidered and plan to withdraw my petition for divorce from my husband, Bishop Eddie L. Long".
It has been reported that Vanessa Long filed for divorce because of the media coverage of her husband and not because of his alleged extra-marital homosexual pedophilia.
Please check back for updates as this story unfolds.
Sharon Kyle
Publisher