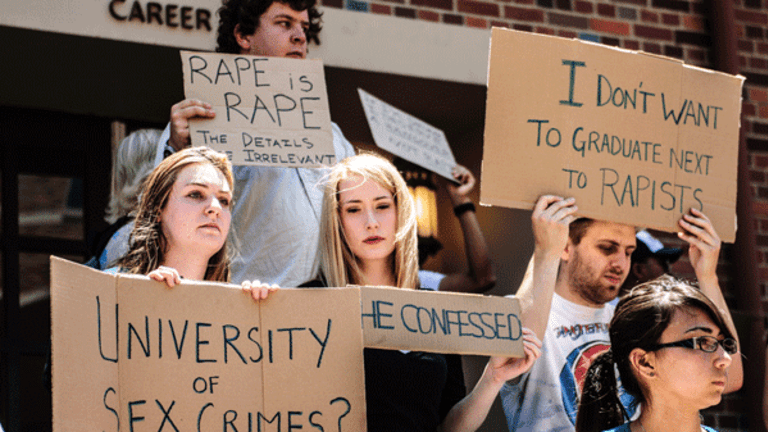 Should Students Chose Their College Based on How It Handles Rape?
Tara Culp-Ressler: New ads are now targeting the students who may be considering attending an additional seven institutions grappling with their own rape controversies
An online campaign is targeting high school seniors who have recently been accepted to colleges and universities that are embroiled in controversy for their approach to sexual assault. The ads, spearheaded by the feminist advocacy group UltraViolet, encourage prospective students to learn more about the "rape problem" at the school they're considering before sending in their deposit.
UltaViolet's campaign initially focused on Dartmouth, after the elite New Hampshire college made national headlineswhen an undergrad published a "rape guide" on an unaffiliated student website. But now, as the White House is unveiling a new set of policy proposals to tackle the issue of sexual assault on college campuses, the group is expanding its scope to target other schools that have sparked controversy for failing to implement effective policies in this area.
New ads are now targeting the students who may be considering attending an additional seven institutions grappling with their own rape controversies: Harvard University, Florida State University, American University, Brandeis University, Occidental College, the University of Michigan, and the University of California at Berkeley.
"The goal here is to get schools to take this problem seriously — to stop paying lip service to it and take real action," Karin Roland, the organizing director for UltraViolet, told ThinkProgress. "We know that prospective students will see these ads. We know that administrators and decision makers on campuses will see them as well, and realize that if they don't take sexual assault on their campuses seriously, it's going to hurt their reputation and it's going to hurt their bottom line."
Aside from the negative press that could result from ads like this, what would happen if more students really started selecting their college based on how well it handles rape? Some activists on the ground think it could help. They're optimistic that college administrators might start seriously considering their demands if they're worried about being unable to attract prospective students otherwise.
"Schools are starting to realize that people really care about it," Harpo Jaeger, a current student at Brown who's working to pressure the administration to reform its sexual assault policies, told ThinkProgress in an interview last week. "Dartmouth just released their numbers — their application rate dropped 14 percent this year. You can bet that administration is listening very, very carefully to what students have to say now."
But right now, even if students and parents do care about the issue, it can be difficult for them to get more information about it. Valerie Jarrett, a senior adviser to President Obama, told the Huffington Post this week that she would have made a different decision about her own daughter's college education if she had known more information about the sexual assault crisis at the time.
One of the biggest issues with colleges' approach to sexual assault is the current lack of transparency. It's not always clear what policies are currently in place, or which schools are in the process of being investigated by the government for failing to adhere to Title IX and the Clery Act, the federal gender equity laws that require colleges to adequately handle incidences of sexual violence. Some of the Obama administration's new policy recommendations take small steps toward remedying that. The White House will create a new website, NotAlone.Gov, to make more (although not all) of that information public. That could end up being an important resource for parents and teens who are interested in gathering more information about sexual assault before making an admissions decision.
Some members of Congress want to go a step further. Earlier this month, a group of lawmakers led by Rep. Jackie Speier (D-CA) sent a letter to U.S. News & World Report to pressure the magazine to update its influential college rankings to include information about sexual assault policies. "When parents and students compare colleges and universities they deserve to know which campuses are safe and which have demonstrated a pattern of failing to protect and respond to sexual assault," Speier explained at the time.
Ultimately, activists want college administrators to understand that taking steps to address sexual assault is more important than efforts to preserve their reputations by pretending that rape isn't a problem on their campus. In fact, the recent attention to the issue could help encourage colleges to take a proactive approach to the issue in order to preempt the bad press that's sweeping the nation.
"I]f these ads make schools realize that not addressing the problem is not going to make them look any better, that's great," Roland said. "I hope schools realize that the days of sweeping this under the rug and pretending it's not happening are over. This isn't a problem that's going away quietly anymore, as the president has specifically addressed himself, and it's time for schools to face it."
Tara Culp-Ressler
Think Progress