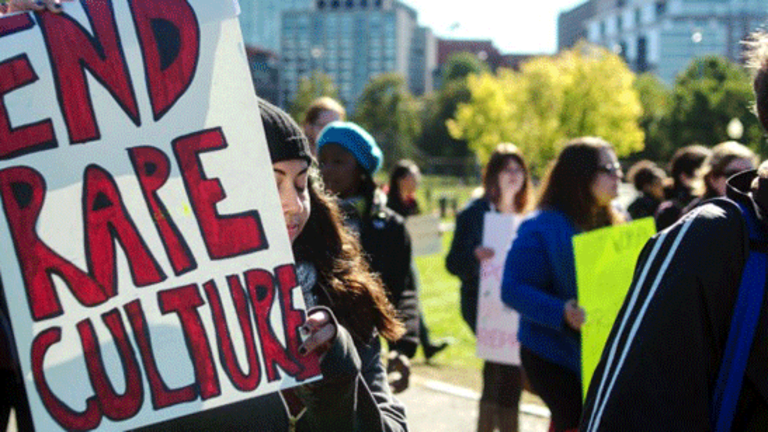 Lawmakers Pressure The U.S. Government To Get Better At Cracking Down On Campus Rape
Preventing Campus Rape -- Congress' push to improve the way the government handles sexual assaults comes on after Obama's announcement.
A bipartisan group of lawmakers is urging the U.S. Department of Education to publicize which colleges are failing to adequately handle sexual assaults on campus, as well as provide schools with more guidance about how to protect diverse populations. Congress' push to improve the way the government handles sexual assaults comes on the heels of President Obama's announcement of a new White House task force that will specifically address the issue of rape on college campuses.
"We urge your office to be more transparent about its own investigations and enforcement actions against colleges and universities regarding campus sexual harassment and sexual assault," the Congress members, led by Reps. Jackie Speier (D-CA) and Carolyn Maloney (D-NY) write. "As the President's Task Force recognized, coordination across federal agencies is essential, which is why we encourage your office to pursue interagency solutions with the Department of Justice for more aggressive enforcement actions."
The group of 39 lawmakers suggest several changes that the U.S. Department of Education could make in order to improve its work in this area. They argue that federal officials should require colleges to conduct mandatory exit surveysto get a better sense of students' experience with sexual assault, since most of these crimes go unreported. They also point out that schools should be required to publicize data about sexual assault on their website, including past incidences when they have gotten in trouble for failing to report rape cases. Finally, the lawmakers note that campuses need more explicit guidance about how federal gender equity laws, like Title IX, should apply to same-sex couples and transgender students.
The letter echoes much of what student activists have also been sayingabout the areas where the U.S. Department of Education can improve.
Over the past several years, a growing number of college students have banded together to file dozens of federal complaints against their universities for failing to adequately respond to rape. But those students have also complained that investigations aren't always enough, and federal officials aren't necessarily cracking down on the schools that are violating Title IX. This past summer, students rallied in front of the Department of Educationto demand stronger punishments for schools that are perpetuating rape culture.
Ultimately, more transparency about which universities are getting in trouble for failing rape victims could be a hugely important way of shedding light on an issue that often doesn't get the attention it needs. Many elite colleges struggle to adequately respond to sexual assault cases on campus because administrators attempt to sweep rape under the rug. That's given the appearance that colleges are more committed to preserving their reputation than ensuring students' safety.
As a wave of student activism has demanded a shift in this area, university officials are starting to agree to update their policies. But change is slow, and inadequate college policies are still allowing repeat offenders to escape punishment.
Tara Culp-Ressler
ThinkProgress