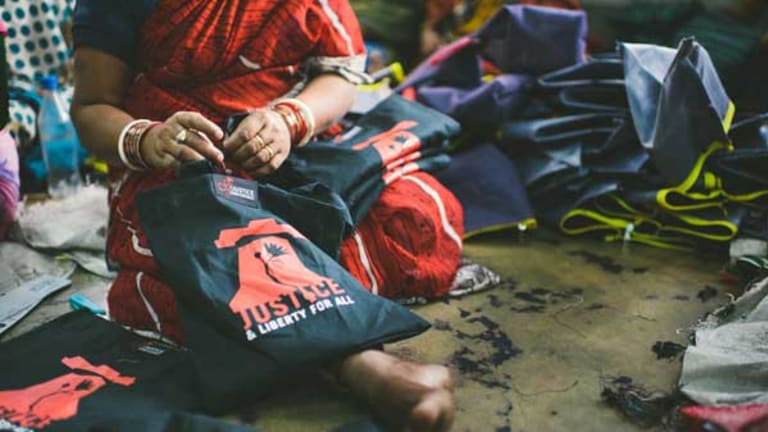 On the Front Lines of Combating Sexual Trafficking
Grecia Reyes: The highlight of my time in India was moving to Kolkata, also known as the City of Joy, where I was able to find hope in the darkest places and a community that has loved me like no other.
Reflections from the City of Joy
As a Guatemalan-American my parents never expected me to pursue higher education, let alone apply for a Master's program and move overseas for nearly two years. As I grew up, my family instilled in me a desire to bring forth change and justice through hard work, determination, servitude, humility, and most importantly my love for others.
In Guatemala, our way of living imparted in me the importance of living a life of simplicity without a desire for immense wealth. Part of my calling to move to India as part of the MA in Transformational Urban Leadership, was an urge to remember how it feels to live a life of simplicity and community to learn the meaning of life elsewhere with new teachers and to grasp unknown traditions.
(I am one of the first US students in the global MA in Transformational Urban Leadership, being delivered by a consortium of schools in five continents to slum movement leaders. Students follow Jesus incarnational model of living in the slums for the two-year program. My thesis was on health issues effecting women rescued from sex trafficking.)
Packing up my bags and moving to India was the most rewarding experience that I've had in my 25 years of life. Along the way I've met amazing friends from all walks of life and backgrounds—people that are life changers through innovation, passion, compassion, and a burning desire to see justice. These are individuals who have dropped everything, making the choice to move overseas to serve and love deeply with the radical idea that the world could be different. The highlight of my time in India was moving to Kolkata, also known as the City of Joy, where I was able to find hope in the darkest places and a community that has loved me like no other.
When I first moved to this crazy and vibrant place, I was shocked at the site of men urinating and bathing in the water taps, or children defecating in the open. I am now used to the congested city, the rickshaw pullers sweating and running barefoot through traffic jams. I have fallen in love with the colors of saris and the smell of spices coming from all directions. The sounds of Bengali music and drums playing until the late hours of the night, and women gossiping in the courtyards, performing their daily lice picking sessions,has become completely normal—simply part of everyday life.
I love passing by my streets and coming across children playing cricket in the hidden alleys, and seeing the artistic skills of bamboo workers, and the loads of clothes hanging from doors, widows, and carts. The soul of a city is engraved in its history, art, people, and forms of worship. In the City of Joy, the soul of the city is seen through its city-makers—the migrants that become the construction laborers, the rickshaw pullers, the small shop owners and vendors, the shoe shiners and sidewalk barbers. Although not often recognized, they are all part of the city; their stories, lives, and skills have shaped and created a new Kolkata.
The stories that I have stumbled upon are marked by movement—for some this is done by faith, falling in love with the city and letting this foreign culture become their family. For others, the move is made out of desperation, the city becoming a place of survival, where they take whatever work is possible. Perhaps one of the most joyful experiences in Kolkata has been working for Freeset, a fair-trade bag and apparel business offering employment to 170 women who have been trapped in Kolkata's sex trade through trafficking and poverty.
Freeset is located in Sonagachi, notorious for being the largest red light district in Kolkata, with a conservative estimate of over 10,000 standing in the line—the name given to women involved in the sex trade. The reality of women trapped in the sex trade is never hidden. Each day one can come across the same group of women standing on the main road of Central Avenue waiting for clients. Central Avenue is the main road and intersection of Sonagachi.
The streets are congested with street vendors, small eateries, tailor shops, electronics, convenient stores, and local tea stalls. It is also overwhelmingly congested with countless numbers of men ready to make a deal, while women are lined up from shoulder to shoulder.
Walking into the red-light district at night hits one profoundly. The streets are congested with street vendors, small eateries, tailor shops, electronics, convenient stores, and local tea stalls. It is also overwhelmingly congested with countless numbers of men ready to make a deal, while women are lined up from shoulder to shoulder. Witnessing the bars, the loud music, the multi-story brothels, and the young Nepali, Indian, and Bangladeshi girls being used simply as commodities demonstrates the injustice and brokenness of this place.
The Freeset factory is a multi-story building. There is much activity happening throughout the day and a whole lot of NOISE. Chaos reigns, especially when orders need to be met. Despite the chaos, there is always time to be in community and feel a sense of peace from the simple sounds of sewing machines, the children laughing in the crèche, and the women signing and gossiping as they get on with work.
The loud voices of staff screaming across the factory for fabric and other needs is also a constant reminder that we are all working to rewrite new stories of faith. Life at Freeset is marked by Freedom. From the moment I enter and glimpse the countless colorful saris hanging and see the hard work of the men cutting jute and the beautiful skills of the women creating handles out of saris, I realize that this is where I encounter the goodness of God.
In life, we come across mentors or spiritual guides, people who teach us important values that shape our understanding of life. The women at Freeset have taught me that friendship is mutual and that we are not simply blurry faces to each other that we will eventually forget. They are women whom I call sisters and aunties.
When I arrived at Freeset, my desire was to practice honest love, with actions that would recognize their humanity and dignity. In the process, the women began to teach me that sharing life together meant having the willingness to also receive actions of love even if that meant sacrificing some of their earnings to bring me a bag of mangoes the next day. The women demonstrated actions of love when they invited me to their homes and communed with me during evening meals, cups of chai, and moments of laughter and joy.
Trust and respect were also earned—this was essential in order to become part of their lives. Eventually, a few shared their stories of vulnerability, poverty, deception, social exclusion and brokenness. These violations also create a sense of hopelessness and marginalization. Women in the sex trade are psychologically broken into working on the line. These women suffered beatings, starvation, and brutal rape, violence that takes away courage and hope.
One recalled being taken to a brothel with the false promise of being returned to her village. When she arrived, she saw many young girls from Bangladesh. These girls told her not to believe in the false promises of the pimps. They would never return her to the village and there was nothing she could do. In the end, these girls had given up and every dream of escape was squeezed out of them.
Freeset is about restoring courage, relationships, and hope. Women are not employed based on their skills, but on their desire to be free. For so long, they have been forced to believe and to see themselves as the nobodies, the unwanted, and the good for nothings.
Making the choice to take employment at Freeset takes boldness. It is not an easy process as many lack confidence and are often afraid of not succeeding during the training process. In addition, the women have to get used to the Freeset culture of community, hard work and determination. They learn discipline and the structure of the business.
One woman reported that learning the discipline at Freeset was difficult. As an independent sex worker, she was not used to having a schedule of meeting production deadlines, working with others, and the importance of reporting back to supervisors and senior staff. After she began working at Freeset, she gained new skills and a community; the mental oppression of working the sex trade was also gone. They have gained respect for themselves and their co-workers. They return home not earning a few rupees in the red light area, but from employment that provides them with dignity and worth.
In the time that I spent at Freeset, I was able to see the continual growth and strength of these women. Their teachings of love, compassion, and boldness will forever remain. I leave India knowing that their lives are not easy, but that they wake up each morning aspiring to re-sew a new life of hope full of light, pride, and creativity. At Freeset, we are all part of the lives of these women and we walk with them on their journey to freedom.
Grecia Reyes
I wish to acknowledge Gene Rothman, my friend and early supporter of my work as a student and public speaker, for suggesting that I submit this article to the L.A. Progressive.